Followers of Kameakias
Brother, do not view me as an outsider. I am purely here to record what transpires and have no desire to step forth and interfere with the proceedings. It is my duty as an Apostle of Kameakias to record this so that the gods do not forget.
-Preist of Kameakias at the excecution of King Arboin for treason to his people.
The Followers of Kameakias - Watchers of All -
Kameakias is the oldest God of Hewdamia and represents the world that the other Gods squabble over. Although he is the oldest, his powers have faded with the eons of his never ending watch of the world. Although some of his powers have faded, his knowledge is unsurpassed by the other Gods, which in turn, gives him a strong hold over the world. Kameakias watches over everything that goes on with the mortals of Hewdamia and the other Gods and tries to keep everything balanced. Kameakias looks to the Olwynn as the mortals he favors the most.
Kameakias is questionably, the oldest God. He was floating in the darkness of space, before the two brothers took form. He grew in power and strength until he met with the two brothers and began shaping the world as it is known today. He used a lot of his strength and power in the shaping of the world, so he is no longer the strongest in power. He is the God of Knowledge however and knows more about the infinite universe than any other of the Gods. This makes him seem more powerful to the others. It is said that he knows everything that has transpired but is reluctant to even give out the tiniest bit of information to anyone, claiming that the knowledge is not ready for anyone to hear it. He is extremely protective of the world, considering that he is the world itself, and goes to great lengths to protect it from everything. He has few followers, but those that worship him are powerful in their beliefs and abilities.
Doctrine - Most of the followers of Kameakias are seekers of knowledge in all aspects. If it can be learned they will find a way to learn it. They have two different Covens within their religion, the Apostles and the Devoted. Both are protectors of knowledge in one form or another. Races with none-sentient or none-moral based cultures or ideals tend not to follow Kameakias as their views tend not to be the same.
Major Religious Centers -
Breakdown of the religious Order - There are only two factions to the Covens, the Apostles and the Devoted. Both get along very well and will assist anyone in need at any time. The balance between male and female shifts over time and is never equal or generous toward one or the other for very long. They tend to be organized very well, each knowing everyone'€™s part in the scheme of things.
Apostles are the few that have chosen to protect what is considered knowledge. They seek out anything that should be considered knowledge and do what they can to keep it safe and bring it back to the Devoted for safe keeping as well as cataloguing. The will fight to protect it if they see the need to necessary, which is pretty much anything to do with learning, reading, or knowledge. It could be a culture, or a tome. Whatever it is, they are willing to fight for it so it may be kept for future people to learn and pass on.
Devoted are a strange bunch. They have chosen to secrete themselves up in the temples and catalogue every scrap of information that they can into large tomes and scrolls so that people may learn from them. They create learning centers so anyone who is willing may enter and learn. Their works consist of anything possible; from the history of lost cultures to the spells of a Conocha and how to make them work.
Not Registered Yet? No problem.
Do you want Strolenati super powers? Registering. That's how you get super powers! These are just a couple powers you receive with more to come as you participate.
Upvote and give XP to encourage useful comments.
Work on submissions in private or flag them for assistance.
Earn XP and gain levels that give you more site abilities (super powers).
You should register. All your friends are doing it!
?

Responses (7)-7

The elder god of knowledge, I like the way that his Devoted gather up information and store it away. I can see them managing libraries, occasionally pilfering a book that they feel is not ready for the populace. Another idea would be rare members of the peerage, seneschals and elder scribes who are devoted to the god, writing elaborate codices of lore carefully written in codes.

I like this endless god of wisdom and universe.
My only comments about this is how is it manifested that his powers are waning?
---

Im sorry I did not answer this before. I will explain in an edit.

Updated: Corrected sumamry, it was posted for the wrong god.

an interesting society to roleplay and a very good idea.
5/5
---

Glad you liked it chilled.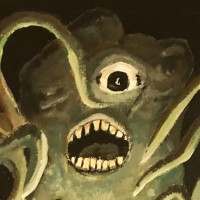 An interesting idea for a god, though a rather lot is hinted at than detailed.
What abilities do his followers gain - they are mentioned as being powerful, but no details are given.
" Found written on a torn single page... 'Lay thee patiently and still upon the ground, contemplating the Leper Star in the firmament, 'neath a crescent moon, 'midst the graves of a boneyard 'til the G'na-Shennu come crawling up from the foetid earth. Fear them not. Let them rage about thee, casting ghoul-dust from their chalky talons and scalps,'til they calm, and so begin to whisper their secrets. Then shall they solemnly withdraw into the earth once more, in peace.'"
" Game Cliche 3. Every country in the world will have exactly one town in it, except for the main country, which will have three."
" (Post zombie apocalypse)-a tribe of humans Culture: Drumming circles daily around an arena for their bravest brutes to slaughter their accepted foe, the zombie. Feasts of overcooked zombie flesh (to kill all of the zombie virus present). Wooden fortress that make this tribe in the far future look several millennium behind in technology. Instead of becoming a troublesome and unnatural foe that they seek to cure, this tribe has accepted that Zombies will continue to roam their land and, if the undead were to perish (be cured), this tribe would suffer as well."