Eye Flies
The eyes came closer and with them came a growling sound, and the warrior swung at them with his sword. They flew around it, revealing themselves to be harmless insects. The warrior swore...it was no Cave Bear or Giant Spider but a pair of Eye Flies out looking for insects to eat that were smaller still.
These large red glowworm-like flies, the size of the average large eye, live in dark caves and their buzzing sounds like the growling of a bear (or alternately, like the sound of the creature/monster of the GM's choice. They feed on even smaller insects that their light attracts, and on the carrion eaten by larger predators where they also lay their eggs. They are not eaten by many things, partly because they taste terrible and partly because they fly around in pairs, the male and the female, and resemble glowing eyes when in the dark. This scares away many predators and so makes life safer for whatever life forms might be in the cave or tunnel, and so it is in the self-interest of the other life forms not to eat the Eye flies. They themselves are more or less harmless if annoying to humans and humanoid races, as they have no stings and their jaws are too small for biting humans. The real danger they possess from a human point of view is lulling the humans into a state of complacency so that when they come up against something really dangerous they are unprepared for it and get mauled.
(For GMs with a bit of a nasty streak...you can have your players encounter these a few times until they start to take them for granted and then have the next set of *eyes* they find really be the eyes of a Cave Bear/Giant Spider/Monster of your choice, meaning they are unprepared for the attack and the monster gets a free attack in on them before they can properly respond.)
Not Registered Yet? No problem.
Do you want Strolenati super powers? Registering. That's how you get super powers! These are just a couple powers you receive with more to come as you participate.
Upvote and give XP to encourage useful comments.
Work on submissions in private or flag them for assistance.
Earn XP and gain levels that give you more site abilities (super powers).
You should register. All your friends are doing it!
?

Responses (7)

No votes at all? :(

Hmmm... might be a bit hard to pull off in a straight campaign. I can see my players balking at this; not too many monsters have glowing eyes.

Had to smile. I like the idea. The glow brightness wasn't really mentioned so I pictured it as a slight glow such as a creature would get in their eyes from the reflection in the firelight. I pictured them coming towards the group and then going on opposite sides of a tree.
I like the idea. Idea is great and the thought is easily adaptable.

Damn, those are perfect, wish I had em a year ago.

Good idea, easy to adjust it to fit your game world.

Fun and handy, the glow being similar to an animals eyes reflecting firelight makes perfect sense, or one could simply change them from glowing to being shiny and reflect ambient light in a similar brightness to an animals eyes.
Either way they make for a nice red herring for groups investigating a haunted forest.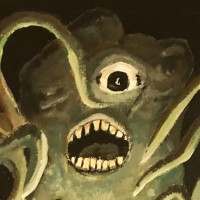 A critter for the garden of some mad wizard somewhere, perhaps behind the looking glass...
" As they travel they notice a horrible rotten smell. As they travel it gets stronger and stronger forcing them to cover their noses and mouth less they choke on the horrible smell.A small goblin tribe preparing a wedding feast. The wedding is between two tribes as a gesture for peace, if the PC's intefere, feirce fighting could break out."
" <b>THE COVEN</b> When the characters approach a clearing in the forest, they will see 4 ogres who are guarding, and preventing from escape, 4 human males, and 3 human females. The ogres will see the party and leap to attack. The females will scream 'OUR SAVIORS!!' and run screaming straight across the currently forming battlefield, in between ogres and party members, to hide behind the rearmost party members. They will be safe there. The males will try to skirt the battle to the north side to join the women. To the south, giants will be hiding in the thick underbrush until the party has engaged the ogres and then attack the most opportune target EXCEPT the ones that the females are next to. It should be noted that the female commoners are not female commoners at all, nor are the male commoners actually male commoners. The female commoners are the hags, who have polymorphed themselves as the commoners in their stewpot to escape detection. The males skirting the battle are actually MORE ogres, the hags were in the process of polymorphing ALL the ogres into regular humans for ambush purposes. The REAL commoners are already dead, having found their way into the coven's cauldron for dinner. The hags (the women) will position themselves near to any spellcasters in the rear first, and then near anyone else in the back of the fight. The ogres (the men) will wait until the hags shift form, and then attack first the rear folks, then shift into the melee. It is possible that the characters, as they approach the ogres, will notice the giants in the bush, and be able to warn the others of the ambush. <i>GAME NOTES</i>: If you sell the screaming women correctly, they will not even be suspected until it is too late. Therein lay the problem. This encounter is ESPECIALLY deadly to the rear eschelon of the party. It is entirely possible that the hags will finish off half the party before they even realize they have been duped. Caution is required if the game master wishes to avoid a TPK(total party kill)."
" An orc male who dislikes the hard warrior life, has disguised himself as an orc female and is learning how to become a Shaman. If uncovered as a male, his fellow orcs will be disgusted enough to kill him."