Emperor Zal-Ghombvis
A being descended from the stars to rule over the Empire of B'Gazzi. (It is not actually male, it is asexual.)
Special Equipment:



Appearance:

Zal-Ghombvis is not permitted to be looked upon by anyone except for it's 'daughter', Kagga'xursh-Tal, which divided from it four-thousand years ago. It is quite disturbing to look upon, being a mass of roiling green, blue and yellow slime. Hundreds of tall, hard, horn-like structures that have a small opening at the top protrude from the mass and vent roiling clouds of yellowish steam. The Emperor can change the shape of it's slime at will, forming limbs and faces and any other sort of object it would like. However, it has not moved in over ten-thousand years, ruling over the Empire of B'Gazzi as a mysterious, unseen potentate. Zal-Ghombvis is asexual, and, because of it's bizzare and maddening appearance, it speaks through it's 'daughter', the shape-changer, Kagga'xursh-Tal. Zal-Ghombvis is a powerful and potent psionic, who uses his formidable psychic powers from his Forbidden Imperial Chamber.

Background:

One-million years ago, in the center of the distant star Tyalzoth, the demonic madness-being Xagor spawned a creature known as Zal-Ghombvis. This being, which at first appeared as a multi-headed dragon-like monster, winged it's way across the empty void, ruling and then devouring each planet which came it's way. However, it soon came to the a planet where dwelt a race of godlings known as the Dorlyans, who were ruled by the mighty High Warrior, Gackt. So, when Zal-Ghombvis descended upon the this world, riding upon a comet's tail, the Dorlyans scryed it out and converged on it, attacking him with their mighty powers. They were no match for Zal-Ghombvis, however. Soon, the only Dorlyan standing upon the bloody fields of the Dorlyan planet was Gackt. All of Zal-Ghombvis's heads were severed from it's body and it's limbs torn to mangled shreds. The fight was still mighty, however, and in the end Zal-Ghombvis devoured Gackt alive and kept his consciousness to torture him for eternity. But, wounded beyond belief, Zal-Ghombvis changed bizarrely, reverting to the nucleoid state that it currently holds. So, as the battle had destroyed the Dorlyan planet, Zal-Ghombvis leapt into space and sought out the planet that is our World. Descending down on it's surface while our planet was still being experimented on by the Gods, Zal-Ghombvis lay dormant in it's core for twenty-thousand years until seeping to the surface and devouring an unsuspecting community above, a city of elves, using their brains to gain information about the world as it now was. Then, Zal-Ghombvis flew among the clouds until it found a small human state. Using it's psionic powers from the atmosphere, it implanted a suggestion in the leaders of the humans and convinced them that it, as a godling, was their Lord and Emperor. So began the fifteen-thousand year Empire of B'Gazzi.

Roleplaying Notes:

-Zal-Ghombvis is an extremely powerful, alien being which is on no good terms with any mortal. It considers all mortals to be 'filth' and 'insects'.
-It's 'daughter', Kagga'xursh-Tal, which is actually a being that split from Zal-Ghombvis (It reproduces like a cell, by division), is an extremely powerful shapechanger, and usually takes the form of a very beautiful female elf in jewelled Imperial garb when it must be an ambassador for Zal-Ghombvis's wishes.
-If the PCs intend to destroy Zal-Ghombvis, they may need the power of the ancient Dorlyans on their side, in the form of itm=100
Not Registered Yet? No problem.
Do you want Strolenati super powers? Registering. That's how you get super powers! These are just a couple powers you receive with more to come as you participate.
Upvote and give XP to encourage useful comments.
Work on submissions in private or flag them for assistance.
Earn XP and gain levels that give you more site abilities (super powers).
You should register. All your friends are doing it!
?

Responses (6)-6

So it is fantasy Cthulu. See my note about the Dorlyan Crystals.
You should have a link to the crystals from this entry so people know to search for it and related items.

A long time ago, I was writing a series of novels about the Empire of B'Gazzi and this Emperor thing. They were kind of like a combination of Dune and Tolkien.
It was like this:
1. The Emperor of B'Gazzi
2. Freedom Fighters of B'Gazzi
3. Shapeshifter of B'Gazzi
4. Death-Priests of B'Gazzi
5. The Fall of B'Gazzi

Well, and? What happened to the novels? Were they published, stayed unfinished, or are lying in a dusty drawer somewhere?

Unfinished. Never got around to Shapeshifter. Freedom Fighters is done except for loose ends that need to be tied up.

An odd but certainly intresting combination of fantasy and science fiction.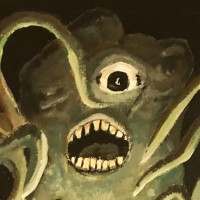 Captain' certainly had a thing for names.... :)
" An evil ruler got the idea of mixing a trampoline and a gallows together. As long as the one to be hanged bounces on the rubber trapdoor it won't open, but bouncing gets very tiring after a while."
" The adventure can take place in a slightly shifted reality, where everybody has a totem (an animal guardian). The totem should be chosen randomly and not by the player, it is ok if 'Gorflin the Large,' a gigantic and aggressive barbarian, has a mouse for a totem. These totems will assist the characters in small way. It is up to the characters to determine how to get the assistance; the animals won't solve mysteries for the characters only supply the clues. The character may even have a dream where his or her totem actually speaks to them and reveals some sort of clue."
" The Muscimancer The Lord of the Flies, the Muscimancer has studied magics that summon, control and otherwise deal with flies. The Fly Mage is an unwholesome character, also likely to have magics of disease, rot and pestilence up his sleeves. After fighting through his swarms of flies and his loyal acolytes and slaves, the Muscimancer reveals his final power, transforming into a giant half man half fly hybrid. He can fly, acid vomit, as well as continue to use spells, wield weaponry and command his swarms."