Chrysalis
Inspired by Ria Hawk's 'Lifecycle of the Dungeon' discussion.
The PC's come across a cave system that isn't on their map. The cave is in plain view and hard to miss. Once inside, several odd and unusual things are found.
Driven by rain or another desire to seek shelter, the PC's stumble across a cave that wasn't on their map. Off to the side of a well known, but not high traffic trail, the cave is not hidden at all, but out in the open and clearly visible.
Once inside (perhaps coaxed by the subtle near lightning strike), players may note some oddities. First, although the cave doesn't bear any carving marks to show the work of humanoids, it is rather regular in design. Second, the cave seems new formed, without any dust or debris on the floor. Third, it bears no signs of habitaion.
If and when they decide to strike out deeper into the cave system, they can see it follows no set plan, but does have areas that could easily become rooms if a stout door was fixed to a wall and currently has crude but very well hidden secret doors and passages. Perhaps in some of these passages, gems can be found.
Randomly, without any design outside of chance, jellies may be encountered. No molds or fungus that is associated with older dungeons can be found, but jellies, possibally acting as a type of parasite similar to a lamprey, could be encounted and present hazards to the players. One new type of jelly could present the players with some unique challenges. This jelly, called a stone jelly, is specalized to follow the dungeon worm around.
The stone jelly moves through rock. Solid rock, no matter how thick, is it's enviroment. It has psuedopods that it uses for manipulations in the world outside stone. It uses these psuedopods to acquire and digest gemstones and minerals. Unless they players can devise some kind of plan to expose the stone jelly to air, mud or some other non-stone enviroment, the players only tactic to drive off the stone jelly will be to attack the psuedopods. The stone jelly can be harmed by normal weapons and attacks mainly by crushing with its arms. If exposed to a non-stone enviroment, the stone jelly loses 20+2d10 hp a round.
After some quiet looting and some dangerous moments, the players come across the lair of the dungeon, a massive cave hollowed out from the surronding rock and containing only one thing. A giant cocoon type pod, twenty to thirty feet high, appanently made from spun stone. Faintly translucent, the vaguest of outline can be seen inside.
Several things can now happen.
The cocoon opens and the players face a newly formed monster.
Things can be seen moving inside the cocoon and begin to work on breaking it open, giving the players enough time to decide to fight or flee.
The cocoon is newly formed and can only be seen as a great worm-like creature. Players may be able to stick around and actually watch the metamorphisis of worm to creature.
I firmly believe that Ria Hawk would have and probally will post an adventure similar to this. Her 'Lifecycle of the Dungeon' discussion is thought and plot provoking and very imaginative. Good work!
?
Hall of Honour (1
voters
/ 1
votes
)
Not Registered Yet? No problem.
Do you want Strolenati super powers? Registering. That's how you get super powers! These are just a couple powers you receive with more to come as you participate.
Upvote and give XP to encourage useful comments.
Work on submissions in private or flag them for assistance.
Earn XP and gain levels that give you more site abilities (super powers).
You should register. All your friends are doing it!
?

Responses (11)

Gives it an almost Alien movie type surroundings. The cocoons could be skattered all over and not much is remarked about them at first till they get deeper inside. Maybe the cocoon stages make them resistant to most weapons so they can't get inside them at first to see what they actually are. They never knowing what they really are until they start hatching. By then they are already deep inside the catacombs and must go back past all the now hatching cocoons to escape.

Horror to comic?
...one deicides to cut through the cocoon. A scary slimy monster emerges, its mind altered. In a coarse voice it screams: Mhummyyy? And lovingly envelopes its new mamma with its tentacles.
Comic to horror again?
Baby is hungry, and not above consuming your friends. OK, heavily inspired by Alien...

Nice idea - not really enough for a full scenario, but would definately make a great side-trek - 4/5

It is enough of a plot that you can work with it. It is also more of a 'dungeon explanation' than anything else. It shows the PCs where all these things come from.

One of the better subs here.

Only voted.

Love it, favorited, voted...
Nicely done, like it a lot,

Very nice, I plan on using this as soon as possible. Wish I has seen it years ago.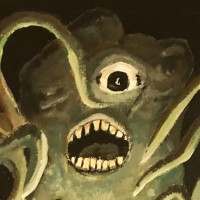 A neat little critter - the cocoon - spun stone - sounds like it could be used as asbestos, already formed into sheets. This alone could be worth adventuring for.

Not enough for a full adventure, in my opinion, but well fleshed out, very detailed and would make for a very interesting side quest. I'm sure a nearby mage would pay good money to get a glimpse at such an interesting phenomenon, or at least a piece of it's stone incubator.
" Basq doesn't exist. He occupies a point in space--a single X,Y,Z point in the Cartesian plane, but he's not made of anything. People looking at him see whatever they want to see. Or what he wants you to see. Usually a mix. Just the same, he cannot be hurt swords or arrows. Only things that deal damage to an area (fireballs, gases) can damage him. Or weapons that can cut through an infinitely small point."
" THE GNOMES OF UDNALOR: Part II Having left the hush of the upper halls, and crossed the depths of the Braeth (an underground river, which is not all that deep because bear in mind we're talking about gnomes here), you would find yourself in Wattling Street, the main road through Udnalor. It's actually a long, well-worn passageway which opens out eventually into the City Centre. The gnome-buildings branch off Wattling Street as small burrows or caverns with boulder-blocked doorways for privacy. You can find armourers and smiths (though their armour tends to be on the small side for humans to buy) and many other types of trader. There are many streets, ginnels and cooies which run off Wattling Street, the most famous probably being Smell Street, the domain of the infamous gnomish alchemists, the eponymous smell being very distinctive: the stench of cooking fungus, the aroma of subterranean spices, the pungent reek of rotting carcasses (used in some of the more notorious experiments). An encounter with an alchemist can really be spiced up (excuse the pun) if you have a well-stocked herb cupboard, and actually make up the potions, elixirs and draughts as they are ordered by characters."
" A certain culture believes that evil can live beyond the grave. They also believe that the destruction of the dead body can keep that one from coming back. Destroying the newly deceased body can destroy the soul if done properly. They first burn the body for 24 hours, smash the remains as well as possible, then burn the what is left for another 24 hours."