Cameo of the Circle's Queen
'This? It is pretty isn't it? No it is not new. My mother had it.'
Appearance
It appears to be a classic cameo, worn upon a tight black choker which is often the style. The portrait is a flawless image of the Queen from some time ago. It has all the appearance of a family heirloom. In fact, most women remember their mother (or loved female role model) having either this piece, or one just like it. (which is part of the enchantment... as the mother might never of had such a piece.)
Magic/Cursed Properties
Upon wearing the Cameo, the victim's dark self is released. It is a second personality, one that is less inhibited, seductive, sensual, hedonistic, greedy/ self satisfying, and frequently power seeking. Speech and mannerisms change, as does the preferred manner of dress. The Dark Self will frequently slip off into the night for secret meetings and other things.
If the Cameo is given to a woman by a man (or a man was the last one to touch it before it is sent to her), the woman will be drawn to that man. The longer she wears the item, the more she will be 'under his spell'. Eventually the female becomes responsive to suggestions or directions the man makes.
The Dark Self knows everything the Good Self (first personality) does. It will sometimes pretend to be the 'good girl', 'accidently' arranging those around her to have cross feeling, anger, fear, depression, or inappropriate lust. The first personality does not know about any of what the Dark Self does, except maybe in dreams. The Good Self is often left with a compulsion to put on the cameo at certain times (so the Dark Self can have its secret meetings).
The Dreams only occur for some women. Those dreams tend to be of a woman, an ancestor perhaps, who was vibrant, alive, and of course just a bit evil. If the wearer has the dreams, these dreams become seductive... enticing the Light Self to be more and more like the Dark Self. Eventually the Light Self will give over completely to the Dark One, and the person she once was will be lost to the Dark.
This is not an item of alignment/ spiritual polarity reversal. If a woman who is already given over to her Dark Self wears it, it is merely a beautiful item. Well that is not true, the 'drawn under the spell' effect is still in play and the few inhibitions the Dark Woman has might fade away.
History
Such items are made for Cultists by Demons Servants. Trade a soul, get a new item. It is the basic economy of Dark Servatude.
The name of this item comes from its normal use. The Head of the Evil Circle always wants a 'bride' that he can not have. So this item is used to corrupt the beautiful 'Good Girl' so she will be his. Hence, the Queen of the Dark Circle wears the item.
You know. I have been running horror games for way, way to long. I am just too good at making these kind of things. I know what Evil Cultists would need and how they would operate. Hmmm. I wonder if I am being set up to be recruited.
?
MoonHunter's Awards and Badges
Not Registered Yet? No problem.
Do you want Strolenati super powers? Registering. That's how you get super powers! These are just a couple powers you receive with more to come as you participate.
Upvote and give XP to encourage useful comments.
Work on submissions in private or flag them for assistance.
Earn XP and gain levels that give you more site abilities (super powers).
You should register. All your friends are doing it!
?

Responses (8)

An Evil Love Amulet.

I read it, and then see Regency Romance/ Horror book. It is perfect for that kind of story. It can be adapted to any other fantasy as well.
I also keep thinking about Jean Gray and the HellFire Club. A different scenario entirely, but you can see the parallells of seduction.

Now this demon item I like.

Nice subtle item.
Of course this could lead players to a problem, if they find that the one person who the evil behind things (the person wearing the item), is also the one person they cannot imagine doing any of this stuff (Miss Good Girl) then it could be problematic to address the situation.
---

I do not know who you are oh Horde person, but that is a perfect use of this device. It is exactly how a "Garage Sale from Hell Item" should be applied to a game.
All it takes is one innocent transfer, and nobody will link it back to an Evil Cult. Or in this case, nobody thought it might be a "cursed item".
All of a sudden, things get more interesting with the girl friend. The player will just think the GM is "stepping up" this girlfriend sub plot.
Then things will get interesting.
This would be great in a supers or masked hero, as then she would be another "hero" out there.

Very good item, lots of story potential!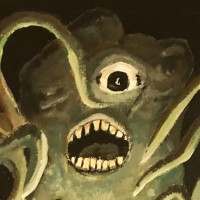 I was thinking this was an okay item until I got the the Barbarian Horde comment #2 and that made it awesome.
" A wild species, vinus homophagus, more akin to sea-grape rather than the terrestrial variety, is not a monster despite its fanciful name. The grapes, a deep purple color when in bloom, and oozing dewdrops of perspiration, like the most prized and delectable of drinking wine grapes, do however deserve their moniker. Wine made from this fruit, is deadly to most humanoids, as is the raw berry, if plucked and eaten from the vine. It is the unnatural chemical concoction found within the fruit's tart skin, which gives the man-eating grape its name. The chemical stew found inside each berry, functions as a necrotic agent, the same as found in some species of venomous snakes. The grapes literally eat the victim from the inside out, via cell death, dissolving organs and flesh in quick succession. The tribes of Pra-Oohk Crater, from the jungles of Ghlush are known to sell the fermented 'wine' of this grape to merchants of distant lands. Sadly, the taste of the concoction is divine when first quaffed, and even worse, the man-eating grape wine will never detect as poisonous via mundane means, its horrid natures somehow masking all attempts. Luckily the man-eating grapes are extremely rare, and endemic to humid jungles."
" Saril had a dream. To open a library in the windswept wastes of Naarish, so that the people of the many villages and towns spread over the hundreds of leagues of desert could discover the joys of his books. For a whole year he kept his library open, but alas, almost no one came. That is when Saril came up with his new idea. If people didn't travel to read his books, he would travel to them! Saril closed his library, hired a team of twelve camels, loaded up the beasts with all of his books and proceeded to invent the first nomadic library. Now children and adults alike, looked forward to hearing the bells of Saril's camels as he entered their villages, as he tirelessly traversed the deserts in a long circuitous route, visiting every village and town he came across, in turn. It came to pas that Saril's traveling library came to some fame, and that is how the folk of Naarish became literate. A word of warning though. Naarish has only six thousand volumes. He deals with those that lose or steal his tomes quite 'harshly', by bypassing the town or village which was responsible for losing one of his books for that calendar year."
" People hunting for fish with arrows aim parallel with the water so that if they miss the fish they are aiming at they may hit another by chance."