Besrodia II
A seemingly average industrial world that is the source of 1 out of every 4 guns in current use.
The Gun World
From space, Besrodia II looks little different than any other terraformed world. With marginal surface water and large polar ice caps, the planet is largely cold and dry. Most of the water is locked in deep aquifers in the temperate and polar regions. Besrodia II has a single moon, Kremmel, which long ago entered a tide locked orbit.
Heavy Metal
Besrodia's economy is heavy industry with a focus on manufacturing. Unlike other industrial worlds that build their economies around vehicles, starships, or other large long term goods, Besrodia is the largest concentration of gun makers in human space. The eight largest gun manufacturers have their home offices on planet, as well as dozens of production facilities. The freighters that move off planet are loaded down with rifles, pistols, machine guns and almost any other projectile weapon that a man can carry with two hands. Energy weapons are also produced but not near the level of more known and reliable and fixable bullet type guns.
A recent poll determined that out of all the guns in use be armies and garrisons across the breadth of human space, and personal owned weapons, that one out of four guns were manufactured on Besrodia. This number becomes more significant as the number of guns in existance and the number of human colonized worlds increases. With skirmishes common, business is always good for the Besrodian gunsmiths.
A Word on Quality
Not to be spending time advertising for the planetside manufacturers, the majority of guns shipped from Besrodia are generally of good quality or better. The firms that operate there are the leaders in the personal armament field of industry, and the companies and factories that make knock off or generic weapons are not found there. Such operations usually imitate weapons manufactured on Besrodia II and are well away from curious eyes.
The Plot Hook
Copyright Infringement - An offworld company has started producing knock-offs of a new gun just entering production. The mercenary PCs are hired to investigate the source of the fraudulent weapons. The hiring company wants to know where the guns are being made, and really how the imitators got the secret plans for the new weapon when the primary factory is still in the pre-production stages of setting up. After determining this information, the PCs are ordered to shut the operation down. This could be a calm as delivering a cease and decist order to planting satchel charges and other special forces stuff.
Not Registered Yet? No problem.
Do you want Strolenati super powers? Registering. That's how you get super powers! These are just a couple powers you receive with more to come as you participate.
Upvote and give XP to encourage useful comments.
Work on submissions in private or flag them for assistance.
Earn XP and gain levels that give you more site abilities (super powers).
You should register. All your friends are doing it!
?

Responses (5)-5

Yeah, there has to be one; the best place to shop for your militaristic PC.
In the mentioned plot hook, the PCs could be requested to do both. Deliver the letter, and if the owners are not quickly acting, pushing the button. Or they may do the first, and later learn someone did the second thing. And they are the main suspects.

"I remember when 'Besrodia made' really meant something," the old merc groused.
Still it is a nice piece of work for an FTL society that has not mastered beam weapondry.
---

I dont think that projectile weapons will ever really drop out of common usage, even if beam weapons become feasible. It doesnt take much in the way of training to clean and repair a damaged gun as opposed to mirrors, capacitors and the like. We've mastered the turbine engine but there are still plenty of airplanes with propellors and piston engines.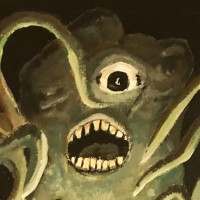 A very usable locale. I like it!
" A wild species, vinus homophagus, more akin to sea-grape rather than the terrestrial variety, is not a monster despite its fanciful name. The grapes, a deep purple color when in bloom, and oozing dewdrops of perspiration, like the most prized and delectable of drinking wine grapes, do however deserve their moniker. Wine made from this fruit, is deadly to most humanoids, as is the raw berry, if plucked and eaten from the vine. It is the unnatural chemical concoction found within the fruit's tart skin, which gives the man-eating grape its name. The chemical stew found inside each berry, functions as a necrotic agent, the same as found in some species of venomous snakes. The grapes literally eat the victim from the inside out, via cell death, dissolving organs and flesh in quick succession. The tribes of Pra-Oohk Crater, from the jungles of Ghlush are known to sell the fermented 'wine' of this grape to merchants of distant lands. Sadly, the taste of the concoction is divine when first quaffed, and even worse, the man-eating grape wine will never detect as poisonous via mundane means, its horrid natures somehow masking all attempts. Luckily the man-eating grapes are extremely rare, and endemic to humid jungles."
" During a public holiday in the small town of Wyrmbersch, the Mayor is accidentally killed by a statue which falls from the roof of the Town Hall. As shocked spectators crowd around the body, they discover that the Mayor, at the moment of death, shape-shifted into a squat, stunted humanoid figure, it's grey skin dominated by bony ridges and lumps. How long was the Mayor an imposter? And who else in the town isn't what they seem to be?"
" What if casting magic changed (for a few hours or days depending on the strength of the spell) the colour of the skin of the spellcaster? It could lead sadly to a very racist world to rp in."