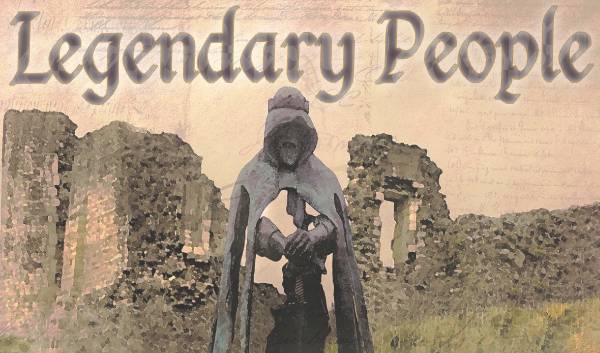 | | |
| --- | --- |
| Required Category | Mythic/ Historical |
| Required Tag | none |
| Status | Legacy |
| XP Bonus - Active | 10xp |
| XP Bonus - Legacy | 45xp |
| XP Bonus - First | 0xp |
| XP Bonus - Second | 0xp |
Quest - Legendary People
Every society has their stories of mythic heroes. King Arthur. Hercules. The Monkey King.
Sometimes villians also get in on the mythic status action: Professor Moriarty. Sauron. Jack the Ripper.
In the end, every game world needs a fine assortment of larger than life people, if only just the stories of their exploits.
So this month's quest is Mythic/Historical NPCs.
---
Quest Winners
Name
Title
Type
XP
manfred
Celenia of the Everchanging Eyes
by: manfred


The tragic fate of the legendary beauty has left traces behind until this day.

NPCs
Mythic/ Historical
Artistic/Performance
240xp
Wulfhere
Senach I, King of Tir Earrach
by: Wulfhere


Senach, the mighty leader who forged a kingdom from a land of quarrelling clans: The inarguable truth, as told by the druid who crowned him.

NPCs
Mythic/ Historical
Political
450xp
Official Submissions 10
Name
Title
Type
XP
MoonHunter
Mathius the Great King
by: MoonHunter


One of the finest kings The Lands have ever known; this elder king is much beloved and respected. It is ironic that his greatness plants the seeds of great strife.

NPCs
Mythic/ Historical
Political
155
Scrasamax
Atal
by: Scrasamax


Many claim him to have been of their own, be they mages or clerics, thieves or warriors. Such was the legacy of Atal, the Wise Councilor.

NPCs
Mythic/ Historical
Mystical
230
Iain
Konelis Larach
by: Iain


Konelis Larach, St. Cornelius of Zarant. 26th Abbot of Zarant; eminence grise to Dominic the Great; author of the Annalia: monk, scholar, saint and martyr.

NPCs
Mythic/ Historical
Religious
255
Chaosmark
Shaltier Gremtre
by: Chaosmark


A name lost to all but the oldest of history books and mythic tales, yet more important than many modern rulers.

NPCs
Mythic/ Historical
Mystical
125
MoonHunter
Princess Reisha
by: MoonHunter


Princess Reisha is key figure in the Twin Rose War and the Mother of Modern Humana.

NPCs
Mythic/ Historical
Political
210
valadaar
Tryvaard
by: valadaar


Even 20 years of service was not enough for them - still they taunt me. Will I ever be free?


NPCs
Mythic/ Historical
Mystical
170
Scrasamax
Archibald Ganse
by: Scrasamax


A pioneer, visionary, alchemist and industrialist, archibald Ganse was a man well ahead of his time.

NPCs
Mythic/ Historical
Mercantile
175
CaptainPenguin
Temak Buk
by: CaptainPenguin


Legendary hero, founder of the Bukdek Empire, fearless warrior and warlord, amoral barbarian, and vicious bandit.

NPCs
Mythic/ Historical
Combative
375
Wulfhere
Corvius Haereticus
by: Wulfhere


Murderous prophet of a depraved cult, Corvius the Death-Haunted cursed the Empire with an ancient evil that has plagued its lands ever since.

NPCs
Mythic/ Historical
Religious
310
Psalmanazar
John Bloodycoat
by: Psalmanazar


On moonless nights when ghouls run wild
and ghosties dance and scream and gloat
don't fret, don't cry, don't fear, dear child-
Those ghoulies fear John Bloodycoat

NPCs
Mythic/ Historical
Political
185
Quest Submissions 2
Name
Title
Type
XP
Scrasamax
Dr Agamemnon Spengler
by: Scrasamax


A tall lanky man with a distracted air, well versed in arcanotechnology, parapsychology, and a collector of molds, spores, and fungus.

NPCs
Scenario Based
Technical
160xp
Moonlake
Whitestill, the First Sister
by: Moonlake


A legendary figure described using the 4 sentences tool

NPCs
Mythic/ Historical
Knowledge/Lore
105xp