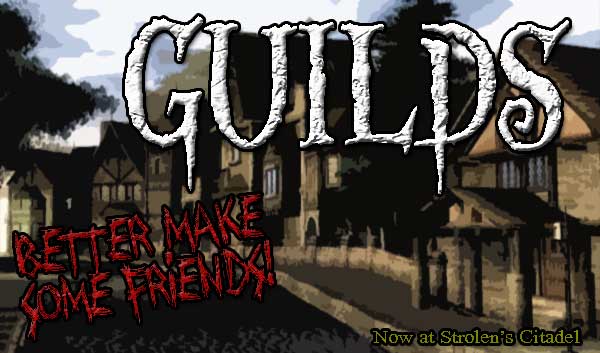 | | |
| --- | --- |
| Required Category | none |
| Required Tag | none |
| Status | Legacy |
| XP Bonus - Active | 20xp |
| XP Bonus - Legacy | 20xp |
| XP Bonus - First | 127xp |
| XP Bonus - Second | 100xp |
Quest - Guilds
The idea for Strolen Citadel Guilds has been around since the site first began. There have been many thoughts about it and all of them revolved around A LOT of code with the features all, more or less, automated. Well, that won't happen so why fight my impulses.
So any submission that goes in for the next month with a Guild focused freetext will gain extra XP and the knowledge that you are here at the beginning of the Era of the Guilds!
Join or create a Guild today!
---
Official Submissions 24
Name
Title
Type
XP
Strolen
Tracker Bush
by: Strolen


Those attuned with magic and nature can use this plant to quickly identify what might be traveling or living in its area by their footfalls.

Lifeforms
Flora
Any
115
Strolen
Bow of the Astormen
by: Strolen


Local farmers and foresters have the greatest bow making wood in all the land, they also have the skill to protect it.

Items
Ranged Weapons
Combat
105
axlerowes
Four Forges: A simple board game played by Dwarves
by: axlerowes


All dwarves in the Ven mountains are familiar with this simple game. Though elaborate and colorful game board have been craft, the game is simple enough that you could out line a board in the dirt and play with four handfuls of stones.

Items
Home/ Personal
Non-Magical
320
Mourngrymn
Treatise on Necromancy
by: Mourngrymn


The true depths of darkness travel far deeper into the hearts of mortal man than the darkest and deepest cave I have ventured in. What once could have started as an innocent trek into the unknown for the sake of curiosity I have seen lead to the blackening of the soul and the withering of all those around it. All in the name of innocence and knowledge.

The following are my findings on the subject, as horrible as they are. I just hope I can finish this before my mind is lost to me. I feel the ebb and flow pulling inside me, no that is to simple an explanation. I feel my soul losing its hold on me. The more knowledge I gain, the more I know I am lost.

Kormak Cabeaza, Scribe and Scholar to Lord King Vyrkril the Just of Camerial

Organizations
Religious
World Wide
140
Mourngrymn
Shivenhusk the Unliving Refuse
by: Mourngrymn


He stood before me, a freankenstien of a man beast that towered twenty feet tall or more. Its rigor colored flesh stunk of eons of decay both sickly sweet and of putrescence beyond what the mortal mind could fathom. I tried to gag it from my throat but my stomach refused to relieve its contents and for that made me more uneasy.

Former Cult Leader who outlived his usefulness

Lifeforms
Unique
Underground
170
Scrasamax
Kyra's Knife
by: Scrasamax


Tis but a scratch, send the guards and make sure they capture that joke of an assassin

Items
Melee Weapons
Cursed
240
axlerowes
Thirty Punchlines to Dwarven Dirty Jokes
by: axlerowes


Hi Ho, Hi Ho....not included

Organizations
Knowledge/Lore
Regional
135
axlerowes
Beardspiders
by: axlerowes


Beard grooming is a life-long process divided between two schools of thought: harsh mineral treatments or more the natural approach. The popular naturalist approach requires beard-spiders that live off lice, fleas and other small insects.


Lifeforms
Fauna
Any
225
Murometz
Dwarven proverbs, sayings, quotes, anecdotes and euphemisms
by: Murometz


Looking for Dwarven proverbs, sayings, euphemisms, quotes, and anecdotes? We are too! Please help the fledgling Dwarven Guild in its infancy stages! Looking to make a list of 101+ with the help of our beardless brethren!


Articles
Resource
Gaming - In General
315
Mourngrymn
Undead Beard Fleas
by: Mourngrymn


Damn 'ol thing it tis. Itches like nuthin I e'er felt. Stupid bugs, your the Poosker ye fool. Help me get rid o' these damnable things.

I hate to tell you this but you have what we liked to call, 'Puces Barbe Morts', or undead beard fleas. And the only way to be rid of them is to cut off your beard and then burn the hair.

No! Just kill me it's less painful that way.

Lifeforms
Third Kingdom
Other
235
caesar193
Sanguis Isles
by: caesar193


The Sanguis Islands is an archipelago nation. Dangerous to sail through them, the people who live there are self-sufficient, independant, stuborn, and resilient.

Locations
Country/ State
Water
115
Mourngrymn
The Moira Chalice of Kormak
by: Mourngrymn


I watched in horror as the final pieces were infused together with dark magics granted to the mighty Kormak by Shivenhusk Himself. The head from Lord King Vyrkril was placed on a base of blacked bone and thrust into the cold burning fire. I swear I hear it scream in agony. Decnus Kormak smiled at his late king and when he pulled the chalice from the blue flame bare handed, he clutched it covetously. That alone made me afraid.

Items
Wand/Staff/ Arcane
Cursed
145
Kassy
Citadel's Blaze
by: Kassy


Come, join in our discussion. We're composing a list to categorize the different lunatics that spill their inane natter here. You fit in where did you say?

Locations
Establishment
Any
65
Chaosmark
Murderblaze
by: Chaosmark


...And 'lo, the days of Bennu drew to a close, and he built himself a pyre from which to be reborn in cleansing fire. But trickery snared his form, blackening radiant feathers to twilight...


Lifeforms
Unique
Any
220
caesar193
Exitium
by: caesar193


What danger lurk within the ruined city streets?

Locations
Ruins
Forest/ Jungle
110
Strolen
Slagger Tornfury
by: Strolen


Slagger Tornfury hates elves. He doesn't just hate them, he HATES them.


NPCs
Extras
Combative
185
valadaar
30 Dwarven Treasures
by: valadaar


A set of 30 Dwarven Treasures, for finding, or stealing.




Items
Other
Non-Magical
295
Murometz
Dwarven Pets
by: Murometz


Pets mind you. Not exotic monster companions. No saddled dire-boars to be found here. No purple worm caravans.

Lifeforms
Fauna
Underground
460
caesar193
Plains Elves
by: caesar193


Banished from their foolish tree-hugger kin, the Plains Elves were forced into a semi-nomadic lifestyle.

Organizations
Ethnic/Cultural
Regional
140
Agar
Stone Beds
by: Agar


The best way for a traveling dwarf to sleep is on a bed of stone - Bodrick Rocknumber, stone bed salesman

Items
Home/ Personal
Magical
115
axlerowes
A Dwarf on the Water
by: axlerowes


A story about a young Dwarf, the girl he met and the Goddess he insulted.

Articles
Fiction
Gaming - Genre
175
caesar193
The Cartography Guild
by: caesar193


The head office of the Guild, which has now spread to have a branch office in almost all countries. The idiot elves won't let us map out there forests!

Locations
Establishment
Any
65
Cheka Man
William and Eleanor Piven
by: Cheka Man


She was known as 'Moon Child' by her friends as she only came out at night, and whilst they loved to play with her, those who did so for too long would soon have cause to regret it. He was her father and the town undertaker, with a secret much less savoury role as the town necromancer.


NPCs
Scenario Based
Mystical
125
Moonlake
Kalimon - An Overview
by: Moonlake


An overview of the world of Kalimon, including a summary of its history and the inhabitants. This is still a work-in-progress setting and more details may be added at a later date.

Locations
World
Any
140
Quest Submissions 7
Name
Title
Type
XP
Dossta
10 Dragon Lairs, Denizens & Hoards
by: Dossta


A grab-bag of draconic goodness, ready to plug into a variety of settings from Steam-Punk to Modern to Fantasy.


Locations
Fortification
Any
360xp
Dossta
Potion of Euphemisms
by: Dossta


'Cmon and drink up. This potion will really help us understand each other, if you know what I mean.


Items
Potion
Magical
230xp
valadaar
Seven Wonders of the Dwarven World
by: valadaar


Seven wonders of the Dwarven World

Locations
Other
Other
263xp
Chaosmark
Cela Ardonyth
by: Chaosmark


'I will give man his threescore and ten, and then give him more. Death himself will fall before me.'

NPCs
Major
Mystical
200xp
Mourngrymn
Anadem of Kormak
by: Mourngrymn


Ah, you are awake now I see. Wondrous news. I realized that you have no idea what is transpiring so I will be blunt so you may understand it. It is rumored that you are one of the best jewelers and metalsmiths in the region and for that you are lucky enough to have been chosen to create an item that will change the world. And afterwards, you shall be set free. My word on it.

Decanus Kormak

Items
Jewelry
Cursed
125xp
valadaar
Devouring Fire
by: valadaar


At one time it was thought that the substance known as Anagra Estratius, or Devouring Fire, was an alchemical substance, tainted by the infernal components that went into its making.

Lifeforms
Third Kingdom
Other
170xp
Stork
The Wishing Well
by: Stork


A wishing well is nothing more that a place to hope and dream. A token offering is given with the silly notion that the wish just might come true. But what happens when these wishes start to come true, on a regular basis?

Locations
City
Any
165xp