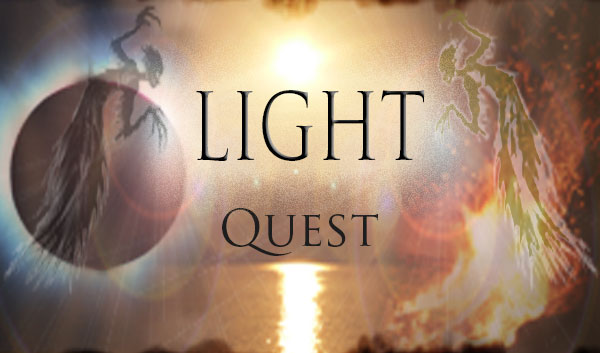 | | |
| --- | --- |
| Required Category | none |
| Required Tag | none |
| Status | Legacy |
| XP Bonus - Active | 20xp |
| XP Bonus - Legacy | 20xp |
| XP Bonus - First | 127xp |
| XP Bonus - Second | 100xp |
Quest - Let there be Light
Don't fear the Light!
Light elementals, Light Societies, Magical flashlights, lanterns that tell jokes, illuminated books and swords that shine like the sun.
Experience Points rewarded for every Light quest submission during the time frame with 150xp to the first place winner and 100xp going to second.
Let there be Light!!
---
Quest Winners
Name
Title
Type
XP
EchoMirage
Unthar, the Sun of the Dead
by: EchoMirage


From beyond through veils sublime

Pass ghostly, o umbral shine

Illuminate in shadow, fade colors, so fallow

Dark dreaming does bidding thine

Plots
Crisis
Campaign
652xp
Dossta
Temple of the Golden King and Silver Queen
by: Dossta


No shadow may find a home within its walls.

Locations
Establishment
Any
465xp
Official Submissions 7
Name
Title
Type
XP
Dossta
Lytharian's Luminescent Orbs
by: Dossta


Apprentice: "Master, this ritual must be performed under an eclipsed sun. We'll be here until next winter if we want to complete it!"
Mage: "Ah, but you are forgetting that we have a portable eclipse handy! Observe carefully . . ."

Items
Tools
Magical
250
Cheka Man
30 Spirit Lanterns
by: Cheka Man


When dealing with ghosts and the Undead in general, the right Spirit Lantern might make all the difference between a successful encounter and ending injured or even worse, dead or possessed. Here are a few of the most useful...

Items
Wand/Staff/ Arcane
Magical
190
Pieh
Staff of The Golden King
by: Pieh


A shaft of golden solid light; a powerful artifact of all that is good and holy. This staff is the bane of evil and the boon of justice.

Items
Wand/Staff/ Arcane
Heroic
150
Pieh
Imnoctum Novalumis
by: Pieh


The Master of Starlight, Player of Games; This Quizzical Fey knows Everyone's Names.


NPCs
Scenario Based
Mystical
125
Pieh
Chalice of the Silver Queen
by: Pieh


Drink deep from the Moon-Cup, let its powers quench your thirst, or even save your marriage.

Items
Potion
Heroic
205
Dossta
Mirror of the Star Children
by: Dossta


The most difficult thing in life is to know yourself. - Thales

Items
Wand/Staff/ Arcane
Magical
165
Ramhir
The Shield of Hope
by: Ramhir


The High King is dead. He died on a quest to find the stolen Crown of Destiny. As he died, he activated the ability on his armor, Fly To The Four Winds, which randomly transported his sword, Cut-Steel, and his shield, The Shield of Hope, to far-off places so they would not be taken by his foes.

Items
Armor
Campaign Defining
110
Quest Submissions 5
Name
Title
Type
XP
Ted
Spectacles of Hidden Truth
by: Ted


A magical pair of glasses once allowed the sharpest of minds to perceive the physical world around him. His cutting insight, throwing light on the darkest of secrets, is now housed within the spectacles.

Items
Other
Magical
240xp
Ted
Veracit's Furball
by: Ted


It's so cute!

Wait, why is it glowing?


Lifeforms
Fauna
Plains
235xp
Forganthus
The Hollows of Teragaius
by: Forganthus


A dangerous, alien plane where glowing frog-slimes slither and slurp, metal-skinned bird people rebuff diplomacy, and only the endless subterranean tunnels are safe (just mind the gravity-bending moles). Visitors will have to skulk around in the dark to avoid the curse carried by the sunlight. Because (have I mentioned?) the sun is the source of a powerful curse--one that covers the whole planet.

Locations
World
Underground
225xp
Xamusel
Angel Eye Ring
by: Xamusel


A ring of immense magical power, said to be crafted with the help of an Angel donating one of its eyes in crystalline form. Be careful, though... those with a great evil in their hearts cannot wear the ring.

The setting of this creation is the property of LilyNadesico. All rights reserved for her to look over.

Items
Jewelry
Magical
80xp
Moonlake
Shadow Bearer
by: Moonlake


A sword with an invisible blade 

Items
Melee Weapons
Combat
185xp