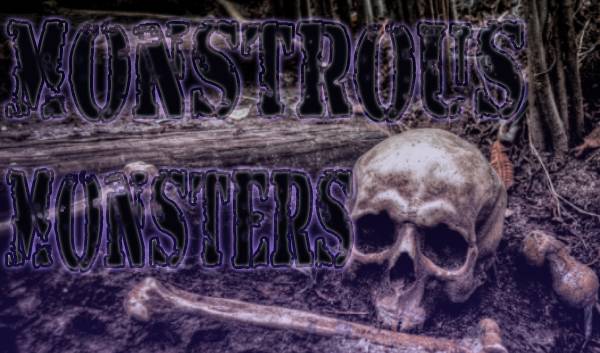 | | |
| --- | --- |
| Required Category | none |
| Required Tag | none |
| Status | Legacy |
| XP Bonus - Active | 20xp |
| XP Bonus - Legacy | 20xp |
| XP Bonus - First | 127xp |
| XP Bonus - Second | 100xp |
Quest - Monstrous Monsters
Monster.
The word itself connotes something wrong or evil. Natural, freak of nature, nurtured by a mad alchymist or simply the last of its kind. These creatures must be unique and... well, monsters!
Producing physical or mental fear by either its appearance or its actions. Mutants, mythical beasts, humans, flora, fauna, anything goes. Lets expand the boundaries and our established notions of what monsters are and can be!
Check under your bed before turning of the light!
---
Quest Winners
Name
Title
Type
XP
EchoMirage
The Saintmakers
by: EchoMirage


"Swiftly, repent! The Saintmaker is coming!"

Lifeforms
Ethereal
City/ Ruin
357xp
Dossta
Memory Moths
by: Dossta


Memory loss is a sort of living death -- and these moths are the Grim Reaper.

Lifeforms
Fauna
Any
550xp
Official Submissions 7
Name
Title
Type
XP
Ramhir
The Starspawn
by: Ramhir


"The Armored Avenger is dead!"

"Look at him! He looks like hamburger, but his admantium armor is untouched! What could have done that?"

Lifeforms
Constructed
Any
130
Pieh
Moon Razor of ManBeasts
by: Pieh


Upon the third storm-cracked night, under the light of a bloated blood red moon, the Razor of ManBeasts was crafted. A show of revenge, or the creation of a druid gone mad, no one knows for sure. But the ManBeasts walk the nighted forests now, ever since then, not a coincidence I say.

Items
Wand/Staff/ Arcane
Cursed
195
Pieh
Harvester of Eyes
by: Pieh


He had done it a hundred times, taken eyes. It was so easy by now, he rarely used a spoon or knife, but, with his own fingers, would pilfer those beautiful orbs from the skulls of the deceased...

NPCs
Scenario Based
Religious
350
slartibartfast
Denizens of the Chill Squall
by: slartibartfast


The wind picked up to the point where it sounded like a chorus of a hundred howling banshees. Even deep in the cave, we all felt the temperature drop even further as the Chill Squall moved through; snatches of wind fingering in as if it was trying to pluck us out of our hole.

Lifeforms
Fauna
Tundra/ Arctic
230
Pieh
Horng Poh-Buh, The Bloodiest Cloth
by: Pieh


The Red-Wind Rag; Trappings of a Bloody Death; A Malevolent Sheet of Scarlet and Ichor.

Lifeforms
Ethereal
Any
185
Siren no Orakio
Kain-1
by: Siren no Orakio


The failed prototype of the artificial race, the Oraki, it was Kain's misfortune to be found, and resurrected by those who bore a special hatred for his kind. Twisted now in mind and body, this monstrous man machine haunts both its kin and its former captors.

NPCs
Scenario Based
Combative
120
Scrasamax
The Becoming
by: Scrasamax


It's hiding in the dark, it's teeth are razor sharp
There's no escape for me, it wants my soul, it wants my heart
No one can hear me scream, maybe it's just a dream
Maybe it's inside of me, stop this monster

Skillet ~ Monster

NPCs
Major
Mystical
145