Full Description
The ylfharn, or nesa, as they calll themselves, are a tall and gaunt race, towering at an average of 6'6'. Their skin is a deep carmine, with beige dots on their back (earning them the nickname 'Painted Men' in the Tale Empire's Colony at Mirdroll.) Both males and females are naturally bald, and their ears are flat and pointed, extended out 4cm past their heads. Unless in the company of other sentient beings or preparing for war, the ylfharn remain unclothed.
One out of every thousand females is melanic, a phenomenon considered holy. From birth, the melanics are trained to be priestesses, living alone in caves and communing with the dragon-god Illuyuskan. the vast majority of these caves are along commonly passed routes, and any tribe moving through is obliged to make a sacrifice of food supplies, and occasionally oblates to the resident holy woman.
When a priestess is born, a 'dragon eye' is embedded in her forehead. The Dragon eyes are holy artifacts taken from ruins on Ishan.The eyes are said to allow greater communication with Illuyuska, as they represent his corrupted third eye.
In combat or social situations (if they involve non-Ylfharn,) the Nesa fashion armor and clothing out of the clay-rich mud in the Mirdroll swamps. On rare occasions, especially for figures of power, the clay is fitted and baked. The Ylfharn are skilled at pottery and, along with a reinforcing weave on and in the armor, can rival even iron.
The Ylfharn practice 'dance magic,' arcane dancing rituals lasting from hours to weeks. There are literally thousands of these, and it is said that not even the oldest and wisest priestess knows them all. The most well known of these rites is The Path of Fire.
The Path of Fire is practiced every three years, and lasts a full three weeks. While the excitement starts months before, with the preparation of heavy ceramic masks, food, and thousands of other ritual-specific goods, the true festival begins with the lighting of a forest. A torchbearer is chosen from among all present Ylfharn males (Barring those with life altering disabilaties, all tribes are present.) This male begins the ritual by carrying a torch deep into a holy jungle, and quite literally lighting the forest on fire. The Ylfharn then dance around this great blaze as it chases them out of the forest within the first week. The Torchbearer and all present Priestesses then tend to the fire, making sure it does not go out over the remainder of the celebration. One of these priestesses, chosen by her fellows, mates with the male on the final day, then throws him into the fire.
The Tallian colony on Mirdroll, the western continent and the home of the Nesa, has maintained a peaceful diplomacy with the painted men, and trade between the colony and the twin continents occurs often. Men do not shun the Ylfharn, and some have been known to journey to Tarran and seek out human artifacts to bring back to their bretheren as a sort of trophy.
Additional Information
The Path of fire paragraph is, I realize, very unweildy, I will later delete it and post the Path seperately.
For those of you who were previously unaware, Melanism is a real-world skin condition, caused by an over-abundance of pigment that leads to pitch-black skin.
Not Registered Yet? No problem.
Do you want Strolenati super powers? Registering. That's how you get super powers! These are just a couple powers you receive with more to come as you participate.
Upvote and give XP to encourage useful comments.
Work on submissions in private or flag them for assistance.
Earn XP and gain levels that give you more site abilities (super powers).
You should register. All your friends are doing it!
?

Responses (4)-4

I like where this is going. Keep it up!

Nice, I like the colorful nature of the Ylfharn, and the jet black priestesses with third dragon eyes... that is just an impressive visual. I can see their clay armor being effective against thrusting weapons and arrows, but being less effective against things like clubs, hammers, and maces. Another downside is how do you fix pottery armor? Break it and you have to make a new set from scratch. Still, i get a great primitive tribal vibe from these folk.

When I read this the first time I was really frustrated and annoyed and as I started to formulate my response I realized what was frustrating me. This idea and the write up is really awesome and I wanted more. So I read it again and again and I realized how much crap (good crap) you have put into this piece. I think this is a great intro to your world. As Scrasamx said you gave us the vibe and it is a good vibe. I want to read more, give us some links.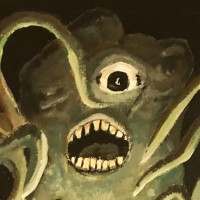 This feels like a teaser, as surely there is more to these folks then the intriguing picture currently presented.
" A desolate region is almost entirely without normal vegetation. Local plants are able to unroot themselves and crawl along the ground in search of water and fertile soil. The inhabitants fence their crops in to keep them from wandering off and put heavy stone thresholds in the doorways of their huts to keep wayward plants out. The plants sense by chemical cues, lacking sight or hearing, and tend to avoid herbivores or anything that smells of 'dead plants'. Characters with horses are likely to be unwelcome among the locals."
" A certain country allows most civilians to carry weapons, but only if they are potentially deadly. Pepper sprays, stun guns/tasers, batons, and dart guns are banned. And if you kill someone and are not acquitted at trial, the punishment is to be hanged the day after you were found guilty. The message here is that if you want to go armed, you had better be prepared to risk killing someone and being executed unless it was clearly self defense. When it comes to combat spells, again, only the highly dangerous can legally be cast with the same possible consequences if cast wrongly."