The Strolenati Mountain Sheep
The young mountain sheep came charging up the trail and into the Meadow of the Elders, past the startled Elder-Guards, and stopped, panting and half incoherent. 'Relax,' came a deep, amused voice in his mind. 'Take a deep breath, and then share your thoughts with us.'
'Yes, Revered One.' He took the deep breath advised, then trotted forward and touched his head to that of the Elder.
(I had minor surgery a couple days ago, and am high on pain meds. I had this dream last night, complete with name, and thought I'd write it up for your amusement.)
The Strolenati Mountain Sheep are a race of intelligent, telepathic mountain sheep living in the mountains far to the north. As far as they know, they have always been here, on their mountain, although they have legends of a group they know as The Dreamers who were there at the beginning, but are gone now. Whether the Dreamers created them or not is a widely-debated subject among the Elders.
The Strolenati Mountain Sheep are not widely known and that, along with the remoteness of their mountain, has kept them safe. They watch the occasional intruder but, since they look like regular mountain sheep, they have been able to hide what they are.
Most of the Strolenati live in herds, roaming their mountain and keeping in touch telepathically. The Elders, or Revered Ones, are the scholars. With their greatly increased ability to store memories, they are living repositories of knowledge and experience. Other Strolenati come to share new experiences or memories with the Elders, or to learn from them.
The Elder-Guards are experienced fighters who volunteer to protect the Elders, the treasure of the Strolenati. Being an Elder-Guard is a highly prestigious and coveted position, and avidly sought after by the veteran fighters.
(You know, I may actually use them in my campaign. Any problem with using the name?)
(So if you enter the Citadel under the effects of pain meds, beware. Who knows what may follow you back out!)
?
Community Contributions (1)-1
The Mountain Sheep of the Strolenati
Many, many moons ago, as told by the Elders, we, The Sheep, inherited a great deal of knowledge from The Dreamers, They came to us and lay in our fields, staring into the starry night sky all fixated upon a single focal point, an unknown point in the blackness of space. The Dreamers dreamed, with eyes wide open, and we ate of the grass that surrounded their heads. The Ones who ate are now known as The Elders, immortal sheep whose knowledge surpasses that of even the most brilliant human sages.
Their spawn now make up the remainder of our tribe. The powers of the spawn are not a great, yet still impressive. They have a limited range of telepathy among other sheep, and the power of Thought Transfer, or The Sacred Mind Bond not to be done with lesser beings.
The Elders share a dark secret that not even their young spawn know of or could even imagine. They watch the world through the minds of mortals. Humans, Orcs, and Dwarves, their kin and their ilk, provide The Elders with many insightful ideas and musings that they have no outlet for. The Elders, content with this, speak to to each other of the race they have been gifted the insight into, for each elder can only see the mind of a certain bloodline of mortal beings. And through these ties, their view the world, chronicling and debating the history of mortals past, present, and future, in hopes that The Dreamers will return to collect the knowledge and relieve them of their burden.
Not Registered Yet? No problem.
Do you want Strolenati super powers? Registering. That's how you get super powers! These are just a couple powers you receive with more to come as you participate.
Upvote and give XP to encourage useful comments.
Work on submissions in private or flag them for assistance.
Earn XP and gain levels that give you more site abilities (super powers).
You should register. All your friends are doing it!
?

Responses (14)

Not too shabby for a drug-induced epiphany (not that I'm endorsing the use or abuse of narcotics toward such ends). A herd of sheep with a collective awareness and intelligence would prove interesting. I could see a number of humorous applications for this during travel. The party somehow gets on the bad side of one of the elder sheep (perhaps they try taking pot-shots at it or kicking it off the mountain trail). From then on, all sheep in the region seem to have some sort of vendetta against them. When they go to bed down, nearby bleating keeps them up all night. When they wake in the morning, groggy, their equipment has been chewed up... lots of interesting and comical possibilities here.

I like them, but the term Strolenati has been taken already by the elite group of crack-pot muses that keep this place together. However, I like to imagine these sheep as our little experiment. A race of sheep that was created to act as a library of sorts by an ancient sect of knowledge-bearers. I would like to rework this into something a little more useful and with my own spin, if you don't mind. Solid 3, but .5 for inspiration.
---

By all means, please do. I would love to be a part of it, even peripherally. That's where the Dreamers came from, I guess. What would you like me to rename them to?
---

A rename is not necessary, I like them being children of the Strolenati, but I did add an Idea to your post. I'll ponder more on the subject in the future. Thanks.
---

I like it, a lot. Thanks for including me in.
Could you let me know when you do some more rework? I'd like to stay informed.

3 (Solid post) + 1 (originality) + 0.5 (personal like)
This is a complete post: Proper back story, proper twist, can be integrated into any world.
I think even though this in a changed form could be used in game, it should be more viewed philosophically and comically. I f the writing style was just a bit better, it'd qualify for a 5 in my view...
Good job! :)

Oh, and any roleplaying and backstory oriented player might enjoy just hearing of these... :)

Nice. 3/5

Shakes heads momentarily in disbelief, not for the quality of the post but because of the fact the dream was of sheep and not Llamas. Most know that the Strolenati are spawned from a race of super intelligent Llamas that direct the world and collect knowledge. Sheep is just so far fetched when you take this into account. In my mind I read Llama whenever Sheep was mentioned and it made MUCH more sense.
:)
---

The Illamanati... of course...

Oh, I don't know. No-one ever said that the Dreamers were human; maybe they were Llamas, using the Mountain Sheep as a focal point for data-collection in this dimension. After all, the Llamas have much more important things to do with their time than hang around collecting bits of data from humans and dwarves! (After all, sheep are just mentally challenged members of the herd, or so I've been told by llamas!)

Turn these sheep into the creators of the world encompassing Illamanati that are trying to bend the world to their own design slowly and methodically.

You should put this in the Drunken Writer's Guild. You may not have been boozed-up, but the outcome is somewhat similar.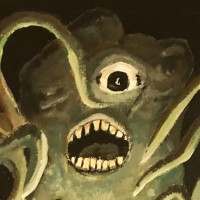 Ummm. :)
" While walking through the mountains, emerging from several small crevasse near you and begin attacking the party member with the most exposed skin. The Beez are creatures the size of a fist, with minimal stats but high agility. There is ten or more beez. Their sting causes a immediate loss of hitpoints."
" Dustwood is technically not a wood from a specific tree. It is an created fuel for fires. Starting with the sawdust from a sawmill, adding a mixture of wax or pitch, and a few other things, the mixture is pounded or pressed toghether tightly. It is normally smashed into a round container, so when it is slipped out, it looks like a small perfectly round 'log'. (actually a lathed log, but you get the idea). It can either be used as a log or slices of a log can be used for a fire."
" A modern kingdom still strictly adheres to ancient traditions due to their long forgotten deity getting annoyed at the moral decay, appearing as an AI Singularity and forcefully correcting everything it sees as morally wrong. As such, even though the weapons and technology have improved, the culture hasn't."