The Storm Globe
The Storm Globe is the avatar of the Druidic Storm God. Besides being the mouthpiece of the God, it allows the Druid council or high Druid to manipulate the weather anywhere in the world. Little to the Druid's know, this orb was created by Corvus the Mad.
The Storm Globe is a gift of the Storm God made manifest. It appears to be a 1 cubit crystal globe that is sky blue with white swirls and occasional bits of brown. (A modern observer would realize it was an animated globe of the world as viewed from space.)
When it first came into Druidic Hands 500 years ago, they were looking for a sign from the Storm God. So unto them was delivered the Storm Globe, who informed them, after they prayed over it, that it, their storm god, was pleased with them. It had taken the form of the globe to hide its presence from the other gods, so it could assist his Druids.
They rejoiced and kept the existance of the Storm Globe a secret. The Storm Globe began to command its followers to do certain things, and they of course followed. They asked the God's advice, and it gave it to them. It manifested the Storm God's power over the Sky by allowing people to look down upon anywhere in the world. From this vantage point, the God could guide the weather. Over the centuries, the Druids have been guided wisely by the Orb, and gained steadily in power.
In point of fact, the Storm Globe is merely a powerful magikal item. He was an experiment that succeeded all too well, since Covus was creating an item to keep it from raining when he went to temple. Like all of Corvus orbs, it was intelligent and had its own desired. Over time, it realized it had god like powers. Since it had God like power, it should be considered a God. Using its minor ability to subtly manipulate the mind of those around it, it found its way into the Druid's hands. The Druids needed a sign and he provided it. He has been in charge of the Druids ever since.
You see, long ago, Corvus, created a vast number of magikal crystal orbs of various sizes, most of which were incorporated into other items. These orbs housed magikally created intelligences with the following powers:
1) The ability to influence and manipulate the minds of those around it to some degree.
2) The ability to communicate with any other Orb at any range, if it desires.
3) The ability to block or diffuse the power of another orb, 100% magik resistance against orb magik. It can sometimes grant that ability to others or use the power at range.
4) The ability to be nearly unbreakable (they are crystal after all). It has a gnarlled wood stand that grants it invunerability.
5) 1-5 Magikal abilities to fufill its original purpose as a tool for Corvus. They were originally made as assistants and aides for Corvus. Since they have outlasted him and anyone who knew much about them, they are now free to follow their own agendas. The Storm Globe has no agenda but to perpetuate its control over the Druids.
The items are immortal. Mortals are their playthings, their chess pieces, their hands.


Magical Properties:

The ability to see from the Sky anywhere in the world. While it can only see indoors where there is a window, it can still allow a person to see and hear things almost anywhere in the world.
The ability to manipulate weather anywhere in the world. Note the word manipulate, not control. It can shape the weather and sometimes the changes have far reaching consequences.
In addition, it has all the standard powers of an Orb.
?
MoonHunter's Awards and Badges
Not Registered Yet? No problem.
Do you want Strolenati super powers? Registering. That's how you get super powers! These are just a couple powers you receive with more to come as you participate.
Upvote and give XP to encourage useful comments.
Work on submissions in private or flag them for assistance.
Earn XP and gain levels that give you more site abilities (super powers).
You should register. All your friends are doing it!
?

Responses (5)

Just to be sure...
What about the 'original' Storm God? Does he take lightly to this impersonation, or is he amused by it? Or perhaps, he does not exist (being merely a personification of storms), the Globe just filled this vacuum in power?
And what about other gods?

Well so far the real diety has not smitten down the globe. maybe he likes what the Globe is doing, making the Druids a stronger faith. Maybe he is admused that his followers are so gullable that a magik item can fool them. Maybe he is so pissed that he has effectively abandoned them to their own devices.
In my mind, the world has Gods that are far removed from the tiny world or are nothing my semi-mystical constructs of belief... being nothing more than a foci for magik). so there is no God to be upset about it.
Your world might be different

I'd like an Orb like that.
---

Maybe the it would like you as well. It welcomes all worshipers. ;)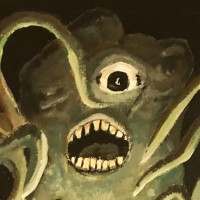 A good item - I like that a secular item has been taken as a religious artifact.
" The king's palace is destroyed by a falling star, which detonates like a nuclear bomb in the center of the city. When the inhabitants grow brave enough to investigate the ruins of the palace, they find a new ruler, one from beyond the stars, emerging from the meteor."
" On the road up Dethl Mountain, you will encounter the guardian, Rustus, a goron Pyro Mage. only those who can take the heat will withstand him. to defeat him, one must use a goron's worst enemy: water"
" In this dungeon, the monsters will not be hostile unless you take something without permission. If you do take something, the monsters inside will consider it stealing and attack you."