The Cursed Cup of Immortality
There are two stories to the Cursed Cup of Immortality, the one that was fabricated and sold to adventurers upon return, and the real story.
Basic Lore Check

The Cursed Cup of Immortality is a potent and powerful relic. It sat at the hand of the the Benign and Enlightened Tyrant Yosa of Kurab-Irtus, and ensured her long and immaculate dominion. Yosa enjoyed a long and youthful life, but there is a price to immortality, and it is a burden not easily borne. Few have the endurance for eternity. Yosa was bereft of children, and by the rules of the Kurabi and the Irtii, a tyrant may only abdicate their throne to a blood relative. Yosa had long since outlived her bloodline, and those that had a touch of the old blood were considered ill-suited or were simply murdered to clear up such issues.
The tyrant ended her own life with a blade, pouring out her blood into the cup that bore her long life. Her most loyal servants drank of this blood from the cup and their years were made longer, but not unending, and the deeds of their hands have gone on into myth and legend, their names as worn away and nearly forgotten as the dusty plain strewn with rock piles and scraggly trees that was one fertile Kurab, and the empty desert that had been the storied land of Irtus.
A hero who finds the Cursed Cup of Immortality can draw from it health, vigor, and long life. Any liquid spilled into it gains beneficial healing powers, water can heal wounds, while blood poured from the cup can raise a corpse not more than three days dead.
Intermediate Lore Check
The Cursed Cup of Immortality is a simple chalice style cup, made in the humble fashion of the Kurabi auroch herders. The outside of the cup is fashioned from Kurabi locust wood, while the internal metal sleeve is made of a humble hammered white pot metal. There are only scratches and wear on it from the centuries that it was carried and used by the Benign and Enlightened Tyrant Yosa.
Yosa was born the only child to a mixed family. Her mother was a Irtii noblewoman and her father was a Kurabi Mercenary Lord. As such, their daughter had social standing in both matriarchal Irtus and in martial Kurab. Yosa accepted the life of the errant adventurer upon return and spent many years honing her skill with the dancing spear, the bow, and sorcery. It was during this time that she discovered the cup in a treasure horde belonging to Zogh'Dar'Ia, an infernal corrupted dragonspawn sorcerer. After Yosa and her band of heroes slaughtered the part dragon, part demon, part giant they took it's loot and split it among them. In Yosa's pile were a number of stately jewels, implements of rule, and almost insultingly, dishes and flatwear. And the Cup.
Yosa kept the cup, as it reminded her of her youth among the Kurabi nomads. She used it regularly, and her companions aged, but she stayed young and strong. Her skill with magic grew beyond her skill with martial weapons. In time she created magical wonders, commanded squads of elementals and chained demons, and took a dragon as a lover. This dragon, Edenu, called the Devastator, would spend several centuries as Yosa's consort and lover. She never wed the beast, and was never elevated to the status of Dragon Queen. Nor did she ever conceive with the dragon, part of the curse of the cup.
Edenu was not faithful to Yosa, and impregnated a number of dignitaries and princesses of the unified kingdom. This eventually lead to the battle between the two, the ire of an immortal pitched against the lust and greed of a dragon. Edenu was slain. His skull was made into a fearsome throne. His body was rendered down to make arms and armor, his flesh portioned out for a kingdom wide feast. Those who had lain with the dragon were ritually executed, their pregnant bellies cut open while they were left gibbeted for all to see.
Yosa would commit her suicide less than a decade after this cruel and barbaric act.
Advanced Lore Check
The Advanced Lore check doesn't offer any more information than listed above, the story has been told, but successful advanced lore and research checks can reveal the following information;
A map that shows the location of the ruins of Kurab-Irtus, including a map to the now fallen down splendor of the capitol city, Yosheher. The city of Yosheher was abandoned centuries ago, leaving not much more than the rubble of the central fortress, and a number of rubble piles that were once towers and a pair of gates. Most of the city was wood, and was surrounded by a wood wall. Deforestation eventually caused major erosion issues, as well as decimating the supply of lumber for the city. With changing trade routes and disease, most of the region was abandoned and is now only inhabited by the nomadic descendants of the Kurabi.
Interior diagrams of the castle at Yosheher, including information on the potential traps and dangers there in. The main castle is now rubble, but the dungeons dug underneath are likely intact, and were where the tyrant queen kept not her enemies and criminals, but her valued possessions and her personal chambers. Criminals among the Kurabi were executed, and among the Irtii they were left to the elements in stockades or gibbeted in cages.

?
Scrasamax's Awards and Badges
Not Registered Yet? No problem.
Do you want Strolenati super powers? Registering. That's how you get super powers! These are just a couple powers you receive with more to come as you participate.
Upvote and give XP to encourage useful comments.
Work on submissions in private or flag them for assistance.
Earn XP and gain levels that give you more site abilities (super powers).
You should register. All your friends are doing it!
?

Responses (4)

Update: Not going to finish this one, but the basic premise was that the cup was actually a cursed relic that was found and used by villains and such as a trap. Those who drink from the cup are granted immortality, but only so long as they regularly use the cup, and while they cling to life, they lose their will to live, are overcome by ennui, melancholy, or otherwise eventually chose to end their own lives, but generally not before causing a good deal of carnage along the way.

To me, this is complete and probably can be used as-is in a game. I was never taken much for the idea of the Holy Grail and spin-offs but I'm giving this a score of 4 purely on the prose in this piece.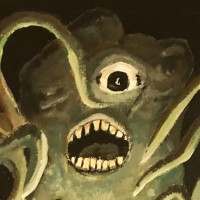 Quite cool - would fit in quite well with the Conan universe...

I think this as a whole is fine. I echo Moonlake only in that it has been done, but the thing I found most enjoyable is the fact it is written as you would find it in a source book of information. It gives perfect detail on what the players would find or know about said item on how well they either researched it or however the system or game your playing determines information checks.
I like it. And the fact it is simply a trap used by villains is a point winner for me.
" A world whose lands are made up of huge terrain spheres that rotate constantly with most portion underwater. As time passes, the shape of the bodies of water change, landmarks shift inside the new border lines, and mountains tilt to different degrees. Land dwellers are gypsies that can never build anything permanent, and somewhat ironically, the only stable settlements are large structures built at sea."
" Every now and again, the region encounters a dense blue fog. Every now and again, things disappear into the fog never to be seen again and things appear out of it from other places or world. It seems the fog is the material form of some minor diety charged with moving things around the universe to balance cosmic forces."
" The characters are given the task of transporting a flask of highly volatile liquid a long distance. The flask cannot be shaken too much or it will explode. The adventure involves stormy sea-voyages, bumpy cart rides through densely populated towns and horseback combat. In short there are many opportunities for it to break and explode."