Surya Power
Employees:
Range: Sectors
Revenue: Huge (0.1-0.9 percent of planetary revenue)
Risk: Small
Influence: Significant
Public Image: Popular
Nature: State-Sponsored
Industrial Classification:
Oil and Gas Production: 40%--Well Known in industry
Finance Industry: 20%--Well Known
Power and Essential Services: 40%--Dominant
R&D: Very High
Tradition: Standardized Rules
Centralization: Narrow
Unity: Very High
Paranoia: Standard Checks
Employee Relations: Significant Benefits
History:
Surya Power originally started out as Paliputran Oil and Gas Corporation, a company created by the colonial government of Paliputra and India to develop the plentiful hydrocarbon sources on the planet. While hydrocarbons were no longer a dominant fuel source on Earth they remained valuable for plastics, fertilizers and pharmaceuticals. As the company grew wealthier it soon began to diversify into power generation and delivery and financing. With few settlements unable to afford fusion reactors or the maintenance costs the company soon became responsible for the financing, construction, maintenance and bill collection for power planets across the sector. In 2197 POG&C renamed itself as Surya Power, after the chief solar deity in Hinduism and purchased the majority of its stock from the Paliputran government.
Autonomy and Independence
In a negotiation with the central government the corporation agreed to keep its corporate headquarters on Paliputra, provide power to government facilities at cost and to be a model corporate citizen. A representative from the central government would sit on the board of directors. The central government would keep a 30% stake in the corporation and would provide funds and resources in case of any distress. The corporation would be allowed a large amount of autonomy off planet but could not rely on government resources if they got in trouble.
Surya Today
Surya enjoys a positive media presence with programs to promote rural electrification and small business development. Its commercials are well known and many recognize the corporate symbol immediately. While alternative energy may be good for small villages and industries, Surya knows its main customers are the larger industries, cities and businesses that are more energy intensive. Surya has gained a monopoly on power generation and delivery on many planets and its representatives are seen at many legislatures from the smallest city to state and planetary levels along with interstellar. To be hired by Surya is seen as a stroke or good luck or hard effort as the company pay and benefits can improve a person or a family from lower to middle class. The company stresses it's servant of the people and family friendly image, a employee whether a technician or executive is made to feel part of a larger family and they should listen and follow the rules of higher and older leadership. While this promotes unity it also hampers reaction time as many executives wait for orders or clearance from Headquarters.
Security
Since Surya funds a lot of scientific research along with being a large presence on many worlds its security forces are large and well equipped. While not as paramilitary as some it can count on local governments to provide additional police or troops and resources if needed. Security patrols and checks follow a standard pattern on many facilities with the company relying on camouflage and anonymity to disguise sensitive projects. Many of it's highly classified research takes place on Paliputra on a reservation once belonging to the National Guard.
Rumor:
While no one has confirmed it, it is rumored that many Suryan power planets have security codes that can only be accessed or known to higher executives. This is to prevent possible nationalization or default on its loans. A planetary director can shut a power plant off which can be reactivated later, detonate several small charges which can damage critical electronics and parts which are only manufactured on Paliputra or cause the plant to self destruct. The company has not confirmed or denied this rumor but few wish to tempt it.
Not Registered Yet? No problem.
Do you want Strolenati super powers? Registering. That's how you get super powers! These are just a couple powers you receive with more to come as you participate.
Upvote and give XP to encourage useful comments.
Work on submissions in private or flag them for assistance.
Earn XP and gain levels that give you more site abilities (super powers).
You should register. All your friends are doing it!
?

Responses (4)

The rumor makes this one for me.

Good idea, and good execution, and this is something that I can totally use in my own setting. In my setting Surya would be a regional corp that hasn't quite made the jump to AAA rated Megacorp, and it's power generation in India fits in well with the subcontinent retaining its independence without joining any of the New Earth Governments. Offworld subsidies would be space stations and colonies in the solar system, and would be very limited.
The major world players in the power generation scene are building and operating fusion reactors, and dimensional engines while alternative power is sitting in it's usual back seat.
Nicely done.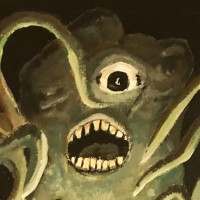 Not bad, but I would have made the 'statistics' at the top at the bottom instead.
Perhaps an NPC or two, or some plot ideas would have enlivened what reads as a CIA factbook entry.
" Just off the road a man lies dead, pierced through the heart from behind by an expertly thrown and ornate dagger which remains in the body. A long strip of cloth torn from the man's shirt has been tied around his neck; on the tag end an unknown hand has written a cryptic inscription: 'For Djaygo.' When you get to the next town, everyone is talking about a mercenary woman found slain in exactly the same fashion in her room at the inn where she was staying. Who will die next, and why?"
" A local fungus-breed explodes if hit or fallen upon. If there is any conflict between inteligent enemies,both sides are likely to use it to their advantage."
" Origami which turns into whatever it is folded to resemble."