Sproggans
The muggers cornered the little goblin against the wall, when with a hissing noise he suddenly grew to double his size. Muscles bulged out from his body and they lokked at each other, then turned and ran. The Sproggan watched them go and grinned at the thought of how well he had fooled them, and when they were gone he deflated back to his normal size and went on his way.
Full Description
The Sproggans are a Goblin race with a difference. On the face of it, they appear, small, weak and vulnerable, easy pickings for footpads or anybody else who would want to hurt them. Their eyes, which can be green, brown, or yellow, are bulbous and can take in every little bit of light to be found even in a dark area. Their feet are large compared to the rest of their body, and webbed, and suit their swampy homes perfectly. In cities and other built-up areas they wear strong shoes. As those who have bothered them would testify, they have a secret weapon.
If they feel seriously threatened or greatly angered, they can and will inflate their bodies to several times their normal size. Gills on the outside of their bodies and limbs breath in, filling internal air sacs, so that what appear to be weak limbs now bulge with muscles, and what was a four foot Goblin is now the size of an eight foot tall Orc and seemingly as strong. Their voices match their new bodies, and clubs, hammers and other blunt objects will bounce off leaving only bruises. Many would-be attackers have been scared out of their wits by these seemingly formidable Sproggans, and have turned and ran, after which the Sproggans deflate back to their normal size.
Additional Information
What the Sproggans don't want other races to know, is that their formidable appearence is not matched in reality, but is a case of them literally "puffing up" their bodies to appear very dangerous indeed when in fact they are relatively weak.
And whilst blunt objects will bounce off them and only hurt them slightly, swords and other sharp objects can slash the air sacs and cause the area hit not only to bleed but to deflate to it's previous size. Therefore,unless enraged beyound reason, they will tend not to pursue a fleeing person very far. Their whole plan in a threatening situation is to intimidate their foes and make them back down without a fight.
Their ancestreal lands are in the Purvis Swamp which has remained theirs partly because few members of other races would want such a place, and partly because they know how to lure would be attackers into the most marshy areas and get them helplessly bogged down. They on the other hand, with their light bones, air sacs and big webbed feet, can walk on top of the surface of even quicksand without getting stuck.
?
Cheka Man's Awards and Badges
Not Registered Yet? No problem.
Do you want Strolenati super powers? Registering. That's how you get super powers! These are just a couple powers you receive with more to come as you participate.
Upvote and give XP to encourage useful comments.
Work on submissions in private or flag them for assistance.
Earn XP and gain levels that give you more site abilities (super powers).
You should register. All your friends are doing it!
?

Responses (7)

I assume the similarity to Spriggans is intentional? I like the notion of their pufferfish tactics, but wouldnt this tactic only work for a short time? Once the other local races learned the truth, they wouldn't be so easily intimidated by the sproggans.

The pufferfish tactic is indeed a neat idea in a goblin-type. They remind me of bullywugs. And I'm glad this sub has the 'silly' freetext, because these guys must look ridiculous when expanded. I really can't see it scaring anyone. Even if they are 8-feet tall, it wouldnt only be because of torso and head expansion (An air sac wont may their neck or legs longer), and they would have to be almost as wide as they are tall. They might even get stuck in an alleyway for a while...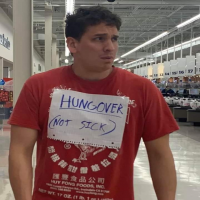 Spriggan meets Blowfish meets Bullywug. I like these guys! Great for a laugh, and no matter how silly, the blowing-themselves-up-part is cool.

With silliness, I can take them. It is a nice surprise effect, that would make you laugh the second time, but probably not the first. Very fitting for swamp-dwellers.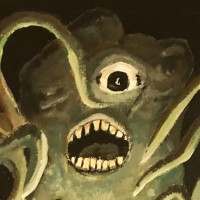 I kind of like the idea of blowfish goblins, it seems to fit with the idea of goblins. I would not expect them to be able to increase many times their own size without becoming immobile - joints would not work well with the flesh doubled, while the bones stay static.
Enough to become intimidating, yes.
Going full silly, an arrow might cause them to deflate quickly, perhaps being propelled like an untied balloon...
---

Most likely, it would if it hit in the right place.

It is rather silly as befits most goblin subs. Whimsical and amusing, the Sproggan would certainly be a nice suprprise to spring on any thuggish NPC who thinks that he can get away with bullying a helpless little goblin.
" Among the assortment of organized criminals who live in the great city, few command greater fear the Moonbeard Order. They of course do not call themselves that, but have earned the moniker from their fashion of dying their large beards with lye to produce a distinctive crescent shape running from earlobe to earlobe. This is meant as a taunt for their enemies, for it clearly outlines their throats. They also wear garb similar to the northern tribesman, carefully tooled leather and showing multiple, colourful glyphs. They are feared due to the intense discipline that their group maintains, due to their origins as a warrior-sect. They serve as paid thugs, enforcers and assassins within the city, with the client simply ordering a service from the organization, not hiring an individual. Apart from making the request and providing payment in full in advance, the order completes the assignment themselves. Their order has many moles through the organizations of the city, and more than a couple of nobles. As such, no organized move has been made against them since their chief activity is directed against other members of the crime world. It is said that their services have been useful for those in power as well, further protecting them from persecution. Their religion holds that their time in this world is vanishingly brief, and largely unimportant except as training for the Great Battle. The order is very utilitarian with weapons choice - they simply use the tool needed for the occasion, though not without having trained extensively with it beforehand. Daggers, garrottes, swords, bows, battle axes, polearms, wagons, even siege engines have been used to carry out their contracts."
" Earrings are said to give the sailor better sight. The pulse center for the eyes is through the earlobe."
" A man is arrested for mass murder and found to be insane. Piles of corpses were found on his property, neatly stacked torsos with the skin peeled off and the limbs removed. The man readily admits the work is his, though he claims he was only chopping down trees, removing their branches, debarking them, and then stacking them to season. The man may have swung the axe but it was a Druid who caused the delusion. This Druid is still on the loose and likely to repeat the crime. In time he may get more creative in his 'punishments.'"