Rangerwood
Rangerwood is an immense, heavily wooded area that covers a bulk of northern Aros. The inhabitants of this region are mostly human. Most of those that live in the woods are rangers or druids and almost all of these hold the title of Seekers.
Rangerwood is an immense, heavily wooded area that covers a bulk of northern Aros. The inhabitants of this region are mostly human. Most of those that live in the woods are rangers or druids and almost all of these hold the title of Seekers.
Seekers are a collection of people that believe their god has forsaken them because of what happened in the war. They believe that before the wars they were able to communicate with their god regularly and were in good standing with him because of a pact they made. It is said that the very first worshippers of this god made a pact with the gods allowing for them to be able to speak with animals and their god directly. In return they would worship him and carry out his wishes on Aros. The pact they swore to was made in the Torthan Woods amid the most ancient of trees in the land. These trees became witness' to the pact that was made. As soon as the pact was agreed upon it is said shoots of new trees sprouted up amidst the ancient trees which were so called the Scions of Piety. And legend said so as long as these ancient trees lived the pact would remain honored.
When the wars ended most all of the Torthan Woods were ripped from the ground and slowly in their place grew the new Rangerwoods. It is believed that all the ancient trees and the Scions of Piety were destroyed but some hold that the great upheavel could have just displaced them to some other portion of Aros. Now, where Rangerwood stands, is the only place that the Scions of Piety could have survived naturally. The ancient trees are thought to be totally destroyed or lost but the hope is that once some of the Scions of Piety will grow old enough that the pact will once again be revived, after all, the Scions were a direct offspring of the pact made.
And so the Seekers constantly search the forest during their travels for the Scions of Piety in hopes of once again serving their god. Others go on quests throughout the land in hopes of finding an ancient grove. They will allow no one to destroy or harm any trees anywhere in Rangerwood with the thought that one of them may be a Scion. There was a grove found that grows tall and encompasses all that it around it casting a darkness darker than midnight under it's boughs. It is called Versetch by the Seekers, for the ancient word defining an evil spirit, but is known as the Shrouds of Dusk by others. This patch is not believed to be the Scions by most, but some believed the Scions were somehow twisted in the upheaval and the Versetch is what became of them. These that believe this continue to try and rid the Versetch of the evil. Many stories revolve around what is in the Versetch, but the fact is, few survive the exploration.
Not all believe that the Scions will be found in Rangerwood. Those among the seekers that believe, with the large upheavels, that the Scions could be anywhere in Aros are widely known and respected in Aros for their woodland talent. So those that believe this have left Rangerwood to search the Four Cities and Drisalin and even Rangerwood to try and find the Scions.
The only towns in Rangerwood are made in natural clearings in the woods which are very few. Only two clearings are large enough to have cities, one deep inside Rangerwood called Markstone. The other near the edge of the NE corner not too far from the Makaw River called Edgewood. The rest of Rangerwood is full of traveling camps and small towns nestled amongst the growing trees.
?
Strolen's Awards and Badges
Not Registered Yet? No problem.
Do you want Strolenati super powers? Registering. That's how you get super powers! These are just a couple powers you receive with more to come as you participate.
Upvote and give XP to encourage useful comments.
Work on submissions in private or flag them for assistance.
Earn XP and gain levels that give you more site abilities (super powers).
You should register. All your friends are doing it!
?

Responses (5)

This post has had 1518 view and eight plus votes, yet nobody wants to comment?

Several unique locations, a solid amount of history, some enigmas and an evil copse of trees. How often has the all ranger/druid game been played? Not enough If you ask me. I also like the protection of the trees as the rangers think any of them might be a surviving scion as opposed to being hug the trees love the trees trees are out friends sorts.

First I want to note that Strolen is a time traveller, and updated this piece on the very last day of the 60s.
I like the ideas behind this, and the sub a story and gives us a setting, I enjoyed reading it and thanks for writing it. This has the feeling of a prologue for an epic quest, one I would like to be part of. I think this a great prolog and I would like to know more (and I suppose that is how many RPGs were born).
A lot of fantasy writing, at least fan writing, I find is full of phrases like 'legend has it' or 'there are rumored to be'. These phrase leave details of the story open to the reader and suggest that what we are looking at larger world. I however find this tone incongruous with the third party omnipotent perspective that is common in RPG writing. This piece has a very conversational tone and a camp fire story type style. Yet when a piece gets more specific, more detailed, I believe it actually becomes more accessible because it creates a more complete picture of the subject or the world. But then at the same time, it also becomes limited in scope and appeal. I think this piece could be re-worked just slightly to give a more vivid picture of the setting, by perhaps giving some first person narratives or just a few more details and author opinions, but retain its broad scope and open ended nature.

A little painful to read. I wasn't totally coherent in the 60's. The land of Aros PBem (there are still remnants from decades old websites that I can no longer get to floating about too) was my homebrewed world I came up with over 20 years ago. That one idea that you kick around forever, adding to and forgetting about through the years.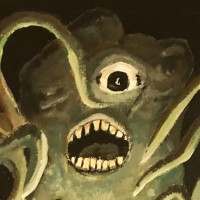 This is good, and can be readily expanded on.
" A world where there is a finite amount of magic present in the world, and it's almost used up. With the winds of magic being weak and unstable, how will nations built on the heavy use of magic survive?"
" Termites, in certain places, make homes that can be eight meters high and only a half meter wide. They are built facing North to South to take advantages of the suns travel, maximum heat in the morning and evening and little in the afternoon. Imagine grassy plains with vertical structions facing a certain direction all over the place. Ambush? Maze? New creature? Larger structures?"
" Culture/Religion: based on fear and respect. Gods are very dangerous creatures, sometimes friendly, often not. Temples are the way to make contact with them... if not easier, then at least more concentrated in one place. Were it not for the temples, gods could be running amok among the people. Therefore, mortals have to keep the gods close to temples, entertained and worshipped. It doesn't make the bad ones any friendlier, though (and is no guarantee some won't go on trips now and then). Still, there have to be priests that are hardy men, able to survive the rigours of their position, get a sufficient number of worshippers to make the gods feel important enough, and mediate the contact between mortals and immortals."