Pure Scent
Pure scent, while technically a potion, is not designed for drinking. If it is allowed to evaporate, it reacts with all 'impurities' in the air and removes them.
Pure scent, while technically a potion, is not designed for drinking. If it is allowed to evaporate, it reacts with all 'impurities' in the air and removes them.
The result is a complete removal of all scents and smells. While it could seem to produce something fresh, it is actually _no_ scent at all. This sudden removal of scents can be a bit spooky on the subconscious level, particularly for animals and creatures that strongly rely on smell.
Hat tip to Shadoweagle for thinking of more details.
Background:
Pure scent is a creation of master Herbminn Vatel, a less known alchymist, expert in the field of perfumes and scents, which, while a little-followed science, can make a nice living. It is not certain, if it was only a chance, or discovered in a purposeful research. Vatel has been known to search for the 'ultimate scent', the purest one that can exist. To some this would be the answer, the secret of pure scent being no scent at all.
As a side note, Vatel's sensitive nose seems to have suffered in the end from too intensive use of the Pure Scent(tm). Rumour says he has lost this sense entirely after inhaling it several times.

Magical Properties:

- cleans air from all impurities, leaving only the few basic elements behind
- can be used to remove one's smell, to confuse creatures tracking this way - so hunters, but also shadowy characters will surely find use for it
- can mask any other smell, at least for a while... so your evil villain(tm) could make anything evil that smells and no one would notice. Flush waste from your factory? Summon a demon of Filth? Make bodies of enemies decompose with your necromantic powers? Anything goes.
- a side effect is actually _increasing_ the sense of smell, as if the person smells nothing for quite some time, once the effect is gone all the scents will seem richer and stronger.
- in terms of tracking through smell, it could be only a time-giver, as if the tracker moves out of the smell-less area, their increased smell will no doubt allow them to pick up the scent more easily.
- while a potion, it is not very healthy to drink (could disrupt communication between cells and whatnot... random negative effects on health). That is more of a side effect, a mild poison if you will. Also, the senses of taste and smell could be damaged with longer use.
Actual use: stored in tiny flasks and carefully closed small containers, it can be used as perfumes (apply a drop here and there...) to neutralize foul smells. For a larger application, it is usually shaken wildly, and shattered. Watch out, it evaporates quickly. If sprays exist, it will be in one.
Sadly, the brew is quite expensive, and its ingredients are rare (choose a few random exotic strangely-smelling things). Few people have it, and fewer are willing to sell it. The recipe still didn't get to the alchymistic public, too.
So that aforementioned villain disguising his factory could have found a much cheaper variant. Gather the heroes... tell them of his slave mines... which we wants to use to conquer the world etc, etc, and the quest is... to steal a cheap perfume!
?
manfred's Awards and Badges
Not Registered Yet? No problem.
Do you want Strolenati super powers? Registering. That's how you get super powers! These are just a couple powers you receive with more to come as you participate.
Upvote and give XP to encourage useful comments.
Work on submissions in private or flag them for assistance.
Earn XP and gain levels that give you more site abilities (super powers).
You should register. All your friends are doing it!
?

Responses (8)

Nice job. Tempering its use with side-effects was a nice touch.

Aaah, there it is! Relatively simple, but a nice effect.

Haha. Lovecraft would hate you. How on earth can we tell if a Blasphemous Entity From Beyond The Void has been eating children in the vicinity if we can't sense its revolting, eldritch fumes?
I could see some idiot drinking gallons of this and then setting up a carnival-type business. 'Come one, come all, and see the Amazing Senseless Man! Six crowns and you can smear horse dung in his face!'

There a very few truly original ideas but I think you've stumbled on one here - this really is quite bizarre
Quite like it by the way - has some potentially very interesting applications
Good work manfred - 4/5

Solid

I like it, its very interesting.
5 for being so totally out there and still making sense. I could see someone invent this.
On a side note, if it did get out to the public you could expect a cheaper or one with a lessened side effect in less than 5 yrs.

I have just seen the movie "Perfume: The Story of a Murderer", and after that, things like 'the ultimate scent', or 'no scent at all' make suddenly sense in a very different way. Oh my.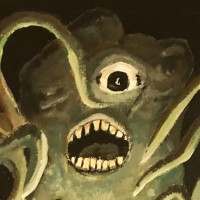 This is cool - I love 'simple' alchemical substances like this. Awesome!
" Appearing a small ballista bolt, this 'bolt' is actually an arrow used by a god from a long-dead pantheon. Some sages theorize it was a weapon crafted by Loki to slay the world tree. Why it was never used escapes them however. The spear has a divine-level anti-plant effect. When driven into the soil point first, a ever widening circle of destruction radiates out from the point, killing any plant material. Perfect for holding a kingdom's food supply for ransom. How far it extends depends of course on the GM, of course."
" A group of Mages sought to create an Elixir of Fertility, to deal with the Curse of the Empty Cradle. After acquiring such things as the 'ahem' vigor of a war deity, and the 'ahem' blessing of a forest goddess, the mages almost created the cure. Instead, the vessel of Divine Virility was spilled, and instead of curing sterility, infused the ancient hill with life. The temple and alter rose, becoming a demonic force of life essence and the fecundity of nature."
" I was in a game with a GM that had a Masters in History, who made is a point to mention that the local peasants didn't have wheelbarrows. The rest of the players just shrugged that off but I knew that the GM was trying to tell us the peasants were on the knife edge of starvation. All that from wheelbarrows? Yes, because before the invention of the wheelbarrow it took two men to carry that load. In it's time the wheelbarrow was the most explosive production multiplier that the peasantry could get their hands on. This is worth two tips: One about the power of the Wheelbarrow and the other is the moral of the story...that people need to know the point you are trying to make."