Prehena
Not strong of body, and questionable of mind, she has a kind heart and one special talent. She is not a healer of wounds, or even of people, she heals the souls of creatures. She feels sympathy for even the most hideous and terrible of creatures, and when her tears for them fall upon them, their hearts are moved and their evil ways ended(for a little while at least).
Personality
She is kind and loves animals of all kinds. She can seem very unintelligent because she is does not fear creatures who it would seem common sense to fear. Actually she is average in intelligence and only slightly week in strength, but she is adept at all things relating to animals, and, as necessity dictates, a good runner. Prehena feels sympathy for all creatures, no matter how ugly or mean they are.
Appearance
She has sandy colored hair some where between blonde and brown, and has green eyes. She looks about ten years old, or at least close to that and has freckles all over her face. She is almost always followed by a crowd of animals, whether it is bugs or cattle. She wears the common children's attire for what ever land your game is in, although she favors the color green.
History/Background
She was born, a seemingly norman human girl, into a good, lower-middle class family. She would keep pets, the stranger the better (or at least that is how it seemed to her parents). They have tried to keep her out of danger, but she has somewhat of a knack for getting into trouble, as she often goes off to find more 'friends'. She discovered her gift when she was five years old and her father was about to kill a snake(or similar animal if your campaign doesn't have snakes) which had gotten into her house, she found this situation terrible sad and began to cry. After one of her tears fell on the snake it stood down from it's striking position and and sat calmly on the ground. Luckily for the snake Prehena was able to keep her father from harming her new friend and she was able to raise it as her pet. There was once, when she was seven, she was bitten by one of her creatures, as she set it's food down for it. The cut was not to deep or dangerous, and she forgave the creature, but was much more careful about feeding her pets.
Special Equipment
She has none, only her tears, which can make a creature good, at least for a short period of time, longer or even forever if they are trained by her as some have been.
Roleplaying Notes
She's probably best suited for a fantasy game, although she might be adaptable to a Si-Fi or super hero game if you can think of some slightly more logical reason for her powers. There are several ways to introduce her to your campaign, the first of which is to have her go missing, preferably in an area with a lot monsters for her to befriend. Another would be that there is a sever monster infestation or invasion, and someone finds out about her gift. It would probably be up to your players to keep her safe.
Hopefully she's an interesting character and fun to use in your campaign. Oh and I'd love feed back on her, thanks :-).
Not Registered Yet? No problem.
Do you want Strolenati super powers? Registering. That's how you get super powers! These are just a couple powers you receive with more to come as you participate.
Upvote and give XP to encourage useful comments.
Work on submissions in private or flag them for assistance.
Earn XP and gain levels that give you more site abilities (super powers).
You should register. All your friends are doing it!
?

Responses (10)

Updated: I'm just finishing her up, I didn't finish last time.

I like the main idea of her tears of sorrow/empathy make animals be good. I appreciate also how you keep things general for many different worlds. At the same time, dont be too afraid of details... people can just ignore ones they don't like unless your whole character depends on it. In this post, a little more histroy might be nice. I wonder, if she is so kind to animals and they become good once she cries on them... has an animal ever mauled her (it wouldnt be nice until after she cried on it, right? So maybe she goes to help it and it mauls her... how does this affect her if it were to happen?)

Ummmm... Forrest Gump with healing tears! (seriously, her trusting nature reminded me of him).

More history, less cliché. Good solid post.

Updated: I tried to add more specifics and history

Updated: I wanted to add details and fine tune my description,

I like her.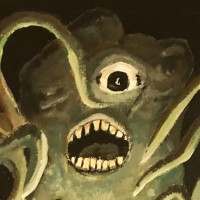 An interesting character with a lot of potential. I might generalize calm and non-aggressive instead of evil, as cobras aren't really smart enough to be evil. Aggressive,yes.

I actually quite like this one but like Ancient Gamer said it also rminds me a bit of Forest Gump with healing tears thrown in, other than that not bad.

The idea is sort of fairy-talish, I think, which I like.
" Basq doesn't exist. He occupies a point in space--a single X,Y,Z point in the Cartesian plane, but he's not made of anything. People looking at him see whatever they want to see. Or what he wants you to see. Usually a mix. Just the same, he cannot be hurt swords or arrows. Only things that deal damage to an area (fireballs, gases) can damage him. Or weapons that can cut through an infinitely small point."
" The Orcish Mustang - a semi-wild horse tamed and domesticated by orcs to serve as their mounts. Large, strong bodied, and fearless as they live among orcs. On the other hand, bad tempered, with teeth problems, sometimes have hoof problems, and agressive. In lean times, or when an animal dies, the orcs suddenly have a dearth of meat, and hide to work with."
" A nation state has a hardline tradition of transparency in government. So much so that any and all information held by their military and intelligence services is immediately declassified and published when the said information is no longer relevent to current and ongoing activities. Even if such information might be diplomatically toxic."