Pocket Army
The peddler was pulling odd things from his pack, extolling each as he laid them down – one shoe that changed colors, a knife carved from wood, a mummified bird. "And this," he said, pulling a 1 foot square box of stone out of his pack, "is all the friends you will ever need." He opened it up, showing the carved stone statues of warriors inside. He took one out and stood it on the ground, where it changed to flesh and blood, stretched, then pulled the sword from its sheath and saluted them with it. "An army in your pocket! For a mere thousand gold! A bargain!"
History:
The men stood at attention behind their leader. High King Talisen watched them, coldly angry, but the Arch-Mage Solon was incandescently furious.
"So," he said bitingly, "let me see if I have this straight. You delayed answering the summons of the High King, your sworn liege lord, because something was stealing your cattle. Your liege summoned you to war, but you had something More Important to do. Do I have this correct?" His withering gaze swept over them. They stood rigidly before him.
"Well?" the High King said.
"Yes, Sire," replied Baron Hansur, staring straight ahead.
"So," the Arch-Mage said contemptuously, "your liege called you to help defend the kingdom, you could not be bothered to come, and we lost the Gate. The Necromancer's army stormed the Gate - our only way home, took it and began pouring trolls, orcs and other fell beasts through it. Our only recourse was to destroy the Gate. So I blew the Gate, and destroyed, for everyone, for every man, woman and child, our only way back home!
"And you were not there because someone was stealing your cattle! You are all mighty warriors and would have been of inestimable help, but you … did … not … answer … your liege's call. Because someone was stealing your cattle!
"Go back to your keep, to your little stone box on the hilltop. I curse you to become powerless, two inch tall toy soldiers, alive and undying, bound to obey anyone that controls your little stone box, until your oath is fulfilled!" There was a flash, and the twenty forsworn warriors were now two inches tall. An open box lay on the ground next to them. The Arch-Mage bent, picking them up and dropping them into the box where they changed into tiny stone figurines. He put the lid on the box, then stood, making a gesture at the box. It vanished with a pop.
The box has been seen occasionally, in the possession of another adventurer, or in the pack of a wandering peddler, or in the lair of some creature. However, attempts to hang on to the box will not work. Sooner or later, the box vanishes again, lost, or stolen, or sold.
Description:
The box is of grey stone, carved to look like a square stone keep. Inside are twenty stone figures of warriors, carved with amazing detail, right down to their faces and the buckles on their shoes. When taken out of the box, the stone statues become living, two-inch tall warriors. They move and, while they can be seen talking, they can not be heard. They will obey any orders given to them by the holder of the box. If one dies, he vanishes, to be found back in the box. When taken back out, he is alive again.
GM Information:
The warriors are alive, and can not be permanently killed. While in the box, they are stone figurines. In combat, they do negligible damage, but they can get into very small places. While they can not talk to the big folk, they can mime or draw in the dirt. (and actually, they can talk, in faint, ultrasonic voices. If a PC could hear ultrasonics and thought to put one close to his ear, he could hear him talking in archaic Common.)
The PCs can keep the box for a time (GM determined) but sooner or later, the box is lost, or stolen, or sold to another.
The Curse
The curse can be broken, and the warriors can pass on to their rest, if their oath is fulfilled. That will be difficult, because first, the PCs have to establish communications with them. Then the PCs must get their story. Then the PCs must get them to the High King. Once they have fulfilled their oath, by coming to his summons, they will be allowed to pass on. The GM will have to adjudicate the oath-fulfillment to make it ring true to his players. When they are called by the High King, they regain human size, but as a ghost, hard to hurt, but their weapons do full damage to the real world and the living, and they are very skilled with said weapons. A good cinematic way would be for a war that they enter, as in the army of the undead in Lord of the Rings that Aragorn brought to the battle. Obviously crucial, but the GM wouldn't have to play them against himself.
?
Hall of Honour (1
voters
/ 1
votes
)
Not Registered Yet? No problem.
Do you want Strolenati super powers? Registering. That's how you get super powers! These are just a couple powers you receive with more to come as you participate.
Upvote and give XP to encourage useful comments.
Work on submissions in private or flag them for assistance.
Earn XP and gain levels that give you more site abilities (super powers).
You should register. All your friends are doing it!
?

Responses (11)

Just what is needed to deal with a Pocket Ironbones attack.

Fascinating. I had not come across that post when I made this one, CM. Thanks for the info.

Honestly, the fact that the soldiers are tiny made me come up with more ideas for ways to use them than normal sized people ever would. Thanks for the idea.
---

Glad you liked it. Perhaps you could detail some of the ways that the tiny soldiers could be used to add some more detail to them?

wow, this is really awsome.

Echo likes.
So, how exactly can they become free?
---

Oops! Forgot that bit. To be free of the curse, all they have to do is fulfill their oath. The Arch-Mage never specified 'which' High King they had to fulfill their oath to. I'll have to go back and edit that. Thanks, Echo.

Update: Changed the sub to show how to end the curse.

The idea behind this one is very good and the write up is actually very engaging.
'An army in your pocket! For a mere thousand gold! A bargain!'
This one made me laugh as I envisioned the peddlers enthusiastic face. I would never use this myself in the games I usually run. But then again, with proper execution a GM can make things fit about anywhere. Good job!
---

Laughs are good, too, Mike JS. Glad you liked it.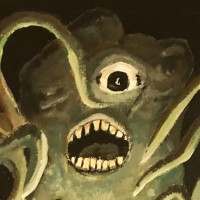 These are neat, and wonderfully magical.
They could play an interesting part in a Nim/Redwall type campaign.
" Far to the north amidst the endless ice-flows it is rumored that a dwarven Walrus Totem clan exists. These rumors have been unsubstantiated to date, unless the dwarven sage Glurt Goblinguts is to be believed. He claims to once having encountered a troupe of huge dwarves, each standing a beard's length higher than the tallest known dwarf. These dwarven 'giants', their hairy chins crusted with frozen shards of ice and dirt, hauled gargantuan yellowed horns or tusks upon their wide shoulders, and their helms, likewise, sported massive, down-ward pointing tusk-horns. Glurt Goblinguts later speculated that the impressive size of these dwarves was most likely due to their arctic diets, almost exclusively fat-based."
" Anything not bolted down has a chance of moving about when unobserved. The items are smart enough to open simple latches, or break weak bindings. The rate of this oddness seems to follow certain astrological patterns."
" Rather than making a baddy impossible to hit, consider giving it mega-hit points. Super hard to hit leads to great player frustration. Allowing them to do damage leads to a sense of accomplishment. another variation of this would be to give the bad guy a forcefield that shows damage.You could also give them a mastermind ability that sluffs the damage of to minions who should be easy to kill.Once in a while a super high to hit encounter is ok ,but it should be few and far between. Your mileage may vary"