Overclocked Perception
"With the OP(im) implant you can be the master of your own space and time!" - Advertisement
With Overclocked Perception (inter-medulla) you can make those critical moments, or just those special ones, last almost as long as you want! Next time a fight breaks out, you'll have the edge to keep ahead of the next guy. Wish you could have more time with your favorite partner? Now you can, and without having to take time off! All this and more is possible with your new OP(im) implant! Get yours today!
Full Item Description
There are full body implants that can actually make a character move faster, but they are highly invasive, replacing large portions of the nervous system with artificial materials and bypassing higher functions to route responses directly into the quicker animal reactions, the basic instincts. These modifications result in "people" that are barely human anymore, and accidents from reactions that would have normally been kept in check no longer having the option to be stopped. Like putting three rounds into your friend who surprised you at your surprise party.
Overclocked Perception doesn't actually make you any faster at all, it's simply a small processor in your brain that "opens up" the speed at which you perceive things. You get to see things at 'Matrix-style bullet time' but you don't get to react any faster than normal. If you see someone drawing a gun, you can kick these on and have plenty of time to react, getting to cover or shooting first, whatever you need, but if all you see is someone pointing a gun at you with a bullet leaving the barrel, you're not going to be able to dodge that, sorry.
Users often find themselves leaving their Overclocked Perception on all the time, to let themselves get more out of life, they tell themselves, but the sensation gets addictive as well as produces phobias in many users. Semi-voluntary reactions, like blinking or breathing, can become out of synch, and users can become terrified if anything interrupts their senses.
A person viewing the world through overclocked senses may feel like it's been a half hour since they took a breath, since they aren't breathing faster than normal. A flash-bang grenade would leave them blind for what feels like days. A knife wound would be aching for years before it heals, and could lead to becoming addicted to pain killers.
Super senses aren't endowed with Overclocked Perception. You can't speed read, in the usual sense, your eyes aren't moving any faster than normal, but you can focus more or the whole page rather than just one word, letting you read more, quicker than normal.
?
Hall of Honour (1
voters
/ 1
votes
)
Not Registered Yet? No problem.
Do you want Strolenati super powers? Registering. That's how you get super powers! These are just a couple powers you receive with more to come as you participate.
Upvote and give XP to encourage useful comments.
Work on submissions in private or flag them for assistance.
Earn XP and gain levels that give you more site abilities (super powers).
You should register. All your friends are doing it!
?

Responses (6)

Now, this just reeks of cyberpunk - an elegant human modification that is useful, and at the same time twisting the very human soul... very fitting the genre (and of course it could be turned into fantasy magical item or spell with the same problems attached).
A few things:
- we have already a 'Cyberpunk' freetext with a few items items, you might want to use that
- how is it precisely controlled? Is there a switch, or merely a mental command? And most importantly: how many settings are available - is it only 'normal' vs. slowed, or are there several to choose from; or can be the perception adjusted on a scale?
The OP might be immensely useful back at school... I would be tempted to try it. :)

Innovative, gadget-y, fun.
It read like an advertisement from the sixties (I actually read it with a "sixties commercial voice" in "the back of my head").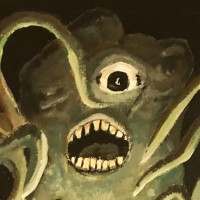 I think this is great!
And yes, there are times when I'd want this one as well.

Wow. I'm not sure whether this would be worth the cost, in terms of paranoia and other mental issues. Besides, I pride myself on my natural speed of mind and body. I'm sure there would be at least one or two people in any cyberpunk scenario who would feel the same way. "I might not have my original arm, but at least my brain is all mine."
Very creative idea though. I kinda wish there was some more meat, but this one does get across the concept and purpose.

Well done wetware submission, and the checks and balances for cyberpunk are all there, improved reations at the cost of your sanity. I like how it is also presented as an alternative to more invasive options. Kudos.

Best to turn it off if you get hurt.
" Walking through the alleys of the docks district of town, you hear an old, mad beggar calling out for alms. He claims to be a god, cast out from heaven and stripped of his powers. The party passes, tossing a few coppers to him. In thanking them, the madman refers to incidents in their childhood or distant past which would have been all but impossible for him to know."
" Sneezing Sickness - A strange plant infection that causes its victim to spread the plants seeds by sneezing them about. Larger lumps of phlegm or saliva sprout is spat out in a sunny place, producing more of the plants. As the Magical version of seasonaly allergies the affliction is limited in term and non-life threatening."
" A little way up the narrow valley, before they reach the woods, the PCs notice the squat, tumbledown buildings by the riverside. They are hardly big enough for a human to stand in, and the complex cogs and shafts that occupy the central cavity of one of the buildings are perplexing. What were these buildings? And how safe are they to explore? Alternatively a desolate place is the perfect setting for a derelict chapel or croft. There needn't be any actual physical encounter involved, but it adds atmosphere to a place to see its dead history. For instance, in the Outer Hebrides there are whole deserted villages which were razed to the ground by the English during the Clearances. Such stories give a setting authenticity and character."