Minotaur
"The Masters have ordered our advancement on the enemy. They are entrenched and well defended Legatus, what is your intent?"
"The Masters say kill, we kill. They order and we obey. The difference in ordering an infidel and a weapon, is the weapon enjoys the order. Slaughter them all and pray to the Weapon that Kills that this day will be bloody. Sing the song of your God and may they get you through today!"
- Legatus Suuhai - Commander of the Minotaur Armies of the Blades
Race : Minotaur
Caste : Ba'craht
Appearance : They have the appearance of a human male with the neck and head of a bull.
Height : 8'™
Weight : 350 lbs
The Minotaur is of the Ba'craht class of the demons. Being of the middle class gives them quite a few benefits over the other lesser Taur. They have been elevated to a higher station due to their intelligence being far superior to the slave class.
Description :
They have the appearance of a human male with the neck and head of a bull. A set of horns sit atop their head and curve inward toward their snout. Their small yellow eyes speak of pain and intelligence far beyond what a typical animal would have. They usually cover themselves in tattoos and piercing, but will never pierce their nose. These tattoos and piercing are meaningful to the Minotaur station among themselves only. They tell the tale of each Minotaur path on the field of battle, and of their station in the demon ranks. They have little hair below their head and cloven hooves in place of normal legs and feet.
Distinguishing Traits :
They have been elevated to a command role in the demon armies, usually a captain or lieutenant, a few have raised to that of a general. They usually have a distinguished noticed about them that are not normal even for the intelligent Minotaur. While they have a tougher skin than most creatures, they still wear basic armor in battle. They prefer the use of chains and scale type armors and are opposed to plate or leather as plate is too restrictive, and leather reminds them to much of their own hide. They prefer bladed weapons overall and have been known to like bladed pole arms.
Personality :
They are extremely vengeful and always in a rage that only their masters can quell. They have a bloodlust similar to a rabid wolf and will stop at nothing to feed on flesh of others. While not having a pack mentality, they will jump at the smell of blood and battle. Their skin prickles and the hair on their neck rises with anticipation.
They have personal gratification on blood-letting and are addicted to the euphoria and thrill of killing. When killing a seasoned or knowledged opponent they take great pains to follow a strict code. When fighting a commander or known warrior of the opposing army, they will salute them giving them honors and warrior respect. When they venquish them, they will gut them and eat their heart. They say this lets the soul rest so they will not be haunted later by the ghost of their kills.
Relations :
Among their own ranks they have a pecking order of sorts. While they are in full obedience of their masters, they take great pains to see that others of their kind know their own station. The oldest and strongest has full authority over the others of their kind. This has been in place since the beginning of their birth. The next in line for authority are the ones placed into command positions by their masters. Which is at first difficult to understand why the leaders would be placed second in command, but among the demon-kind the strongest and wisest always rule.
When not in battle, they will constantly find ways to improve their skills and honor among their own kind. They care little what their masters view them as, since they are no more than fodder to them. They gather together in times of non-warring, as their is no peace in their world, and commit to weaponless combat to gain in skill and stature among their own ranks. There are seldom any deaths and the winners are seen in a respected light.
They view their commanders with mixed thoughts. They see them as brethren and skilled, but also hold contempt for them as they were placed their by their masters and not by their own design.
Religion :
They are not a religious breed and the prayers to their Demon God King never pass their lips, even in battle. They do pray to their weapons however, seeing them as an extension of reality that can change fate like the roll of the dice. They will create prayers and songs about their weapons that they sing in battle striking fear in the hearts and souls of their enemies. Each song is about a battle they survived and their Weapon God saw them through it.
Not Registered Yet? No problem.
Do you want Strolenati super powers? Registering. That's how you get super powers! These are just a couple powers you receive with more to come as you participate.
Upvote and give XP to encourage useful comments.
Work on submissions in private or flag them for assistance.
Earn XP and gain levels that give you more site abilities (super powers).
You should register. All your friends are doing it!
?

Responses (4)

I always wondered where those pesky minotaurs came from. Good job.
---

Read the Taur submission and the rest to get a better idea on why they are here.

I too like the variation that Minotaurs are Demonkind.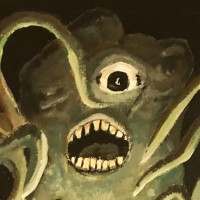 I like this variation on the Minotaur
" In a long-lost age, a party of adventurers are frozen into stone by the stare of some gorgon-like creature. An unscrupulous rogue, coming across the frozen party several centuries later, decides to haul off two of the statues to decorate his den. Upon his death, an artisan friend of his claims a statue and sells it to a rich merchant, passing it off as his own work. Years later, the merchant gilds the statue in bronze and re-sells it at a much higher price. After passing through the art markets for many decades, the statue ends up in the hallways of a mage academy. Imagine the chaos and confusion when a young mage's spell happens to break the curse of stone, returning the adventurer to life several centuries after his petrification! Is he interrogated by historians? Driven mad by the change of times? Or does he set off on a quest to find and liberate his other frozen party-members?"
" The Californian Sea Otter, as a species, eats about 30 different types of food found throughout its range. Each individual otter, however, will only eat 3 or 4 of these foods - those it was fed by its mother as a child. It will not eat the others even if failure to do so means it would starve. Maybe other, possibly larger and more dangerous creatures and monsters, have similar habits."
" Made from the tears of a bound goddess, this magical wine has the power to charm or dominate any who imbibe even the faintest quantity. Once affected, it remains dormant until the victim hears a special magical phrase, upon which they will be magically bound to the speaker. Enterprising villains could drop this into the water supply of an important city.."