Born in a hamlet on the borders of civilization, Leavven was strange indeed - an albino, tall and wiry. She could not stand the company of others, their very presence being painful to her, and strange occurrences were frequent in her vicinity. Also, too often the fear and superstition of fellow villagers awoke her anger, and gave them another reason to reject the young girl.
It did not take too long before Leavven took off into the wilderness, never to be seen again.
In the harsh wilds the lass quickly became sick, and the fever, combined with hunger and general exhaustion flung her far from what one calls wakefulness and sanity.
A tribe of savages discovered her staggering in the badlands, eyes focused on something they could not see, mistook her for a saint or godly messenger, and took her in.
While lying unconscius, she dreamt of safety, of a refuge, of warmth and a soft embrace ... and her latent magical abilities surfaced, drawing iron from the soil around her and coalescing it into a full suit.
Leavven took then off to a life of adventuring, nowhere at home, but few, if any, bards remember her anymore.

Magical Properties:

An ordinary suit of what seems to be rusty iron armor, poorly made. BUT if it is picked up by someone in dire need, it will reshape so that it fits the owner. The suit is not stronger than ordinary armor, but is self-repairing, very light and comfortable, keeps the wearer warm or cool as neded and reduces his food, water, air and sleep requirements by 50%, as well as adding a small amount of magic resistance. If the wearer has some sort of hypersensitivity, it dims the symptoms slightly - while an albino would have his eysight protected in bright daylight, a vampire would burn just a little slower.
An useful feature is that the armor dims the wearer's aura, as well as masking his emotions - so, unless the helmet is taken off, the wearer may be afraid, but others will not see it (this also confers a slight protection against discerning the wearer's thoughts or emotions with magic etc.)
As a final feature, one clad in the suit will seem slightly more formidable that he really is - even for an expert, it is harder to discern that the warrior inside the suit is a rookie swordsman :D
But remember - to use the suit for the first time, one must be in danger and desperate for help...
Not Registered Yet? No problem.
Do you want Strolenati super powers? Registering. That's how you get super powers! These are just a couple powers you receive with more to come as you participate.
Upvote and give XP to encourage useful comments.
Work on submissions in private or flag them for assistance.
Earn XP and gain levels that give you more site abilities (super powers).
You should register. All your friends are doing it!
?

Responses (5)

Not a bad item, powerful, but not uber-powerful, and one must be in need to reshape the armor, so there IS a catch of sorts. A curious background that, though could be expanded and explained in more detail, is sound, and works fairly well.
I think this, though perhaps not as good as it could be, is not a bad item.
4/5

I'm a big fan of backgrounds. With that said, this is not a terrible item, merely one that needs a more interesting background. As it is, it just doesn't seem that special. Her magic abilities made some armor. Woo.
3/5.

While this idea works excellently in a story, in a game it would smack of du ex machina. That is the problem between games and stories. In stories, thing can be truly grim and will eventually get better. There is no filter between the character and what is happening. You experience the feelings of the character.
In games players start out with balanced characters and a basic chance to succeed. There is the fickle hand of random fate plus the insulating knowledge that you are playing a game between the player and the character.

True, oh so true ... I was thinkig of the scene when say a young girl, perhaps of noble birth, is in circumstances most dire, it stumbles upon this, and then, hiding behind a veil of steel from her enemies, she walks the lands, afraid from lifting her disguise, while the armor sings soothing words and comfort to her, and every evenening, its caring voice helps her to sleep...
But yeah, MoonHunter is right, letting a PC find this could be difficult, an NPC though, hunted by the characters, could gain another chance, and perhaps grow into a formiddable adversary one day :D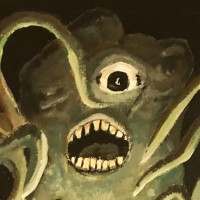 An unusual origin. Spontaneous creation of magic items by one's subconscious.
A new one for me at least :)
" A massive iron key - 2' length, 20lbs forged from the bones and horns of demon-lords. When used with a massive portal - carefully built according to documents found in powerful books of evil knowledge, it will open into the realm of demons and allow them to flood into the world. The applications of this item for villains are obvious. Mortals touching this item directly will suffer very dire consequences."
" Now, this ol' ramblin fellow tends to walk his talk a bit too far down the train sometimes.. So I'll be brief in my recantin' of how it was my Tavern 'came to bein'' on the multiverse as a weave of it's own spell.. And how I'm even alive to tell the story! You see it's simple really, trust me.. that's my specialty, keepin it elementary. And you can trust this old Bard. Anyway, this one night these wizards get a ramblin' on about the temporal exististance of space and time and how it could be manifested in a weave of super dimensional space. whereupon the folded space would give rise to an infinite number of entrances and exits to one or many spaces. Now, seein' how my talkin' sometimes get's locked into the way us folks used to talk back in the ol' west. These wizards didn't know I was a master of the word. and I had heard everything they said. They were also a bit over the wagon, while I was steerin' the show. So that's how it came to pass, I struck a bargain with the wizards. They come to me in the morning and conjure up their idea into reality and I'd pledge them my life, my existance.. in essence my soul. but in a much nicer sense of the word. So they came by in the morning a half remembering our talks the prior evenin'. And I recanted their words verbatum, and that's how it came to be. The spell was complete that afternoon. My tavern would be the super dimensional cube that would exist in this weave of space and time, folks could come and go as they please, knowin in mind some of the rules and limitations set forth. A few of 'em as follows. No feller can be causin a ruckus inside any of my fine establishments, as always rule number one god damnit. n' second the portal works kinda tricky. When ya outside ya cast the spell and lend your will to luck a bit and regardless the doors to the bar will appear, the windows a luminescent amber.. you can hear the chattee but ya can't see in. And the catch is the door might be locked, in which case you chalk it up to lady luck and go walk off and try again in an hour. Now most times the door pops right open and from the outside you always come in the front door, immediately greeted by myself or one of our many fine patrons of Hooper McFin's Ale & Steakhouse. Now when ya cast the spell from inside the Tavern, another catch comes up. The back door is mainly a secret for the non-initiated staff and the regulars but for sake of the prose let's assume we all know there's a secret door in the back with a portal there. Now when you go on through this one, you got two scenario's you oughta be aware of. One is ya pop outside relative to the same spot you came out. The other is, you walk back on into this one or another of our many Hooper McFin's Ale & Steakhouse. so it's a clever quantum railroad I got my tavern and my people's caught on. But, Hey the show's sure as always goin. ohhh' rutin tootin skidoodle - ** And that's it.. that's the only notes I found on the spell, apparently out there somewhere is a Tavern caught on the mighty ebb and flow of the multiverse. Well. at least I can put to rest my torment as to the condition now referred to as 'Hooper McFin's Teleportation Paranoia'. Dr. Clarke T. Mulligan - Professional researcher of Time & Space. Hooper McFin's Ale & Steakhouse"
" A man was killed somehow and brought back to life. He, uniquely, remembers everything about Death, from the skeleton on the horse that guided him, to the afterlife itself. And the annoying bit where he was wrenched from his jacuzzi. He now has penned the instant best seller, entitled 'To Death and Back: My adventurers beyond the grave.' OR IS IT? Is this man telling the truth, or simply a very good liar? Is it all a fraud?"