Jada's Journey
The nobleman's daughter must be escorted from place to place, but her addiction may make the journey far harder than it need be..,
Plot Description

War, or at least skirmishes, have broken out in a small region. The local baron contacts the party, and arranges for the safe transport of his only remaining family, a teenaged daughter that he dotes upon, Jada, to the capital. A simple quest, the party must only get her to the capital, and present her to the Baron's representative at court. Easy money for any group of seasoned adventurers.

Except... it's not. Jada is not exactly the typical noble's brat. In addition to the stereotypical character flaws, she is also addicted to 'Fairy Dust'(or other hallucinogen of the DM's choice), and she's not going to give it up for a little trip voluntarily, even if she could. During the journey, she will be the greatest hazard to the adventurers: She will imagine nonexistent threats, and react accordingly, and independently, fleeing from illusionary creatures, assaulting party members as if bandits. She will consider real threats non-extant, trying to walk over bridges that don't exist, running to the arms of bandits or enemy soldiers, etc.

At the DM's discretion, Fairy Dust may enhance the magical or psychic abilities of the imbiber, enough for her to lend her twisted vision of the world to another person, a kind of waking nightmare. It may also lend her the luck to be unharmed by the reality that underlies her vision, though the adventurers should have no such protection.
If the adventurers catch her imbibing the drug, they may be able to take it away, in which case they will have to deal with physical withdrawl symptoms within the day. These should include a great deal of pain, writhing, screaming, and general inability to be moved for several days.
Should the PCs indulge, make up a lot of fancy things for them to 'see'. And addict them after the second/third time. Jada only has enough for one person to make the trip plus a few days supplies, since she knows she can get more in the capital.
Reward upon reaching the capital should be adequate for the undrugged version of the walk. To complicate things, the adventurers may have to prove the addiction a pre-existing condition to keep from getting blamed for it!
Not Registered Yet? No problem.
Do you want Strolenati super powers? Registering. That's how you get super powers! These are just a couple powers you receive with more to come as you participate.
Upvote and give XP to encourage useful comments.
Work on submissions in private or flag them for assistance.
Earn XP and gain levels that give you more site abilities (super powers).
You should register. All your friends are doing it!
?

Responses (6)-6

This would be a typical problem job for adventurers. Good thinking on this one.
Fairy Dust... a somewhat commonly accesible drug, that gives magical abilities to the imbiber? What if she already has a latent magical/psychic/whatever talent? (It could have driven her to drugs in the first place.)
Whether she manages to get rid of the addiction or not (that could be another scenario!), the addicted spoiled teenager will grow up one day, and the characters may gain an interesting ally or enemy.
(Link the Fairy Dust drug, if it is already posted somewhere.)

Now this I like.As with real life, there should be the danger of drug addiction in other worlds as well.

Like it - a simple little idea - but potentially highly problematic - very good 4/5

A fun variation might be if the critters she dreamt up became real, perhaps when crossing a high-mana area. 'Jordan, the Tentacle Monster is behind you again!' to which the character replies: 'How often have I to tell you that there is no...aaaargh'
Meh likes.

Big smiles for this one!
Will go all the way to 5 on this one because it is so multifaceted. Think you solved one problem only to gain another, possibly worse. The psychic spin on it all could be very useful to a nefarious DM.
Great Plot and/or Character! Matter of fact, would be a great thing if this turned into a character linking to this idea. I think the character itself is well worth fleshing out a bit more.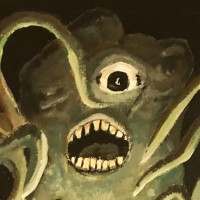 This is a great complication to add to one's NPCs. As long as there has been stuff to mess with one's head, there have been those who imbibe in it. While a mature theme, it is essential if you want to have a 'realistic' world.
" Silk Armor? The Mongols wore silk undergarments under layers of leather armor. Why? Because silk is very strong. If an arrow hit them and made it through their armor, it would usually not have enough energy to puncture the silk. It could still enter their body but, because the silk would not break, the arrow's barbs could not do their work and the arrow could easily be removed leaving a relatively clean wound considering normal arrow wounds."
" The mage who invented teleportation knew nothing about the ten-dimensional cosmos, so was perplexed that the subjects sent through the portal arrived horribly scrambled, having been randomly rotated through several of the hidden six dimensions."
" Finally got the idea for an orcish currency: A cold-hammered piece of raw iron, resembling some kind of a dagger. The Dagger is easy to carry, hard to forge, may be used as a crude weapon in case of emergency AND the iron being a valuable resource... may be used directly for weapon-making. May be carried openly on the belt of a mighty Orc. A new insult: 'to beat someone with someones money' . Self-explanatory."