Grey District
The Grey District was once a prosperous inner district in The Hill City of Frankard. It is an erriely silent place now, where people make little in the way of noise or light. It's district walls are now painted with a Grey Line, a warning as to plague. However, it is not the plague you would expect.
Not that long ago, a pack of Gargoyles returned to a place of spawning. When they returned, things had changed. Nestled in the rocky hills was a city of some strategic and economic importance. The Gargoyles were slightly perturbed with these interlopers sitting on their holy ground, though they did provide some taller places to perch. After a short debate, the Gargoyles decided on a compromise, they would take a small nesting area, that the natives had already walled off, and leave the rest for the fleshy things. It will only be for a few decades they thought.
That was many decades ago, the new eggs will hatch in just a few more.
The Grey District was a walled off inner district of the prosperous city. It several guild halls, two smitheries and glass works with tall chimnie, and held a temple with a clock tower. One night, the Stone Gargoyles swooped down and killed all those on the street, and took to killing those in houses whos windows spilled out light onto the street. The next day, the few survivors scurried their way out of the district. Those who made much in the way of noise as they scurried were attacked. Humans outside the walls were left unharmed. (Except if they made an exceptional amount of noise, then the gargoyles would take to wing and attack the transgressor).
After several attempts to repulse the Gargoyles (who are nearly immune to magic, have rock hard skin, and superhuman strength and speed), it was decided to cordon off the area. Laws were also passed about how much noise one could make in the adjacent districts. The district wall was painted with a gray stripe, similar to the one that marked plague.
Of course some people would not leave the district. Those Grey People as they were called never went out at night and blacked out all windows so they would not shine light at night. They are a quiet folk, realizing that a good deal of noise will bring sudden death from the ever observant Gargoyles. They have a language of gestures they will use for most things. Soon the poor and a few others trickled back into the district. While not as prosperous as it once was, it is a living district once again.
One thing the peoples of the city have noticed, that night time theiving has drop significantly. The Gargoyles seem to be "picking off" the transgressors no matter where they are in the city.
?
Hall of Honour (1
voters
/ 1
votes
)
Not Registered Yet? No problem.
Do you want Strolenati super powers? Registering. That's how you get super powers! These are just a couple powers you receive with more to come as you participate.
Upvote and give XP to encourage useful comments.
Work on submissions in private or flag them for assistance.
Earn XP and gain levels that give you more site abilities (super powers).
You should register. All your friends are doing it!
?

Responses (5)-5

This one had a suprise ending. One would expect Gargoyles (even Flash Gordon costume wearing, ray gun zaping, time patrolling ones) give its is a Hunter post, but I didn't until it was too late.
Still I like the resiliancy of these people. They adapted.
And the monsters are not really monsters. They are just trying to muddle along and be quite reasonable in their eyes... since these things could of killed everyone in the city if they desired.

Updated: updated for spelling error and odd characters

This is interesting, in that it has explored some cultural aspects of two races clashing.

A quite refreshing semi-slum area.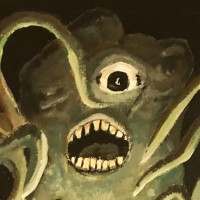 This is a neat one. Quite cool. People can get used to almost anything.
" As far as everyone knows, the Maze has always been there; the strange pair of gates set in the side of a mountain a common feature in every painting of the area, no matter how ancient. One white, one red, nobody knows what they're made of but they resist any attempt to damage them; they're always slightly cool to the touch no matter the weather, they have a very reflective surface, and if you look at them in a bright light, sometimes it looks as if they glow on their own. The important thing is what's on the other side of them, of course. The Maze itself is a strange place where the normal rules are suspended, and its own set takes their place. It's a place filled with puzzles and riddles, monsters and traps; it's always consistent with itself in any single run but is never the same two times around, and sometimes you could swear it has a sadistic streak, delighting in tricking the unwary adventurer. It is a dangerous place, as so many people will rush to tell you; most people who go in never come out, and even those who do usually end up scarred for life. They also bring out with them enormous piles of riches, which is why people keep going in anyway."
" Asclepius' flies are similar in size to the ordinary housefly, but they are white, with crimson eyes (ugly little creatures). Unlike most flies, however, they are not diseased, in fact their remarkable immune system contains agents which tackle even human illnesses. This is the source of their white colouring also. The standard technique for capturing them, to use their juices, is to tempt one onto the palm of one's hand and then to quickly wring your palms, then rub the mush onto the afflicted area. This is not for the squeamish, but has definite healing possibilities."
" A Cloak of Shadows that causes mushrooms to grow in its own shadow. A crouching theif might find himself in a ring of poisonous toadstools, an interesting thing for a sentry to find after the thief has left hiding place."