The dagger looks like a simple curved dagger. It has some engravings on it that are written in an ancient toungue. Translated they would say:
'None can know who they truly are until they look at themselves through the eyes of others. Only a foolish man sees himself to be something he is not.'
The Dagger was created by Diril, the enchanter. He considered himself a great thinker and philosopher. It was his belief that it was foolish to act unless you fully understand the situation. Ironically, he was later killed by a man that his discontented wife was sleeping with, although had he simply acted opon the signs that he had noticed, he might not have met such an end.
Anyway, during the time before he was murdered, he created this Dagger, to prove that acting without full knowledge could only lead to trouble.
The origins of the dagger however are lost. It is known that it was not made by the Gods, but merely by an enchanter. The text itself can be deciphered with a spell, but the actual language is known only by beings that are immortal.
Most people do not even know that the daggers exists. There are actually several in existance, however most are on some mantle some-place being admired as an amusing trinket. Those that are not make their way from person to person and place to place. Those who realize what it is toss it aside as another cursed piece of trash, and those who don't usually do not live long enough to tell anybody else.
All that common folk know about it is the warning that parents give their children not to pick up things off the ground because you never know when they aren't what they seem.
It seems that Diril's point was made after all, even if it was in vain.

Magical Properties:

A simple curved dagger that turns the weilder invisible...to himself. He looks normal to everybody else, however he is completely unable to see himself. A foolish character might find the dagger and immediately try to start mischeif, however he would soon realize his folly.
?
Nobody's Awards and Badges
Not Registered Yet? No problem.
Do you want Strolenati super powers? Registering. That's how you get super powers! These are just a couple powers you receive with more to come as you participate.
Upvote and give XP to encourage useful comments.
Work on submissions in private or flag them for assistance.
Earn XP and gain levels that give you more site abilities (super powers).
You should register. All your friends are doing it!
?

Responses (13)

3/5 because of the lack of a backstory.It is a very funny idea and with a good backstory it could be 4/5 or even 5/5.

I agree... There needs to be some kind of story behind this. The engraving is a good start.
3/5.

I could write a good backstory for this,Nobody, if you let me. :)

Actually, who needs a back story for this. It does not need a backstory. The origins can be lost to time. It just needs some legends or fairy tales related to that item. Perhaps the item has the same sort of legend as the Emperor's New Clothing. That way, only foolish players who did not read the campaign's setting packet who would be caught by the item.

Agreed - nice idea but needs either a backstory or legend of some kind
Would easily be worth a 4 if such were added - as is I give it 3/5

I created some backround for the dagger. I hope that it is satisfactory.

If I had created it, I would have it invented by Queen Yocasta's Royal Mage, after he heard that a powerful noble wanted to assassinate the Queen.The noble tried to use it and was cut down on the spot.

See, now that's much better, isn't it now?
4/5.

I like the background history, very good dagger.

Splendid idea. I only wish that my group wasn't sticking toghether all the time.
I will have to force the unfirtunate who's going to find this merry knife away from the group.
A definite 'will use', bravo sir.

Heh, forgot my vote.

Good Job. Invisible to yourself, hehehe.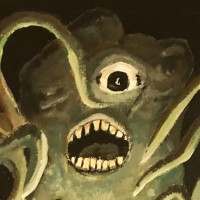 An amusing gotcha item. Maybe it works normally for a minute or so, so when 'tested' it seems to work. Until it is used in ernest.
" Sneezing Sickness - A strange plant infection that causes its victim to spread the plants seeds by sneezing them about. Larger lumps of phlegm or saliva sprout is spat out in a sunny place, producing more of the plants. As the Magical version of seasonaly allergies the affliction is limited in term and non-life threatening."
" Far to the north amidst the endless ice-flows it is rumored that a dwarven Walrus Totem clan exists. These rumors have been unsubstantiated to date, unless the dwarven sage Glurt Goblinguts is to be believed. He claims to once having encountered a troupe of huge dwarves, each standing a beard's length higher than the tallest known dwarf. These dwarven 'giants', their hairy chins crusted with frozen shards of ice and dirt, hauled gargantuan yellowed horns or tusks upon their wide shoulders, and their helms, likewise, sported massive, down-ward pointing tusk-horns. Glurt Goblinguts later speculated that the impressive size of these dwarves was most likely due to their arctic diets, almost exclusively fat-based."
" Leader carries gold into battle with him. When he sees a great feet of bravery or valor he rewards them with the gold, or maybe a token worth some prize if they survive."