Dangerous Chinese Mythical Lifeforms
A collection of Chinese Mythical Lifeforms that can pose varying degrees of danger to adventurers and the general populace
Below is a collection of Chinese mythical life forms that could provide varying degrees of danger to adventurers and general populace. The author wishes to re-emphasise that that this is basically a translation and compiling exercise, not a creative one.
Each life from entry below would contain the following sections:
Physical Description
Special Properties: traits from which interactions with PCs could arise (optional depending on whether the original source details them or not)
Lore: Mythical origins/how they are incorporated into Chinese culture (optional depending on whether the original source details them or not)
Translation Quirks (optional): alternative ways of translating/interpreting particular sections and other things I want to provide notes about including particular Chinese terms, other bits about Chinese culture and potential translation inaccuracies (feel free to skip this section if uninterested).
Fauna
Blue Snake (aka Southern Snake)
Physical Description:
A fairly normal snake (further details unknown)
Special Properties:
Its head contains a strong poison but its tail can serve as a poison antidote.
Lore:
It was said that people living south of ancient China* has managed to create a very strong poison known as the Blue Poison made from the head of the Blue Snake and other ingredients that is fatal minutes after ingestion. The only antidote for this poison is the tail of the Blue Snake.
*Possibly, the reference is to the area now known as the Yuan Nan province where reputedly a minority tribal society of people known as the Miao specialises in creating poisons and worms that allow them to control other people. Note that this is the author's own speculation, the online Wiki did not specifically mention this point.
Translation Quirk:
The characters for 'blue' and 'south' are quite similar in pronunciation, whether in Mandarin or Cantonese.
---
Pillage Ape (aka Jia Guo or Horse Deriative)
Physical Description:
A monkey-like creature, about 170cm in height, that can walk upright like humans
Special Properties:
Said to be able to distinguish human genders through their body smells and be capable of stealing beautiful women without people noticing. Since there are no Pillage Apes of the female gender, these stolen women became the spouses of these apes and were held hostage until they borne it a son at which point these women would be returned back to the woman's family to raise up its off-spring. When born, these off-springs look no different from normal humans and remain so when grown up. If such off-springs are abandoned, then the woman will die so all 'returned' women raise their children with the Pillage Apes dutifully out of fear for their own lives. It was said that all such off-springs have taken the surname Yang*. For childless women who are never returned to human society, they become lost forever in ten years' time. It is said that by then, they will have not only become similar in physical form to these Apes, but also fallen in mind and would no longer have the desire to go back to human society.
* This is not the Chinese character in the term Yin-Yang. This surname is the name of a deciduous (meaning leaves fall off at maturity) flowering plant genus- Populus that includes poplar, aspen and cottonwood etc.
Lore:
Said to be dwelling in mountains of high altitude in the Sichuan area in China.
Translation Quirk:
A more literal translation of its name is 'Grab Ape' (the actual character describes an action of grabbing and holding onto to it). I discarded this literal translation because well, it just sounds too 'translated'.
---
Shen (pronounced shun)
Physical Description:
A massive clam although there is also an alternative version in which it is said to be a water Dragon
Special Properties:
Its breath is said to be able to spawn mirages
Lore:
The Chinese term for 'mirage' can be literally translated as 'The marketplace at sea and the structure spawned by the Shen'
---
Zhen
Physical Description:
A black bird with red eyes and feathers of a green purplish colour
Special Properties:
Its feathers are reputedly poisonous due to its main diet of poisonous snakes
Lore:
There are references in ancient texts of its feathers being made into a poison and given to other people or taken for suicide
---
Yin Yuan
Physical Description:
A duck-sized bird with a bee-like shape
Special Properties:
Its sting will kill other birds and beasts as well as withering plants.
---
Nine-tailed Fox
Physical Description:
A golden fox with a white face and nine tails (in its nine-tailed form), otherwise much pretty a normal fox
Special Properties:
It was said that once a particular member of this species has developed nine tails, it becomes immortal and can spit out fire.
Lore:
It was said the tail is where this species of foxes store spiritual energies and that once it has attained a certain amount of such energies, its tail will split in two and this process goes on until it has developed nine tails.
In addition, folklore and novels often detail Nine-tailed Foxes as being able to shape-shift into beautiful women who seduce human men in order to suck their life-forces to quicken their own evolutions.
---
Lung Ji (pronounced Lone Zi)
Physical Description:
A fox-like creature with nine heads and nine tails and claws like those of a tiger's.
Special Properties:
Its call is that of a human baby's and it eats humans.
---
Water Monkey
Physical Description:
A bipedal creature
Special Properties:
While its main diet is fish and prawns, it will occasionally pull humans asunder and soak the blood from the carcass
---
The Three Carcass
Physical Description:
The three types of worms that reputedly exist within human bodies according to Taoism. The upper worm Peng Ju is white and indigo. The middle worm Peng Zhi is white and yellow. The lower worm Peng Jiao is white and black.
Special Properties:
When a human dies, the Three Carcass will leave and take on material form. It is said that the upper worm creates gluttonous urges, the middle worm greed and anger and finally, the lower worm vanity and lasciviousness. Hence, there are many legends of Taoist practitioners removing the Three Carcass.
---
Xiu Snake
Physical Description:
A large snake that grows near the Dong Ting Lake
Special Properties:
It is able to swallow a whole elephant.
Lore:
At the time of the Ten Suns, there was a riot of the Xiu Snakes and this was put down by Hou Yi (who shot down nine Suns to end the reign of the Ten Suns) who killed off the perpetrating Xiu Snakes.
---
Zao Teeth
Physical Description:
A creature with really long teeth and shaped like a pick
Lore:
It is reputedly a creature slain by Hou Yi's arrows.
---
Zhu Tun Snake
Physical Description:
A meter-long snake that has four feet and is hairy throughout its body
Special Properties:
Its call is like that of pigs.
Lore:
Legend tells that in the Song Dynasty, a Zhu Tun Snake had appeared in front of a soldier who was undergoing training and had swallows him whole. This snake was finally vanquished by a soldier who knew how to use magic.
---
Ya Yu
Physical Description:
A creature with a snake's body, the head of a dragon but with a human visage and an overall shape like a Pi Xiu.
Lore:
It is native to the second longest in-land river of China located near what is now known as the Gan Su province. It is reputedly the son of Zhu Lung. It eats humans. It is another creature that was troubling the populace during the time of the Ten Suns and slain by Hou Yi.
---
Tu Lou
Physical Description:
A goat with four horns.
Special Properties:
It is a cannibal and eats humans.
---
Horse Tripping Snake
Physical Description:
A water wyrm that belongs to the group of Jiao Dragon, a kind of half-dragon creature or subservient branch to the dragon family. It is as massive as a dragon but basically still of serpent form except that its head is shaped like a cat or mouse and there are star-shaped spots on the top of its head.
Special Properties:
It is hostile to humans and will attack and devour them. Its body is slippery and stinks. Whenever its appears, not only will the water that it is in be polluted, but the air will become intolerable in terms of smell.
---
Xuan Bee
Physical Description:
A massive bee whose belly is as big as a pot that can hold as much as 31kg.
Special Properties:
It is aggressive and its sting is lethal.
---
Feng Xi
Physical Description:
A pig with two heads
Special Properties:
A very powerful monster that is aggressive to humans.
Lore:
A monster that was a menace in mulberry forests in Southern China during the era of the Emperor Yao, it was captured alive by Hou Yi who was sent by the Emperor to end his threat to civilians. Apparently, it was killed after its capture and its meat cooked and presented to Emperor Yao.
---
Chicken Crown Snake
Physical Description:
A snake with a rooster's crown on it head
Special Properties:
It can rear its upper body up in an erect way. Its call is that of hens and it can fly. It is able to constrict humans to death.
---
Nian (which means Year in Chinese)
Physical Description:
A ferocious with a bull-like body and a lion-like head.
Lore:
According to folklore, Nian lives in the deep sea and appears only once on New Year's Day during which it will be menace to humans, animals and crops alike. Apparently, during one of its village raids, it just so happened that a red upper garment was hanging near the front door and it was scared away by it. It went to another place and was scared away by the light. Subsequently, it spread that the Nian was scared of sounds, light and the colour red. Reputedly, this is how many of the traditional activities of the Chinese New Year come about. These include writing sentences of good omen on red paper and pasting it on the two sides of the front door, firecrackers, hanging up red lanterns, making a pitfire in the frontyard, preparing a feast (making loud sounds when chopping vegetables and meat) etc. Basically, the aim of all these activities were supposedly to scare away the Nian so that it would run back to the sea and not trouble the village. In addition, it was said that when the Nian was successfully scared away, the villagers would ring gongs and play drums in celebration, which is also one of the traditional activities for the Chinese New Year.
---
You An Bird
Physical Description:
A monkey whose fur is striped.
Special Properties:
Its name comes from the sound of its call. It laughs all the time. Anyone who sees its will drop to the ground.
---
Xiang Liu
Physical Description:
A large serpent with nine human heads, each of them with an indigo face. Its scale has a similar pattern to the stripes on a tiger. Its heads always face the West.
Lore:
It serves the God of Water Gong Gong. When Da Yu had almost had success in stopping the Great Flood, Gong Gong was angered because the Great Flood had earned him a lot of worship and the fact that Da Yu had almost stopped the Great Flood through his own intelligence (Da Yu had used multiple ways to divert the flood involving various construction work) rather than praying to him hurt his pride. As a result, he sent Xiang Liu, who eats earth (each of his head can eat a whole mountain worth of earth) and spits out a material akin to the earth in marshes/swamps that has a strong repugnant smell that will be avoided by even wild beasts. Consequently, Xiang Liu kept eating the earth on flood barriers erected by Da Yu, thereby undermining his efforts. In the end, Da Yu killed Xiang Liu. However, even killing Xiang Liu did not put a stop to his menace. His blood has polluted a large area of land in which crops were unable to grow. Da Yu had tried three times to put new soil on top of the place but each time the soil would just sink. In the end, he decided to dig a big pond in the place and use the soil contaminated with Xiang Liu to build a few platforms for worship near the pond.
?
Hall of Honour (1
voters
/ 1
votes
)
Not Registered Yet? No problem.
Do you want Strolenati super powers? Registering. That's how you get super powers! These are just a couple powers you receive with more to come as you participate.
Upvote and give XP to encourage useful comments.
Work on submissions in private or flag them for assistance.
Earn XP and gain levels that give you more site abilities (super powers).
You should register. All your friends are doing it!
?

Responses (10)-8

Update: Same as the other one, more to come.

Nice, difficult thing to pull off. I'm impressed with the concept (and the translating!) The fox should be fairly easy to use - and could be expanded quite a bit (what can one of the 'extra' tails be used for? What triggers the form shift?) Looking forward to seeing more.
---

On the fox, I actually already expanded the Lore section a little based on my own knowledge (relative to the Wiki page, that is). As for the extra tails, I think another version has it that each extra tail represents an extra live rather than being a storage device of magical energies. I've never come across references on what exactly triggers the form shift but my interpretation is that this is an ability they develop so that they can more easily approach human men so that they could suck their life forces.

Update: Now complete!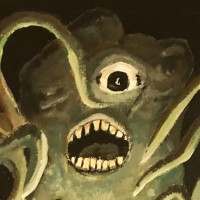 these are some neat creatures, I would like to see some of them expanded upon - either from the source details, or original adaptations.
I may do so myself perhaps - some of these could be quite useful.
---

Feel free to do your own adaptations. The original purpose of this compilation was precisely to act as inspiration/resources after all. The same idea did cross my mind on a few but then I was focused on actually finishing the compilation plus as per usual, I've got myself split between a dozen different writing projects.

4/5 So your open to us expanding some of these? Id really be interested in doing that w/ the Harmless one!
---

Absolutely, already made reply for the affirmative there.
" The words of a wedding vow contain a strong love spell which enchants both the people who says it, so they will allways be deeply in love with each other."
" Goblins originated the idea of meat on a stick. In larger towns, goblin vendors can be seen hawking their wares, a variety of animals skewered and deep fried. Almost always tasty so long as you dont ask too many questions."
" With a huge number of sacrificial victims, another realm long ago secretly bound a Prince of the land spirits, Iorstonn by name, thus ensuring the fertility, and improving the magical defences, of their realm. But binding that Prince to one spot has disrupted the weather and magical patterns (ley lines?) over half the continent. Things have become bad enough that a coalition has been formed to rectify the situation, once divinations have established the cause. Your party is one of the teams assembled to do the rectification: find the binding object and steal it ('so that we can destroy it here in our realm, of course'...*) or destroy it over there. Presumably the Prince will be grateful to his rescuers and angry at the binders, but with a greater spirit like Iorstonn one can never be sure: such beings are 'tricksy'. * Of course, the rulers of our realm might want to control Iorstonn for their own ends..."