Gaslight is a city-state of the Byzant Empire. Nestled among the hills, it was once a simple trading post between the horse breeders on the vast plains, and several small Dwarven Kingdoms-in-exile (moved to escape Hobgoblin persecution in what is now the Kingdom of Formour). Gaslight is now well known for the feature that earned its name: the multitide of gas-fed street lanterns. While surveying the area for mineral resources, the Dwarves had discovered a pocket of dangerous and highly flamable gas directly underneath what is now a growing city. Knowing that the pocket would be safe for millions of years, barring an unfortunate and severe seismic incident, the Dwarves were unconcerned. That is, until the growing population meant that the Humans needed to drill deeper for water...
The tapping of this pocket could have been potentially disastrous. Not only is the gas highly flamable, but it forces breathable air aside. Fortunately for the inhabitants, the one who breeched this bubble of hazzard, was one Akaviah Surtsblood, a Dwarven technomancer. Surtsblood's idea was simply to create a controlled burn, possibly connected to a new forge for himself. It was a Human alchemist of Surtsblood's acquaintance, Malchia of Al Biqa', who suggested using the gas for a lantern (Al Biqa''s original idea was only for Surtsblood's home & workshop, with a very large lamp above). Al Biqa' proved invaluable in helping Surtsblood in gaging the exact fuel-air mixtures needed for maximum light & safety, with minimum smoke & soot. Akaviah Surtsblood's workshop still stands; its thick iron domed walls containing the redundant pressure regulators that prevent disaster, and pipe the gas to the various lampposts throughout the city.
Disasters of the past have occurred. Some of the older buildings still bear black marks from the last incident involving rampaging flaming destruction. The citizens of Gaslight are now quite content with the series of safety measures in place currently. While it is illegal to tamper with the lanterns, some citizens emplaced coloured lenses over the clear glass to give streets or neighbourhoods a distinct tint in the light. In some lesser areas of the city, those homeless or otherwise very poor huddle around the green-painted poles, trying to cook from the heat rising from the shielded tops.
The lamps are lit day and night, and are tended to by the lamp guild, on exclusive contract to the city-state's government. Their job is to ensure that no leaks, blowouts, or pressure irregularities occur. Since the multiple redundancies and guild have been emplaced, there has not been any incidents. However, the inhabitants still do not build wooden structures. Even street vendors are likely to be seen in a stone or tile hut, or none at all. The citizens of Gaslight are a pragmatic folk, while they feel safe—and love the lights—they feel that having wooden roofs & walls are only inviting disaster.
Not Registered Yet? No problem.
Do you want Strolenati super powers? Registering. That's how you get super powers! These are just a couple powers you receive with more to come as you participate.
Upvote and give XP to encourage useful comments.
Work on submissions in private or flag them for assistance.
Earn XP and gain levels that give you more site abilities (super powers).
You should register. All your friends are doing it!
?

Responses (4)

The history is too important to this one. It is also pretty dense. However, it explains why the city is lit by gaslight. It does not explain why it is called Gaslight. Wasn't it a city or town there first, that was then built up?

The rapid growth of the trading post into the current city of Gaslight took place within only a few years. Earlier, it didn't have a name, save only perhaps "that trading post." Any interim name that might have been given prior to Surtsblood & Al Biqa' tapping the gas has long been lost to memory. Changes of government, or major features may cause the locals (and visitors) to refer to a city as a new name. This is not uncommon in Bizzannite cities--where one name is completely replaced by another--as is evidenced by the much more recent (and publicized) transition of Vridtown into Scientius/Darkmouth Emirate. Vridtown had only been known as such for 12 years, as that city's name was changed then from yet another previous incarnation.

I like this.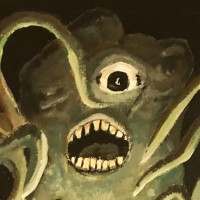 I like this place - a gas-punk :) domain in a world which has not advanced so.
" A world where the minds of the rich and the dying are transferred into the bodies of convicted felons."
" THE GNOMES OF UDNALOR: Part II Having left the hush of the upper halls, and crossed the depths of the Braeth (an underground river, which is not all that deep because bear in mind we're talking about gnomes here), you would find yourself in Wattling Street, the main road through Udnalor. It's actually a long, well-worn passageway which opens out eventually into the City Centre. The gnome-buildings branch off Wattling Street as small burrows or caverns with boulder-blocked doorways for privacy. You can find armourers and smiths (though their armour tends to be on the small side for humans to buy) and many other types of trader. There are many streets, ginnels and cooies which run off Wattling Street, the most famous probably being Smell Street, the domain of the infamous gnomish alchemists, the eponymous smell being very distinctive: the stench of cooking fungus, the aroma of subterranean spices, the pungent reek of rotting carcasses (used in some of the more notorious experiments). An encounter with an alchemist can really be spiced up (excuse the pun) if you have a well-stocked herb cupboard, and actually make up the potions, elixirs and draughts as they are ordered by characters."
" An example of a mythological worldview misinterpreting scientific practices occurred in Africa, where an aid organization, focusing on slowing and stabilizing population growth, distributed abacuses with red and white beads corresponding to a woman's menstrual cycle. Women were instructed to move one bead a day, only having intercourse on days represented by a white bead. However, the experiment failed, and the population grew in the households using the abacus. The women believed the abaci were magical, and that they would be protected from pregnancy by moving a white bead into the place of the red bead before intercourse."