Private documents, spell books, anything you don't want to keep others away from are kept in this chest.
when opened without going thought the proper sequence (twist key left then right, tap side twice, ect.) when opened the contents of the chest are engulfed in flames or acid, possibly harming the person opening the box.
However some items are too valuable to destroy out right, so some of these boxes have a false bottom that is protected from the effects of opening the box.
Burn boxes with false bottoms works mostly though the misleading as most thieves, spy and annoying adventures as they will believe that all objects of value are gone. Only the most observant will find the false bottom, most will only find the remains of other less valuable doucuments.
Not Registered Yet? No problem.
Do you want Strolenati super powers? Registering. That's how you get super powers! These are just a couple powers you receive with more to come as you participate.
Upvote and give XP to encourage useful comments.
Work on submissions in private or flag them for assistance.
Earn XP and gain levels that give you more site abilities (super powers).
You should register. All your friends are doing it!
?

Responses (8)-8

A useful little item.

So, it basically is a magically trapped box.
As an item it is okay, but you have neglected a tell tale feature allowing the PCs to avoid a fiery fate.
Excepting the false bottom, the box itself is not terribly useful. I guess couriers could travel with it in their wagons, with state secrets and the like safely kept in the box. Highwaymen, spies and nosy people would get a nasty surprise as flames torched those revealing documents.
Another use could be nobles keeping it in their basement, filling it with fiery oils and keeping diamonds in the hidden compartment.
The box should REALLY have a tell tale warning the PCs of the dangers within. An example could be scorch marks on the rim or a charred corpse in front of the box.
2.5/5. Needs more work.

I agree with Ancient Gamer's comments. More development would be most useful.

IMHO:
I get the idea, but the write up is really confusing.
Edits
"anything you don't want to keep others away from are kept in this chest." I don't think the word don't should be in this sentence.
In the first sentence of the last "paragraph", I think spy should be plural.
Thought:
This is a good canidate for the 100 word treatment.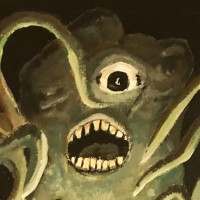 Its a straight up item - seems a modern item pushed into fantasy. Not saying it does not fit, but it would probably serve better on a list of spycraft items.
" Molk Peruda is encountered by the PCs on the second day of their journey west from the salt-choked port of Quyn, as they prepare to explore the jungle. He appears a gaunt, wolfish man, with matted, dark hair that sprouts from his head in dreadlocks, contrasting with his well-oiled, blue-black, conical beard. His eyes are hidden ebon shards beneath thick arching brows, his nose, crooked, long, and reminiscent of a snout. His mouth is a thin, dark line, his teeth unseen even when he parts his lips to speak. His skin is the color of tallow, surprising perhaps for a renowned jungle guide, yet his natural helm of dreads and the jungle's canopy keeps the sun from bronzing his originally pale flesh. On his back are tattooed three women from the waist up, side-by-side, each resembling the other but of different ages. This is a tattoo of Molk's mother, sister, and daughter. His wife (don't bring her up to him!) was killed by marauding Qullan years ago, and appears as her own tattoo on his broad but sunken chest. His feet shockingly are turned around 180 degrees at the ankle, facing towards his back! A curse from a pernicious shaman. Molk walks feet backwards (he's used to it) and walks backwards, forwards. This can be very disconcerting and outright creepy to the PCs as he guides them through the rainforest. Slung from his back is an archer's quarrel of treated wood carved to resemble a stalking leopard, in his hand a re-curved composite bow of horn and sinew, with a pair of vivid, red eyes, each one painted on the opposite side of the hand-grip. In a leather sheath at his belt, hangs a falchion, its pommel adorned with a curved bird's head and beak."
" A continent is home to large, leathery flying beasts with a wingspan of over 70ft. Though shy, herbivorous and easily scared, it is possible that an enterprising person could domesticate them. They would be useless in war due to their timidity, but excellent if used for commercial air travel."
" What about a 'criminal' society with distinct laws - for stealing, the larger the value of something stolen, the less punishment the courageous thief recieves (but must return it of course). For this pirates(?) caught petty thieves deserve to be punished harshly. If you take, you better take a lot."