A Wizard's Secret
A Wizard's most prized possesion is his Spellbook and with this item it will be safe from the eyes of others.
The Bookmark is about half the size of a standard Spellbook page and comes in the colors dark red, dark blue, dark green, and black. Every Bookmark also has a silver or gold tassle. Most also have some sort of rune or arcane script with meaning to the wizard drawn upon them. The Bookmark can be anywhere in the book for its magic to take effect.

Magical Properties:

The magic of the Boomarks is a protection spell that prevents others from reading your Spellbook. Each Boomark is keyed to the wizard at the time of its creation, you cannot simply purchase one of these at a shop. If the Bookmark is placed inside a book, usually a Spellbook, and anyone other than the Boomark's owner tries to read the book or remove the Bookmark the magic immediatly takes effect. The magic can be one of many things. The book will: Turn to dust, sand, glitter, or something similar. Instantly liquify. The pages could bond together and the book turn to stone. The book could explode, injuring the person attempting to sneak a peek.
Of course all of these seem to be highly unwanted effects to happen to your spellbook. That is why a command word is keyed to the bookmark at the time of creation that allows you to, when said at the location the book was destroyed, reassemble the book.
?
Pieh's Awards and Badges
Not Registered Yet? No problem.
Do you want Strolenati super powers? Registering. That's how you get super powers! These are just a couple powers you receive with more to come as you participate.
Upvote and give XP to encourage useful comments.
Work on submissions in private or flag them for assistance.
Earn XP and gain levels that give you more site abilities (super powers).
You should register. All your friends are doing it!
?

Responses (9)

Now this is an interesting idea, an enchanted book mark. I guess it is the logical step of a bibliocentric spellcaster. It could get silly, going into enchanted book jackets, and the like, but as it stands, I like the idea.
I'll rank it 3/5 since it is a good idea, but not really fleshed out beyond a basic magic item that a magic user would have. A good backstory and perhaps a point of origin would make it a really outstanding post.

Yup. I agree with Scrasamax.
To add my $ 0.02 worth: perhaps it could just make the book unintellegible for anyone but the wizard (changing the contents to gibberish, or say a smut magazine), or - it could conceal the fact that it is a book: covering it with the illusion of a pillow, bundle of underwear, or stone slab.
It could animate the book and make it defend itself - either through biting or casting some of the spells inside.

Can't add much to the above
I like Echo's variation best, simply make unreadable to anybody who doesn't know the command word (kind of like a password system) - I'd refrain from the smutty magazine option though, that's just asking for the book to be pinched
Basically sound but needs some background (who invented them?, why did he need such an item?, that sort of thing) - 3/5

It could actually be an interesting item: The Book of Infinite Smut. Once, a wizard thought himself clever for disguising his spellbook thus, only to have it pinched just because of the disguise.
Now, a Book of Infinite Smut is sure good to have, but if the PCs knew that there are actually mighty spells in it... *grin*

3/5 I like Echo's idea a lot. If it had a good backstory it would be 4/5 or 5/5.

You're right Echo - there's almost a scenario there
Pieh - since this is your item, I guess you get first bash at writing it

Nah, I'll pass on this one, I'm sure Echo can handle it. I'm happy knowing my item inspired someone.

Ok interesting and good idea. As someone who plays book type characters alot i can see how this would be useful but having the book destroyed very bad. It would likely take a very good enchantment to do as the bookmark would have to remember every thing in the book what the book looked like and whatnot. However if the contents of the book seemed to change such as what Echo said or the book being transported back to where it was supposed to be, who ever heard of someone sitting in the wizards study for a peek at a spellbook, or make it so that the book simply couldn't be opened by anyone else and told the owner of the bookmark where the book was.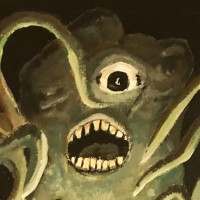 This is a good, simple straightforward item one could use to add spice to a wizard. I would have the 'destruction' or other baleful effect kick in only after a determined effort to open the book in spite of strong resistance.
" A master thief is struck by an insanity spell and thinks he is half cat. He walks around sniffing things, clawing the furniture and licking himself in the manner of a grooming cat. This is a major cause of embarassment to the guild and the master thief must be cured of his insanity."
" Imagine a person wearing a cloak of invisibility flying a flying beast (e.g. winged horse, gryphon) which was also wearing a cloak of invisibility."
" Sages and naturalists frown at the common name given to these strange creatures by the small folk, but sometimes the silliest nicknames for creatures, places and people persevere in the minds of many. 'Purifiers', 'Pond Jellies', 'Breath-Stealers', 'Lung-Ticklers' and 'River Butterflies' are much less commonly heard appellations for these life forms. Wet Faeries are basically (and simply) a species of fist-sized, fresh-water jellyfish. Several traits steer them toward the peculiar category however. Firstly, Wet Faeries are nearly invisible in the water, much like their marine cousins but even more so. One can swim in a river swarming with these critters and not even notice their presence. Secondly, they possess the unique ability to clean and purify whatever body of water they inhabit. They do this via some sort of biological filtration process, sucking in all toxins present in the water, and releasing it back in its purest form. Needless to say, they are both a blessing and a curse to whichever folk dwell beside the rivers and lakes Wet Faeries inhabit. On one hand, no purer water can be found anywhere than a Wet Faerie lake or pond, and yet, in 'pure' water 'life' tends in fact to die out, lacking the needed nutrients to prosper. Thirdly, their 'sting' is (unfortunately) virulently poisonous to all mammalians. Wet Faeries are loathe to sting anyone or anything, using their barbed fronds as a last line of defense, but if stung, most swimmers will suffer respiratory arrest, and die within minutes, usually drowning before they can make it back to shore. Alchemists, druids, and less savory characters have studied these creatures over the years, and have predictably found all the ways Wet Faeries could be exploited. Morbidly humorous, some bards find it, that the Poisoners and Assassins Guilds as well as the Healer's Union, all prize these creatures. The assassins use the extracted venom in obvious fashion, while the priests and healers use the still-living jelly-fish to sterilize other poison potions and to cure those already poisoned on death's door. It is known that a certain Earl Von Trumble keeps his vast castle moat stocked with Wet Faeries, the waters so clear that every bone of every one of his past enemies can be clearly seen on the bottom, twenty two feet below."