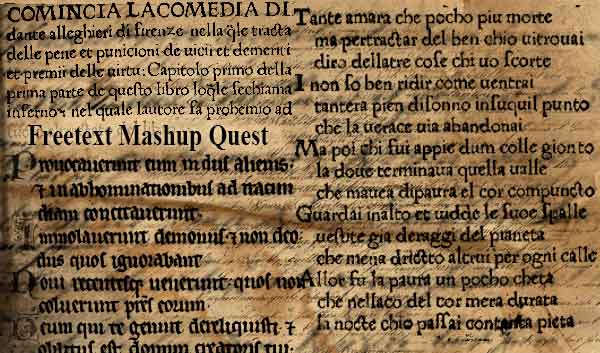 | | |
| --- | --- |
| Required Category | none |
| Required Tag | none |
| Status | Legacy |
| XP Bonus - Active | 20xp |
| XP Bonus - Legacy | 50xp |
| XP Bonus - First | 127xp |
| XP Bonus - Second | 100xp |
Quest - Freetext Mashup
This time it we have creative challenge.
Use the following freetext words and tie them all together in a single submission.
wastelands, hourglass, tea, duelist, blind, seer, criminal, scavanger, orphan, leech
There are no specific rules, however, you will loose creative points if you slap them all together like "The blind seer saw the scavanger through the secret hourglass in the wastlelands..."
Make sure to link your freetext in your submission! [freetext|wastelands]
---
Quest Winners
Name
Title
Type
XP
Silveressa
The Philadelphia Shipyards
by: Silveressa


"The shipyards, a good place to move illict cargo or lay low for a while, but that ship yard in Philly, it's not a place you want to frequent, not if you wish to keep yer skin on anyway."

A city location with a slight horror slant, suitable for any modern day horror/action setting.

Locations
Area
Water
637xp
Silveressa
What Lies Beyond Death
by: Silveressa


The Diary of young girl who finds herself trapped in purgatory, searching salvation and trying to make sense of that which is deliberatly insane. (A prelude to the entry found in my Chasers submission.)

Ideally the creatures described within this (ongoing) sub will be detailed in turn as their own seperate submissions eventally painting a complete picture of purgatoy.

Articles
Fiction
Gaming - Genre
335xp
Official Submissions 3
Name
Title
Type
XP
Raptyr
The Leech and the Mud-Puddle
by: Raptyr


The wide wicked world is a very dangerous place, especially for not-quite so big leeches who wish nothing so much as to be left out of thing such as wars, and wizards, and spells.

Articles
Fiction
Gaming - In General
265
Agar
The Perils of Envy
by: Agar


An old and respected fortune teller is dying of disease and seeks out the help of andventurers to secure the heir to the fortune teller's power.

Plots
Coincidence
Mini-Campaign
175
MysticMoon
The Leech Cloth, or The Cloth of Souls
by: MysticMoon


An item revered by the Serenia and reviled by the Fasceti.

Items
Other
Magical
300