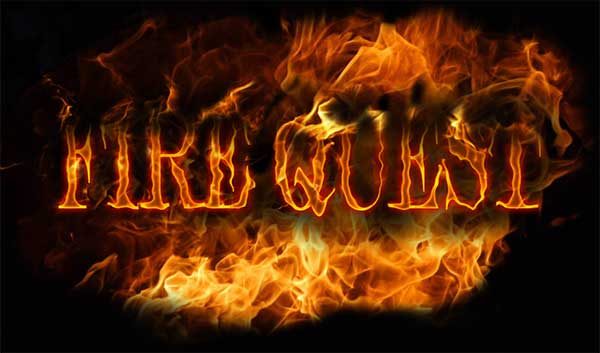 | | |
| --- | --- |
| Required Category | Dummy Category |
| Required Tag | none |
| Status | Legacy |
| XP Bonus - Active | 15xp |
| XP Bonus - Legacy | 20xp |
| XP Bonus - First | 100xp |
| XP Bonus - Second | 50xp |
Quest - Fire
'FIRE!!'
Summer may be winding down (in most places), but the fires of imagination still burn bright.
Thousands upon thousands of years ago, role-playing was invented by our ancestors. Long before the first wheel rolled down a hill, and long before the first loaf of bread was sliced, early humans sat around their caves regaling each other with tales of gods, creatures, heroes and villains, and entertaining themselves with impersonations, play-acting, and role-reversals. All this was made possible by the roaring FIRES inside their caves, which warmed their bodies, roasted their meats, and shone light on their faces.
This month we celebrate FIRE and Role-Playing!
'The Quest revolves around the element of FIRE. Water, Air, and Earth need not apply.
Items, Locations, NPCs, or Plots. All are welcome as long as FIRE is involved! Don your asbestos suits and enter with us, into the all-consuming inferno that is this month's Quest!'
15XP for each submission with 100XP for 1st and 50XP for second.
---
Quest Winners
Name
Title
Type
XP
Scrasamax
Cinderpaws
by: Scrasamax


Tales grow in the telling and heroes grow in stature, even the tiniest can stand tall among their own.

NPCs
Mythic/ Historical
Mystical
390xp
EchoMirage
Farrach, Flamekin
by: EchoMirage
In the castle of Stagstone high
from every chimney and fireplace nigh
with a mischievous smile
and the occasional vile
a congenial ember surpises you: 'Hi!'
NPCs
Minor
Criminal/Espionage
380xp
Siren no Orakio
Grand Pyre of the Phoenix
by: Siren no Orakio


Existing at once in the mortal plane and upon the plane of Fire, the Grand Pyre of the Phoenix is the ultimate testament to the power of the Lord Zevarith.

Locations
Other
Mountains
260xp
Official Submissions 10
Name
Title
Type
XP
Cheka Man
The Holy Firestick
by: Cheka Man


As the sun set, the holy monk of Jove muttered a word and the tip of his staff flared into flame like a torch, without being burned or scorched in any way by it's own holy fire. He carried on his way without fear of being sneaked up on or stepping off the path in the dark.

Items
Melee Weapons
Magical
120
Thorskid
Prometheus Amulet
by: Thorskid


Prometheus was a Greek Titan.  Possibly one of the most important Titans, as he stole fire from Zeus and gave it to the humans.  This system was developed to resist those forces through technological means.

Items
Armor
Non-Magical
165
Cheka Man
Fire Flies
by: Cheka Man


Some people might call them cute, but unlike fireflies that just glow and look pretty, Fire Flies can give you nasty burns if you mess around with them, so look but don't touch.

Lifeforms
Fauna
Forest/ Jungle
170
Scrasamax
Flame Fowl
by: Scrasamax


Flame fowl, brightest red chickens you will ever see, nice feathers for fletching arrows, but I'd pass on the omlet.

Lifeforms
Third Kingdom
Any
175
VIM40
Passion Purge
by: VIM40


Fanaticism can be just as dangerous as fire. Spreading like fire, it could spark rebellion and could lead towards violence. As a way to curb devotion to the abstract, king Hareth of Garilroot asked his Mages to come up with a solution for those too invested in an ideal.

Items
Potion
Cursed
285
Siren no Orakio
Lance of Hades
by: Siren no Orakio


A primitive flame thrower, the Lance of Hades brings the power of flame to the Phalanx formation.

Items
Ranged Weapons
Combat
240
Erfunden
Imp Fire
by: Erfunden


More annoying than fairy fire ever was. And much more deadly.

Plots
Mystical
Single-Storyline
170
EchoMirage
The Ecto-Burner
by: EchoMirage


Fiery doom in two handy barrels. Unsurpassed destructive power. Comes with a five shot warranty.

Items
Ranged Weapons
Combat
260
Pieh
Ghlims'Kurch'En
by: Pieh


In the dark one morning, the Bloated Black Beast slowly rose to the water's surface. Whence it crested, great gouts of flame erupted from its Misshapen Form and were hurled hundreds of feet in all directions. It dove again, and appeared as nothing more than an Inky Shadow of Malice. With no purpose, It swam on; occasionally cresting and flaming, but still without purpose.

Lifeforms
Unique
Water
110
Pieh
Kurchyynwraize
by: Pieh


A hilt built like a ceremonial goblet, and not the nice kind, a hideous blade of ash and flame erupt from the lip. To wield this blade is to forsake the Heavens and thrust the power of Hell into your foes.

Items
Melee Weapons
Campaign Defining
140
Quest Submissions 3
Name
Title
Type
XP
caesar193
Igneus Saxum
by: caesar193


Ostensibly but a rock, a chunk of metal, it has one extraordinary use: randomly, the Igneus Saxum issue flames.

Lifeforms
Intelligent Species
Underground
120xp
sammo_4gun
Gark'ng, the Man who Burned
by: sammo_4gun


The Man who Burned is coming to this world again, ready to hear your screams of pain and joy.

NPCs
Campaign
Combative
120xp
Cheka Man
30 Types of Fire
by: Cheka Man


Where are you going to hide when the flames are burning?'

Thirty different types of flame.

Articles
Setting Building
Gaming - In General
135xp