Vectored Monster
A way to increase the danger of a monster through an unusual mechanic
What is a Vectored Monster?
A vectored monster is any monster where only a single individual appears, and fighting the monster only allows for interaction with the surface creature. By defeating the first creature, the next incarnation in the stack appears instantly and continues the fight.

What sort of Monsters can be Vectored?
This power is not for common and mundane monsters such as skeletons, goblins, undead, or basic animals. Vectoring should be limited to non-corporeal beings, astral beings, cosmic horror type creatures, temporal monsters, celestial or infernal denizens, and magical creatures.
Linear Vectoring, Geometric Vectoring, and Exponential Vectoring
A common trope in JRPGs is that defeating an encounter will trigger a mutation or alteration in the boss being fought, ala the trope This isn't even my final form.

In Linear Vectoring, the monster stack consists of all the same creature at the same general level and ability. Slaying a stacked gibbering mouther will replace it with another, slightly different mouther. Linear creatures can also rotate their aspects so that rather than being slain, an injured member is rotated away from the prime plane and out of combat. In these instances often the only way to kill such a creature outright involved powerful magic, powerful magic weapons, or dogged persistence and not letting the creature escape or feign death or injury to evade the heroes.
In a geometric vectoring, the creatures in the stack cannot rotate, but the more powerful variants held in the stack, for whatever reason, cannot long endure manifestation in the prime plane. In this instance, the first encounted gibbering mouther might only have eight dice of health, the next would have 16 dice, and the third 32 dice. The abilities grow, and unless the creature is completely defeated and destroyed, it will regenerate health until it can step down into its lowest energy form, in this case, the eight die mouther.
Exponential vectoring is rare, and involves massive increases in power, and is most commonly seen in the avatars and manifestations of elemental, celestial, infernal, and eldritch powers. Slaying the eight die mouther would trigger the appearance of a monstrous 64 die super mouther, likely increasing several steps in size, and stats going up accordingly. Slaying this beast would cause the manifestation of a 512 die godlike gibbering mouther suitable for smashing by demigods.
Usage:
Vectored monsters have a number of uses, aside from just creating sneaky monsters and tools to smash increasingly powerful Player Characters.

Astral and other non-corporeal foes could appear weak, but then by rotating bodies could be a dangerous foe.
JRPG style, each time the villain appears and is seemingly defeated, the next form appears and challenges the PCs to battle.
Cosmic Horror, fighting the seemingly weird cultist, they explode into a horrific but manageable monster, which in turn if defeated manifests a monster too powerful for anything less than a company of epic heroes an an army of supporting warriors and magi
?
Scrasamax's Awards and Badges
Not Registered Yet? No problem.
Do you want Strolenati super powers? Registering. That's how you get super powers! These are just a couple powers you receive with more to come as you participate.
Upvote and give XP to encourage useful comments.
Work on submissions in private or flag them for assistance.
Earn XP and gain levels that give you more site abilities (super powers).
You should register. All your friends are doing it!
?

Responses (3)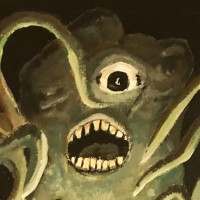 Then one must target the fabric of space itself, to push the other instances away before they can swap with the 0th element.
---

moderate to high powered magic, and a familiarity with vectored monsters, possibly even developing entire spell trees to deal with vectored monsters. A vectored fireball might do less base damage than a regular one, when it goes off, it hits all versions of a creature within a certain space for varying levels of damage, the spell itself taking advantage of whatever power structure the vectored creature has

I killed it......
AAAHHHHHHHHHH run away
" The heroes have destroyed the minions, plunged through the catacombs and defeated the guardians. They slowly enter the chamber to find the dark mastermind behind the scheme. The mastermind has a request for them, however: 'You must destroy me. To destroy me is to rid the world of a great evil, that is to say, me. But before you can destroy me, you must understand what evil is, what evil must be, why evil must exist.'"
" Five main ingredients were used to create this noxious, real-world (ridiculously named), chemical compound, featuring sulfur as the main ingredient. The odor was said to be akin to rotting refuse, decomposing carcasses, and fecal matter. 'Who-Me?' Was developed during WW II by the OSS to aid the French Resistance against the Germans. The idea being to utterly humiliate and ultimately demoralize the enemy by making them stink of garbage left to rot under a hot sun. The bizarre experiment did not last long however as 'Who-Me?' could not be administered on select targets (controlled), without making everyone in a certain radius, friend, foe, and sprayer alike, stink as well"
" From an episode of Justice League Unlimited: The God of War creates a giant, unstoppable robot (golem, animated armor, etc.) as a weapon for one side in a civil war; his purpose is to prolong the war and create suffering and war among humanity. Quote from Ares in that episode, which would go well with this idea: 'That's all you mortals are good for! To fight and fight and fight until there is nothing left but charred land and blood and bones, and to end it all and then start again with the next generation!'"