The Grey Talon Assassins
The grey talon assassins are a very special group for one reason. They have never been caught. They are impossibly hard to find; many doubt their very existence. Once one has found them, they can be sure the job will be done... for the right price of course.
The grey talon assassins use many different methods of killing, and have two different sects. The first is the warrior thief sect. They use brutal methods of killing, and cost slightly less. They will enter a building, often directly into the room their mark is in. They posses great patience and skill, and can case a place for many days. Their preferred weapons are, in general, punch daggers that are enchanted to cause a continually bleeding wound.
The second sect is the mage assassins, who cost much more than the more brutal assassins, but are much more subtle in their use of poisons, spells, illusions, and sometimes even herbs. often they will summon and disguise a minor demon, or plant a piece of blood vine on the mark, calling to them a displacer beast. The most prominent members of this sect have mastered telepathy and minor mind control.
There are many rumors that the Grey Talon assassins were founded by a greedy Illithed, but those have yet to be proved.
Not Registered Yet? No problem.
Do you want Strolenati super powers? Registering. That's how you get super powers! These are just a couple powers you receive with more to come as you participate.
Upvote and give XP to encourage useful comments.
Work on submissions in private or flag them for assistance.
Earn XP and gain levels that give you more site abilities (super powers).
You should register. All your friends are doing it!
?

Responses (4)-5

Are the Grey Talons a purely criminal organization working for profit,or are they a cult with religious and mystical overtones?
---

They may have been a cult at one time; if the Illithed rumors are true. Now, however, it would seem that they are a profit only organization, though rumors abound.

It is just another uberish cult of uncatchable assassins. There is an attempt to make it more interesting, but it is not that differernt or interesting than the generic assassins organization.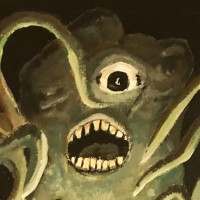 Why can't they be found?
This is missing far too much detail.
What strategies do they use to avoid detection? How does one contact them? What role does the illithid play? GMs are supposed to be able to use this, so you need to provide the background details, not just what PCs might know.
Format wise, there are inconsistent capitalizations and spelling errors.
Using demons and summoned monsters to perform assassinations is a bit interesting, especially if the victims are PC's.
" Here at Dragonsfoot http://www.dragonsfoot.org/forums/viewtopic.php?f=42&t=65381 The post discuses the use of the classic arcade game " Dragon's Lair" as a playable dungeon but it approaches it like a normal D&D game. You cannot represent DL with " Ok Bob, it's your turn what are you doing?" So I've got a germ of an idea. The castle itself is a dream construct of the way-too-powerful-to fight Dragon. From a distance the castle is changing, growing towers, walls falling , getting bigger and smaller in rapid succession. The castle "eats" interesting things that the players will need to extract. It is also Multidimensional and planer and moves around. The way I am planning on running it is that individual rounds are broken into 3 parts and only one player gets an action to interact with the "trap". a second player will be able to aid the "phasing" player in what ever action he takes. casting spells will be broken up over the 3 partial rounds(depending on L of spell).The phasing player will in essence be the party leader for the 3 partial rounds. The phasing player "job " will be rotated in some fashion(havent got this worked out yet). This is all run w/ the idea that you are trying to recreate the frantic pace of DL The growing and shrinking nature of the castle forces constant movement on the players A brief description of the situation will be provided with the idea of "looking around" will be an action that takes up a whole "partial" round. A few normal combats to be sprinkled in. Since a lot of work will go into an encounter that should only take IRL 2 maybe 3 min., the rooms and traps are reusable (justified by the "dream logic") This will obviously not work for a large group of players. Prob want to keep it to 3 or 4. This will require MASSIVE prep time for what will prob amount to a 1 hour crawl at best (depending on how many standard fights you work in) That's why REUSABILITY is key. To make the prep worth it , you can rerun it w/ the "dream logic" Not sure if I'm going to pull the trigger on this. But I really like the idea.Not promising a part two if I don't."
" Common for sailors to get lashings for punishment. Sailors would then get tattoos of god symbols on thier back so the thrasher was less likely to whip the symbol of the god. Others say symbols bring bad luck. They draw the attention of the god and it could be wrathful."
" Stinging nettles with a deadly sting that kills within minutes if the person who is stung cannot be healed."