Security Heads
Severed heads that the Viking Clan Tyr uses as security cameras with runic magic.
When you venture through the strongholds and villages of Viking Clan Tyr, you might notice freshly severed heads stuck on spikes at specific positions as if they were placed there to observe these areas. You might get the feeling these heads are watching you. And you would be right. They are indeed watching.

You see, Clan Tyr calls them "Security Heads". If you look at one of them up close you will notice that it is alive. But many of them have been around for years. Upon closer examination you will notice ornate lines of runes etched into the flesh as if with a very fine blade. Those runes create a life preserving enchantment that keeps the head alive and prevents decay.

To prevent any potential complications a live head could pose, this enchantment also rewires the brain so that all cogitive functions are destroyed except what is required for the head to serve its purpose. That being, vision and memory storage but the consciousness is completely removed. The head is then placed on a spike and serves as a security camera.
Creating one of these involves a rather grisly ritual. A captured enemy is used for this or it is done as a punishment for a capital crime. The victim is chained to a special alter and the head is restrained in a brace. A specially trained Seer wielding an ornate razor sharp runic dagger crafted with a special enchantment, will then carve the runes into the head making sure the cuts are at least 1mm deep. This can take hours and is extremely painful but due to the enchantment in the dagger, the victim cannot move or scream.

Once the runes are fully inscribed, they harden, forming crimson markings. Finally, an incision is made in the upper backside of the neck and a runestone to keep the enchantment active is inserted under the skull to finish the ritual. With the head fully prepared, the runic dagger is then used to sever the head from the body. This is done by moving the blade in a saw like motion to cut through the neck. (Yes, it is exactly how a certain terrorist group with a name sharing that of an Egyptian God severs heads.)

The severed head is then stuck on a spike so that it faces the area to be monitored. The runes inscribed on the head are then used to magically transmit what it sees to a remote terminal made of runic circuitry and stone. In the Clan's main stronghold, there is a room with the terminals lining the walls where guards can monitor every part of the place in real time. Some people might refer to these heads as servitors.
Not Registered Yet? No problem.
Do you want Strolenati super powers? Registering. That's how you get super powers! These are just a couple powers you receive with more to come as you participate.
Upvote and give XP to encourage useful comments.
Work on submissions in private or flag them for assistance.
Earn XP and gain levels that give you more site abilities (super powers).
You should register. All your friends are doing it!
?

Responses (4)

I absolutely love this concept. I adore it. I want to take it to a nice restaurant and sweet talk it in the park afterwards. It is so elegant and simple, and can easily be ported over into any setting with necromancy. Using severed heads as part of an active security system is brilliant and I LOVE it. Full marks.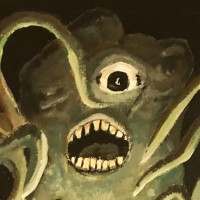 The control center makes this feel a bit too much like reskinned modern security cams. I think instead someone has to be magically bound to a head to get the visual feed added to their own - perhaps using a physical token which can be passed from shift to shift. Also, particularly strong dead enemies could potentially torment their handlers with false images, etc. Alternately, the heads may display quirks such as verbally cursing at anyone nearby, insults, off-color remarks..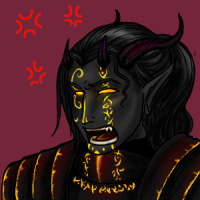 Update:
Plugged some potential complications pointed out by the most recent commenter.

Savagely awesome!!
" The PCs find a small green glass bottle, something can be seen writhing within the smoked glass. If the PCs open the bottle a repulsing form of life will pour forth and grow in size. A genderless beings of soft pliable purple flesh towers before the PCs, it has no detail, no distinguishing characteristics except for a narrow slit for a mouth that holds rows of inwardly curving teeth."
" There are no scrolls in this world, but there are crystals of various sizes, colors and qualities. Every spell has a requirement on the amount and characteristics of crystals that must be held in order for the spell to be cast, crystals which would shatter should the cast be successful. Now picture a land where crystals are scarce except for high concentrations of them in specific spots throughout the land. A number of scenarios could occur, such as benign companies selling the mined valuable for cheap, a region in constant magic-intense war zone, an area of crystals in the quicksand, or an undiscovered patch next to a town..."
" The party has found the source of the strange creatures roaming the countryside. The rift in this reality glows with a silver hue, rippling with the wind but never moving. They step through and are immediately assaulted with the scent of rotting meat, some have to muster all their strength not to vomit. Strange cries similar to the beasts the party had faced before can be heard in the distance. Looking around, they see they are in a forest of grey and red rather than the normal brown and green. The trees are sticky to the touch and writhe, perhaps to get away or perhaps as a warning. The deeper the party goes, the more the forest seems to slither and move underfoot. The cries get closer and more numerous. Creatures lurk in the shadows, all the same color of their surroundings. Whatever the party came in here for, they had better do it fast. The forest of flesh is waking up, and it is so very hungry."