OSF-03 - Spinner
The first of the space superiority vehicles to be launched by the newly independant Oraki after the war with the Word of Creation, the Spinner is an inexpensive vehicle, designed for high mobility and simple maintaince. Meanwhile, a single idea drives the entirety of it's armarment; that the only difference between a rocket and a particle beam is the opening.

The third of five candidates for the first generation of star fighters, the Spinner appealed to those serving as Oraki High Command for several reasons. Simple in shape and design, it would be easy to produce to quantity, while maintaining a very high acceleration ability, and it's singularly focused weapon array would allow it to be a strong leg for the combined arms approach that naturally appealed to them.

From outside, the Spinner resembles nothing quite so much as a large lozenge, its fore and aft ends utterly indistinguishable from each other, consisting of a turret with a single device mounted upon it, an exhaust port looking for all the stars as if it had been salvaged from an old Saturn-V model rocket. Many veterans of other forces laugh upon first seeing it, for it appears designed to accelerate in no direction at all. A wide number of similar turrets in miniature are arrayed around the outer surface of the vessel, in the expected pattern for attitude jets. Dorsal and ventral surfaces are too, almost indistinguishable, a roating blister for the pilot upon the dorsal surface, and for the gunner in the ventral system. Controls within the blister are sparse, consisting of little more than acceleration, attitude, communications, and fire control.

---
We laughed when we saw them on the scopes. Yeah, they were fast, and pulling almost fifteen g as they tried to match us. But as far as we could tell, they weren't even armed, and they weren't trying to ram us. But we knew they had those damned artificial devils on them, so we opened fire anyway. Then they started to really move, and all we could do was pray to God in his Heaven to help us hit them. 'tain't natural for anything to spin and leap like that. 'tain't right at all.
-Wo Lu, Word of Creation.
---


Consisting almost entirely of armor-combed fuel tank and engines, the Spinner's massive fore and aft plasma rockets constrict to plasma lances at the pull of a trigger, while each of the attitude jets is capable of the same to form a tight point defense net. This odd design guarantees, too, that firing its weapons throughout battle will often result in riotously complex shifts in velocity and direction relative to the target, making it quite difficult for the enemy to predict its motion well enough to hit it.

Communication within the Spinner is robust enough to allow it to bolster its pitiful detection systems with incoming data from the Baleful Eye. When so bolstered, the ship is capable of more complex firing patterns, both increasing its ability to damage the enemy, as well as it's ability to avoid incoming fire.

It is this same factor that makes the vessel unpopular on the grey military market, despite the low price of manufacture. While the weapons are surprisingly powerful, and the fighter's maneuverability is almost unparalleled, the pilot and the gunner must train to an instinctive level of cooperation, as the pilot must maintain course even while the gunner over-rides his systems to fire. So too, is it restricted in its use to interplanetary space - with no airfoil, it cannot effectively sustain flight inside atmosphere, and it must be launched via a space elevator or rail launcher system. Further, the light vessel's heavy acceleration is punishing in the extreme to the pilot and gunner, and it is not uncommon for less hardy humanoids to black out from the stresses of the system, or even sustain injury from impact with the thin acceleration chairs - even Oraki can be lightly injured by these factors, from time to time.

While they are likely to be the first element of the combined Oraki fleet to be replaced, they have proven themselves in skirmishes, and an experienced flight team will be quite difficult to out-dogfight.
?
Siren no Orakio's Awards and Badges
Not Registered Yet? No problem.
Do you want Strolenati super powers? Registering. That's how you get super powers! These are just a couple powers you receive with more to come as you participate.
Upvote and give XP to encourage useful comments.
Work on submissions in private or flag them for assistance.
Earn XP and gain levels that give you more site abilities (super powers).
You should register. All your friends are doing it!
?

Responses (4)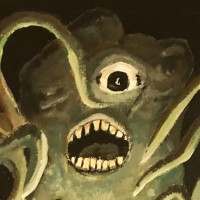 This reminds me of my pressure washer :) I suppose you could have a mode that sends lots of little squirts over a wide area to deal with fighters and missiles as well. Or a fan-like blast. Being machines, you program all sorts of patterns into the nozzles to deal with the specific threat at hand.
Maybe even to act as a decoy, one of these could set their rockets to maximum diffusion, and fire all of them at once to surround their ship in wildly dispersed, slow-moving plasma, an irresistible beacon for heat seeking weapons, and potentially blinding to IR sensors nearby?
Or maybe I'm just being silly here.
In any case, this is a great idea!

So it just looks like a cough drop? That's a bit uninspired. Lots of fancy words, but they mainly just served to confuse me.
'a roating blister for the pilot upon the dorsal surface, and for the gunner in the ventral system'
???
---

Think of a rotating bubble on the top (dorsal) and bottom (ventral) surfaces of the cough drop that lets the pilot and gunner face any direction. 'Top' and 'bottom' can be ambiguous terms in certain contexts (like space or biology) and so dorsal (think dorsal fin, as in the fin on a shark's back) and ventral are used to be more specific.
" (Post zombie apocalypse)-a tribe of humans Culture: Drumming circles daily around an arena for their bravest brutes to slaughter their accepted foe, the zombie. Feasts of overcooked zombie flesh (to kill all of the zombie virus present). Wooden fortress that make this tribe in the far future look several millennium behind in technology. Instead of becoming a troublesome and unnatural foe that they seek to cure, this tribe has accepted that Zombies will continue to roam their land and, if the undead were to perish (be cured), this tribe would suffer as well."
" There are no scrolls in this world, but there are crystals of various sizes, colors and qualities. Every spell has a requirement on the amount and characteristics of crystals that must be held in order for the spell to be cast, crystals which would shatter should the cast be successful. Now picture a land where crystals are scarce except for high concentrations of them in specific spots throughout the land. A number of scenarios could occur, such as benign companies selling the mined valuable for cheap, a region in constant magic-intense war zone, an area of crystals in the quicksand, or an undiscovered patch next to a town..."
" For a futuristic grim gory setting. Probably powered by some kind of dilithium battery or something similarly awesome. Anyways, basicly a big drill sticking up from a hilt that you primarily use for skewering enemies painfully and drilling through armor."