Macu the kind
Macu spends his time looking for kind and giving people who he rewards in some small way. He does this by disguising himself as a needy person, maybe an injured traveler on the road, or a beggar in a town. The first person that responds kindly to him will receive some assistance in the endeavors, they will find out about the assistance when Macu has finished helping them. If a party member is simply indifferent to Macu then Macu will give the party another chance, in a different situation, if the party is still indifferent then he will leave them alone without interfering with them anymore. If the party is cruel or evil in anyway to Macu then he will punish them is some suitable way that matches their evilness. He will even show himself to them so that they will recognize him and the fact that they were evil/cruel to him.
Special Equipment:

none

Appearance:

Macu's appearance is that of a beggars or any needy person.

Background:

Macu was a Grand-shaman who served a kind and generous god. Macu's service was so great and successful that he was rewarded with lesser deity status.

Roleplaying Notes:

1) Macu the kind is actively looking to reward or help a kind person so he will over look small slips of unkindness.
2) He is very powerful and can help or hinder the party if they deserve it.
3) The characters should meet him at a place that is in a good position for them to help him and he will do what he can to need something that the characters have and may not really want to give up. This thing should be replaceable but cause the party to be inconvenienced by having to get another one.
?
drphluid's Awards and Badges
Not Registered Yet? No problem.
Do you want Strolenati super powers? Registering. That's how you get super powers! These are just a couple powers you receive with more to come as you participate.
Upvote and give XP to encourage useful comments.
Work on submissions in private or flag them for assistance.
Earn XP and gain levels that give you more site abilities (super powers).
You should register. All your friends are doing it!
?

Responses (4)

This guy could be very useful in reminding a party whose ethics are sliping that they are supposed to be the good guys. The loan of a horse for an injured traveler, beggars alms, lending a shoulder to help an elderly pedler, these could all become much more in depth events by adding this character to the campaign. Perhaps he could even be helping the fates by giving snippets of advice to them to help them on their quest. 'Avoid the forest trail' and such.

This reminds me of the bible and modern myths about Jesus (and the older myths Jesus & St. Peter too) appearing as needy persons to test the faith of the followers.
This is one of those very old submission that doesn't stand the test of time, but could have been much better with some work. The 2/5 score is based on modern day Citadel expectations.

Find myself agreeing with AG here, basically a very sound idea but could use a LOT more fleshing out, so 2/5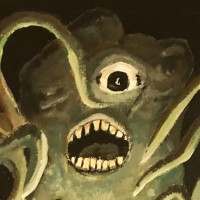 Meh.
" A large vertical cave has a constant, strong wind blowing out of it from the bowels of the earth. If one was to jump into the currents they would have a controlled ascent on the winds till they reached a height where their weight and the winds force reached equilibrium. Impossible to climb down naturally. What is it? Natural winds from the earth or a complex magical protection for an underground lair?"
" Culture/Religion: based on fear and respect. Gods are very dangerous creatures, sometimes friendly, often not. Temples are the way to make contact with them... if not easier, then at least more concentrated in one place. Were it not for the temples, gods could be running amok among the people. Therefore, mortals have to keep the gods close to temples, entertained and worshipped. It doesn't make the bad ones any friendlier, though (and is no guarantee some won't go on trips now and then). Still, there have to be priests that are hardy men, able to survive the rigours of their position, get a sufficient number of worshippers to make the gods feel important enough, and mediate the contact between mortals and immortals."
" While setting up camp for the night, the PC's are aproached by another group of adventurers who seem nice enough. The road is somewhat dangerous and the other group suggests camping together. The two bands split watches, one adventurer from each group watching at once. The night goes by without incident, the next day the PC's travel with the other group as they are going the same way. The group consists of Hordel the ranger, who is skilled with the bow. Hordel is a quiet man who speaks little but appears quite skilled. Dremar is a barbarian who is a little excentric, he seems to be an excasive drinker and thiunk that battle is the solution to everything. He appears to be a stout and powerful fighter with his greataxe. Ferrin is the leader of the group, a rouge by trade. He is daft and witty, speaking with the PCs often and asking many questions. He fights with finesse with his rapier. Preminitat as a cleric but he will not say which god he worships. He uses his spells to empower and heal his party and fights with a club. He sticks close to Ferrin. Ferrin is a great talker and tells much of himself and his party, but asks even more about the history and capabilities of the PCs. He tells of some adventures his party has had, and they seem like an interesting group of mercenaries. Hordel is quite and has little interest in speaking with the PCs, he ignores most questions. He spends a lot of time with Dremar and sometimes Ferrin. Dremar seems to not care about any questions ansked to him, nor does he seem to know the answers. He seems battle hardened and is a simple man. Preminitat rarely starts conversations but will speak with the PCs. However, some of his accounts of the party's history seem to condradict those of Ferrin. The Party spends another night and day with Ferrin's group. One of four things can happen on the third night. 1: While eating dinner around the fire, Ferrin gets into an argument with one of the PCs when he/she mentions the discepincies between Ferrin's stories and Preminitat's. 2: Hordel gets mad after repeated questioning about his life from the PCs. 3. Preminitat gets mad after repeated questioning from the PCs about what god he worships. 4: One of the PCs rejects the offer of a drink from Dremar and he takes it as an insult. All of these scenarios result in a battle between the parties. If Ferrin's party is defeated and still lives he swears vengance. His party may then cross paths with the adventurers again."