Heraldry of the Underworld
In settings where there are long established underworld thief, criminal and otherwise ne'er do wells there is going to be a system of heraldry associated with those who live in and rule from the shadows.
Colors
Gold/Or: The color gold is typically associated with respect, generosity, and honor. Within the halls of the underworld, the color gold is associated with ranking membership in one of the major guilds. Gold represents a made man, one with money, power, and influence.
Silver/Argent: The color silver is associated with cleanliness, purity, and innocence, peace and joy. In the underworld, the color silver or white is associated with street beggars, pick-pockets, and criminals who impersonate men of the cloth for the purpose of gaining alms and donations.
Red/Gules: Red is the color of martial prowess and willingness to serve king and country. In the underworld, the color red represents professional killers, murderers, and non-assassin professionals.
Blue/Azure: Blue is the color of loyalty and steadfastness. In the underworld, blue is associated with city guards, civic watches, and other instruments of law enforcement. In some areas, the only difference between criminal guilds and guards are the colors they wear.
Black/Sable: Black is the color of grief and resistance. In the underworld communities, black is associated with bastards, outcasts, and the general criminal persuasion. Black is rather obviously the most common color in guild heraldry.
Green/Vert: Green represents freedom, beauty, and joy, but in the underworld green most commonly represents prostitutes, and those involved in the oldest profession.
Purple/Purpur: Purple is the color of majesty, justice and sovereignty. In the underworld, purple is associated with the professional assassin. A variation on the color is also used by criminal potion makers, alchemists, and underhanded magic users.
Orange: Orange is associated with seeking rewards and ambition. In the underworld, orange is associated with information brokers, snitches, and fences, the sort of people that often play both sides of a situation for their own gain.
---
Basic Symbols
Anchor - Denotes maritime service. A tilted anchor denotes criminal activities while in the maritime service, typically piracy.
Angel - angels are associated with either activities associated with the church. If the angel is bearing weapons, it indicates mercilessness in battle and a discarding of all civility.
Ant - A minion, lackey, or otherwise good worker.
Spider - Cunning and intelligence, also connectedness with others. Associated with murder when worn by a woman.
Beetle - Toughness and durability, also funerals, gravediggers, and corpse handling.
Wasp/Hornet - Aggression, fearlessness, archery and the use of poison
Scorpion - Assassination, causing pain and suffering for amusement
Centipede - Stealth, cunning, and the use of poison.
Apple - The fruit of wisdom, a symbol associated with those of higher education or special non-violent skills and trades. A very skilled weapon maker might have an apple struck through with their weapon.
Arm - Strength of arms, often also indicating a detriment of intelligent. A solid symbol for enforcers, goons, and thugs.
Boar/Pig - wealth and gluttony with a strong measure of viciousness. A symbol of excess and strength.
Raven/Crow - Ill-omens and the criminal underworld in general, a very common animal device.
Eagle/Falcon - Noble or royal blood, outcaste from a family of high pedigree.
Castle/Tower - Military Service, or service in a city guard or other civic occupation.
Chains - Bondage or forced servitude, slavery or putting others in chains. Broken chains indicate escape from bondage or forced servitude. Also associated with long term incarceration.
Wolf - A symbol of predation, wolves are associated with banditry, highway robbery, stealing livestock, and general rural larceny. Like the raven/crow, this is a common animal symbol.
Dragon - A step above the wolf, the dragon symbolizes raw power, limitless greed and unrestricted vengeance against those who would trespass against the monster.
Ducks and Waterfowl - Deception, often in the context of being charming, personally disarming, humorous or otherwise putting others off of hostility.
Fox - A wily opponent, one that favors cunning and wits over brute force and violence.
Hand - often depicted as severed, a thief. If armored, a mercenary.
Horse - Strength, sexual prowess of the masculine variety.
Keys - Access to special places or secrets, or powers. A common motif for underworld magic users, clerics of underworld deities and the like.
Rat - Stealth, cunning, the ability to survive in adverse conditions. Also a symbol of orphans, outcastes among the outcastes, and those who exist in the shadows and are frequently overlooked.
Serpent - A healer, one who knows poisons, wisdom.
Squirrel - the messenger, courier, one who can carry things quickly.
Swan - Rather than beauty, the swan in the underworld is a symbol associated with physical deformity or ugliness.
Unicorn - Traditionally purity and virtue, in the underworld the unicorn is a symbol of the utmost depravity and vice. This is in contrast to the violence of the Dragon, and more towards decadence.
This is obviously not an exhaustive list, but a general stepping off point. The traditional symbols of heraldry are going to be used by the 'nobility' and 'royalty' of the underworld, and these symbols and meanings are going to be adapted to suit their new users. This most commonly is going to be a basic inversion, good is evil, pure is sullied. The less common application is taking a symbol and removing it's meaning completely and associating it with something closer to the underworld environments. The example here is the hand symbol, which is usually associated with service and loyalty, but in a culture where the penalty for theft is losing a hand, it easily becomes the symbol of the thief.
---
Purpose
Traditionally heraldry has been reserved for the nobility and royalty. In the fantasy genre, there are other groups that have the ability to challenge the traditional feudal power structure, and those groups would imitate the trappings of power to give themselves legitimacy. With the preponderance of cities of thieves, thieves guilds, assassin's guilds, and other massive criminal enterprises, it would stand to argue that there would be an entire subset of heraldry used by this group of people.
Low Heraldry versus High Heraldry
The heraldic devices of the nobles and the royals is going to be a protected commodity, and jealously so. To not offend the ruling class, the heraldry of the criminal class is not going to imitate the art and style of the ruling class. The underworld heraldry is simple, the style of art is municipal rather than flamboyant and more likely to be vulgar in it's depiction. Often the crests of the high houses require description as the animals and symbols used are very intricate and convoluted to the point of obfuscation.
Other Uses
Heraldry is part of a pictographic language, sharing information through animal symbols and colors. A tavern sign can give several different pieces of information about who and what it serves through nothing more than a cluster of symbols and colors on it's sign. A green sign would indicate that the establishment is involved in the sex trade, where if the sign were red it would indicate that the tavern catered to the martial type.
Nobility and royalty are fluid in nature, with old families being snuffed out by violence or time, and new families rising to take their place. The old devices and heraldries are polished up and become the new tradition. Thus, what was an underworld symbol can grow, become a mainstream symbol, and old traditional symbols can over time fall to represent darker things.
?
Hall of Honour (1
voters
/ 1
votes
)
Not Registered Yet? No problem.
Do you want Strolenati super powers? Registering. That's how you get super powers! These are just a couple powers you receive with more to come as you participate.
Upvote and give XP to encourage useful comments.
Work on submissions in private or flag them for assistance.
Earn XP and gain levels that give you more site abilities (super powers).
You should register. All your friends are doing it!
?

Responses (6)-6

Useful for criminal's tattoos ect.

I second Cheka, tattoo's definitely come to mind when reading this.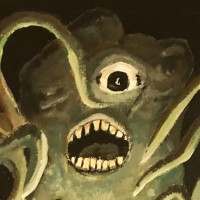 Hmm, thought I commented, but apparently did not click OK.
This has a lot of uses, and is a perfect fit with Tattoos.
These can be used also to adorn items to provide subtle clues to their abilities.

I was going to ask in what capacity a thieves' guild or the like would even use heraldry. I should think those in the underworld generally don't want to be caught and would avoid using distinct symbols for themselves. And where would they put it? I can't see a thief with a banner.
But Val and Cheka give some solid potential uses. I could also see it used in a crime lord's parlor (crime lords have parlors, yes?) where it could show his or her prestige.
At the very least, the ideas are thought out and interesting.
---

One of the ideas that fed into this was the symbolism and whatnot that is used in gang tattoos. Thusly, various gang members have tattoos on their body that demonstrate the sort of things that they have done, from crimes to jail time, and so forth. There was an article on a prison inmate who was actually found guilty of an initially unrelated crime, but was incriminated by his own tattoos because he basically bragged in permanent ink about how he killed another man, on his chest. To the average person, the meanings behind the symbols are unknown, or only the most rudimentary are known. It takes professionals to break down the internal language of symbols used, and the symbols and iconography change from gang to gang, from prison to prison, and from country to country. In contemporary fantasy, thieves guilds are the norm, functioning like the Mafia or the Yakuza, and being large and established, they would have their own sets of symbols and such to use for many purposes.
The fun part could be using the internally consistent symbol set, but not telling the players and letting them map it out.

This is one of those that is so simple it should have been done much sooner. The thought of underworld tattoo's as a symbol of heraldic stature is wonderful and something i will use in the future for my Hellgate Prison run.
" A tribe of barbarians appear wearing necklaces of bear claws and great cloaks of brown fur. They are physically much larger than normal humans, much stronger, and shrug of the most vicious of wounds. They call themselves the Aklak after their totem spirit. - From the Inuit word for Grizzly Bear"
" Castoria was once a thriving and prosperous nation, a rich trade center for the surrounding lands. This all changed when, on one fateful night nearly a century ago, the Mist of Eternity rolled in and surrounded the land, obscuring more of the outside world as days and nights passed. By the time the Mist blocked out the sun, a new light shone during what was assumed to be daytime: The Starpoint Spire, a mysterious place atop Castoria's highest peak in the northern-central region. Some say that there is some sort of building atop the mountain shining the dim 'sunlight' onto the land, but it is only ever too bright or too dark to fully make out any structure, not to mention the mountain's immense height. Not a month after the Spire's light lit up, the stars fell. Flaming rocks and debris from far-flung edges of space plummeted downward onto the eastern region of Castoria. Once the shower subsided, a strange energy from within the fallen stars transformed the eastern lands in what are now known as The Voidwastes, a barren gray land littered with craters and strange alien creatures (these can vary, but I had Pathfinder's Akatas in mind). To the south, strange mechanism of eldritch origin are again at work after aeons of rest in the Ruins of Kchuthngnl, an ancient city of non-human creation that is estimated by scholars to be no less that five millennia old. To the west, the once peaceful and serene forest, now known as The Plagued Woods, has been experiencing corruptions of the wildlife and humanoids living there. Some humans have reported creatures that appear not unlike a halfling, except that they can open their mouths to massive proportions to swallow creatures the size of an ogre. When adventurers and citizens alike try to make an escape from Castoria, they are never seen again, and it is utterly unknown whether they found hopeful sanctuary or agonizing death withing the Mist's depths. What is unknown to all residents of Castoria is that all of these events occurred because of the actions of a secret but powerful cult loyal to the Elder Gods who call the space between the planes their abhorrent home. The cult still lives on, larger than ever, and their plan is for the alien horrors to incubate and thrive within the dome of mist that now envelops Castoria, so that when the Elder Gods return as the cult's prophecy foretells, they will have an army of blasphemous creation at their disposal that they will use to make war with and enslave the denizens of the Material Plane."
" Found written on a torn single page... 'Lay thee patiently and still upon the ground, contemplating the Leper Star in the firmament, 'neath a crescent moon, 'midst the graves of a boneyard 'til the G'na-Shennu come crawling up from the foetid earth. Fear them not. Let them rage about thee, casting ghoul-dust from their chalky talons and scalps,'til they calm, and so begin to whisper their secrets. Then shall they solemnly withdraw into the earth once more, in peace.'"