Griffin Orent
In my setting that is posted here called 'The Kingdom of Orentia' the appointed ruler of the town of Thorpe is Griffin Orent. Griffin is actually the leader of a rather large group of bandits operating all over the kingdom. However, these are not your normal bandits...
Appearance
Griffin is an average looking young man of average height and average weight. He has brown hair, brown eyes, and tanned skin. Overall, just looking at him he doesn't appear to be someone you would remember easily. His clothes are of very quality, but not flashy. Most of the time he walked around the town unarmed, but flanked by two or three escort guards.
History/Background
Griffin is brother of the King. He used to live in the royal court at the capital city, but that all changed when his wife was called to testify before the court against a friend of Griffin. When she was asked various questions about the accused, she committed what is a capital crime in this very lawful government. She lied under oath to protect her husband about a very unimportant issue. Her lie was discovered. She was summarily executed and her husband was reprimanded. His offense was very minor even in this kingdom. This occurrence opened Griffin's eyes to the fact that his family's kingdom despite being lawful and protective of all its subjects, it was not good. Over the next many years, Griffin began to see the kingdom for what it truly was and decided that the oppression caused by law without heart must be fought. Unwilling to lead an open revolt against his family and thereby causing the deaths of many, Griffin began to gather other like-minded people. He organized them into a group of 'bandits' that operate an underground caravan to help good people escape their 'lawful' punishments. Eventually once enough money has been earned, Griffin and his band will also leave the Kingdom and start a new in the Neighboring Kingdom of Thalas.
Special Equipment
Griffin has two important magical items. The first is a cloak that offers protection from the elements and assists is avoiding damage from area attacks. The second is a armband that assists his ability to convince people that what he is saying is correct.
Roleplaying Notes
Portraying Griffin while in the town of Thorpe:
Griffin behaves like the useless man on the top, that tries to do things well, but most people around find ways to make it better. He is an arrogant know it all that lets everyone know he would be able to do things better. Most of the townsfolk feel nothing but contempt for him. He has long been known to not really do any governance for the town; he is just a figure head. The real power lies in his nephew, Michael Orent, who is the captain of the guard for the town.
Portraying Griffin while organizing the bandits:
While Griffin is leading his true followers, he is confident, but not arrogant. His magnetic personality reasserts itself as does his desire to protect those who cannot protect themselves from the oppressive government ruled by his family.
The organization:
In many small towns of the Kingdom you will find two or three members of Griffins group. They will only know of one other person in the group, but that person will not be in the same town. Each person also has a hypnotic suggestion that protects them and each other from various interrogation techniques. Orders and plans for the whole group are sent through a series of complicated steps that change every time a message is sent. Patterns are very dangerous and avoided at all costs. All members discovered in this plot would be killed in any of the kingdom's courts. The bandits do steal money and goods from traveling caravans, but they try to avoid killing anyone and only take governmental goods and funds, never personal belongings. Also, the group avoids large targets to avoid attracting large attention. Lastly, the group organizes its hits, so that there is only ever one or two hits in any one area for a year or two.
Not Registered Yet? No problem.
Do you want Strolenati super powers? Registering. That's how you get super powers! These are just a couple powers you receive with more to come as you participate.
Upvote and give XP to encourage useful comments.
Work on submissions in private or flag them for assistance.
Earn XP and gain levels that give you more site abilities (super powers).
You should register. All your friends are doing it!
?

Responses (3)

This is a nice idea. While it needs some editing around the edges for grammer mistakes it smacks of a decent idea.
It sounds like a decent idea of good turned bad but for a good reason. More description of his items would be nice as well. His cloak being very mundane and not exciting to say the least, but his armband has sounding promise. If you don't flesh it out someone here might and link it back. As a matter of fact, I think I will try my hand at it.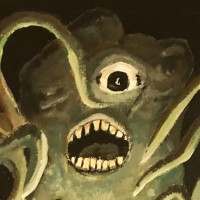 Tis not bad. How did he learn such detailed techniques for evasion?

A solid NPC, his tactics reminds me of how the Communists operate before they come into power in China but then that's cos I'm addicted to watching mainland Chinse spy thriller dramas lately :)
" I was in a game with a GM that had a Masters in History, who made is a point to mention that the local peasants didn't have wheelbarrows. The rest of the players just shrugged that off but I knew that the GM was trying to tell us the peasants were on the knife edge of starvation. All that from wheelbarrows? Yes, because before the invention of the wheelbarrow it took two men to carry that load. In it's time the wheelbarrow was the most explosive production multiplier that the peasantry could get their hands on. This is worth two tips: One about the power of the Wheelbarrow and the other is the moral of the story...that people need to know the point you are trying to make."
" What if the sources of precious metal in the realm all failed, so that the only sources for gold and other precious metal were hostile foreign lands? Gold coinage might become increasingly rare, resulting in hoarding. Player characters that appear with masses of treasure might be suspected of being in the pay of foreign powers."
" With a huge number of sacrificial victims, another realm long ago secretly bound a Prince of the land spirits, Iorstonn by name, thus ensuring the fertility, and improving the magical defences, of their realm. But binding that Prince to one spot has disrupted the weather and magical patterns (ley lines?) over half the continent. Things have become bad enough that a coalition has been formed to rectify the situation, once divinations have established the cause. Your party is one of the teams assembled to do the rectification: find the binding object and steal it ('so that we can destroy it here in our realm, of course'...*) or destroy it over there. Presumably the Prince will be grateful to his rescuers and angry at the binders, but with a greater spirit like Iorstonn one can never be sure: such beings are 'tricksy'. * Of course, the rulers of our realm might want to control Iorstonn for their own ends..."