Goryen's Key Stones
Two parts of the same stone that when seperated, tend to exert a slight pull towards one another.
Goryen an apprentice to the mage Stysend, was tasked with the nurturing and protection of the region of S'irold. This was not an uncommon occurance for the wizard council. As they used this to test an apprentice. This also provided the apprentice with lessons and wisdom that would otherwise be lacking.
Due to Goryen's gift at creating mystical objects this assignement proved an amazing opportunity. For the 40 years leading up to his mysterious disapearence, he created many usefull items.
The 'key-stones' where one of his most usefull tools. Two pieces of the same inorganic object, are spelled to attract one another. The closer the two pieces are, the stronger the 'pull'.
They can be used to indicate a hidden stash, a specific location or area. Anything location someone wishes to find again.

Magical Properties:

Can be any two inorganic items that can either fit toghether or were once part of the same object.
A low level spell is cast on each piece to tie them toghether. Effective distance usually 300-500 FT. (can be modified depending on wizard or spell level)
Credit goes to Anne McCaffrey for this idea.
Examples: Key and Lock for tavern owners who don't want to show people there room.
Piece of stone from a boulder that indicates treasure location.
Not Registered Yet? No problem.
Do you want Strolenati super powers? Registering. That's how you get super powers! These are just a couple powers you receive with more to come as you participate.
Upvote and give XP to encourage useful comments.
Work on submissions in private or flag them for assistance.
Earn XP and gain levels that give you more site abilities (super powers).
You should register. All your friends are doing it!
?

Responses (8)-8

I will try to add more of the Goryen story line as his history unfolds. His items are currently part of a Heroe's unlimited game.

Which Anne McAffrey series is it? I usually read her Pern novels, sometimes her other works.
Good item, not to powerful, doesn't really need a backstory. Not terribly interesting but a solid item none the less.
4/5

3/5
It's an alright idea

Useful - not too powerful - the sort of basic item that might actually exist
4/5

Thanks for the comments, I've been using it more as a GM tool...
@Agar; it's part of the Crystal Singer series. I loved the Pern novels, had them all.

As Agar said, not terribly interesting, but a solid item. A better, or more filled out backstory could really help this item. Otherwise, not impressed.
2/5

Wow, the nice things that can be found in the dusty corners. This one doesn't have much "flash", but it is, after a long time, another addition to the Generic Magical Item codex, so kudos for that.
Very usable.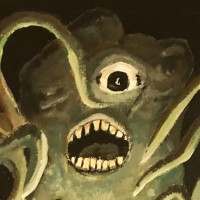 A nice simple basic item to add to one's world. Could easily be a 'hello world' for new wizards to make.
" Chekov's Spell -- This spell has a two-fold effect. The first is to make the target item almost-unnoticeable to anyone not specifically looking for it. The second is that someone who has seen the item will remember it when they encounter a situation that would be perfectly solved by use of said item."
" L1 wizard spell This spell must be cast for 31 consecutive days by one wizard to create a +1 sword,-2 to anyone else holding it(other than sword owner).No special ingredients or quality of blade, the only requirement on this part is it must be a short sword or longer and must be a true sword. The sword must draw blood from a living creature of at least 1-1 hit die every day and The blade is -1 until the 31st casting, when it becomes fully and permanently enchanted .Variants that enchant other weapons could be possible."
" Among the assortment of organized criminals who live in the great city, few command greater fear the Moonbeard Order. They of course do not call themselves that, but have earned the moniker from their fashion of dying their large beards with lye to produce a distinctive crescent shape running from earlobe to earlobe. This is meant as a taunt for their enemies, for it clearly outlines their throats. They also wear garb similar to the northern tribesman, carefully tooled leather and showing multiple, colourful glyphs. They are feared due to the intense discipline that their group maintains, due to their origins as a warrior-sect. They serve as paid thugs, enforcers and assassins within the city, with the client simply ordering a service from the organization, not hiring an individual. Apart from making the request and providing payment in full in advance, the order completes the assignment themselves. Their order has many moles through the organizations of the city, and more than a couple of nobles. As such, no organized move has been made against them since their chief activity is directed against other members of the crime world. It is said that their services have been useful for those in power as well, further protecting them from persecution. Their religion holds that their time in this world is vanishingly brief, and largely unimportant except as training for the Great Battle. The order is very utilitarian with weapons choice - they simply use the tool needed for the occasion, though not without having trained extensively with it beforehand. Daggers, garrottes, swords, bows, battle axes, polearms, wagons, even siege engines have been used to carry out their contracts."