I am glad to welcome the surviving students of the dungeon-lore. Today we will start with a _slightly_ more dangerous topic: the funeral customs of the Arascan folk.
Their roots and mentality
Arascans were the forefathers of Elves as we know them today. Being children of High Elves and Humans, great power was in them, and a touch of mortality. But they were few, and through continued inter-breeding with Humans their unique identity lessened, up to the point of becoming 'normal' Elves. But that is history.
It is believed now that young members of this folk did not need to sleep, for such was their power of will, and curiosity for the world around them. But as they aged, the vast wealth of their knowledge, knowledge of both good and bad things, made them weary; some sages think their aging was in fact this weariness. And to rest, they learned to sleep, what other races did for ages already. But theirs sleep took longer and longer, as centuries of life accumulated into more weariness. They started to sleep for weeks, months, even years.
As their sleeps took longer and longer, they began to worry about the waking-up. For they lived with the short-lived Humans, and their children had ever-shortening lives. The world may change dramatically in a few years, what will it be like in centuries? Vows seldom last over one Human life, and even if, the group/tribe/nation that has given the word may fall to many threats.
Having a certain (probably inherited) desire for luxury, and seeing little reliability in the world around, even in their own race, they started to create safe places, good for sleeping and storing of necessary material, should they wake up, and desire to traffic with the outside world. This included things that were at all times considered valuable, like gold and gemstones. Indeed, the few 'graves' that were looted gave birth to most legends of today, about graves of long-gone kings, filled with treasure and deadly traps. (The lack of trust in outsiders was really translated into traps.)
Oh, and one thing: the Arascans did not believe in Death, as people do now. Their sleep was only a method of resting, and if it took long, it was only because it was necessary. If the sleep took forever, no problem either. A _violent_ death, that happened to some of them, is only an end of the existence, Nothingness, no pain or memory, so not such a bad thing either. Arascans did not believe in Afterlife, in no form. No reason to get excited and fabricate all those ideas the short-lived races seem to fancy.
To sum it up: these people were long-living, powerful in Magic, and a bit crazy. Their resting places, while full of traps, were meant to be usable, if one has actually woken up from the Sleep. Thus, most traps can be by-passed or turned off (though not necessarily easily), and besides that gold and gemstones, there is also food and clothes. Besides pits and monster rooms, there had to be a functional closet somewhere, and other necessities. Sounds like a dungeon though...
Construction matters
Most corridors and rooms are rectangular, and often the layout seems to show some degree of symmetry. One should but never underestimate the twisted mind of the dungeon creator, following the symmetry may lead you into another trap!
The Arascans were a magical folk, the perfectly smooth walls were probably tunneled with magic. Not only that, but the rock is incredibly hard to overcome in any way, the whole dungeon is probably protected against earthquakes. Many of the traps are magical, and magic is still in effect in many places. (Teleportation spells seem to fail in some locations, too...) Be sure they used even ordinary traps and creatures, if they were considered effective.
The Layout
There is no fixed layout common to all of these dungeons, but some features seem to be always present:
First Gate
- with a symbol most probably still meaning Infinity (an 8 lying on its side, duh). If an ability or spell sensing magic is used, the spellcasters claim to perceive some kind of presence. This is probably a personal seal or signature of the dungeon's creator and user, and more powerful/skilled wizards sense more.
Entry Hallway
- showing vivid paintings of torture and death, of those that enter this area (the victims are enchanted to change, to resemble the would-be-robbers). Some of these colorful masterworks may indicate actual traps inside, so it is advised to study them carefully.
Second Gate
- Contains a kind of 'forcefield', that can be easily crossed, painfully, but with a minor injury only. The meaning of this is unknown. Some think it is merely a psychological deterrent. Others speculate it is a detector: it is not possible to enter the dungeon otherwise, and even if there are multiple entrances, this forcefield always separates the Outside world from Inside. Some argue the Arascans were disgusted by dirt and vermin, and this field repulses them effectively.
Interior
- corridors, rooms, decorations, traps, the occasional monster, treasure, ... depend on the creator. :)
Treasury
- actually a storage room for the expensive stuff, it has but one guaranteed feature: a death trap.
True treasury and 'Grave'
- the place of the final rest, it is hidden even better than the Treasury. Here sleeps the Arascan his or her eternal Sleep. Due to some protective spells, (or is it really sleep?) the body does not decompose. On its bed it lies, powerful impassable magic always protecting it. Around are items of personal need and liking, some may be worthless, some extremely potent and valuable. Only one bedroom has been found until now. The sleeping one did not awake, however, the unlucky finders died in horrible ways later, most probably through a powerful curse. Think twice before looting this place.
—-
Special Features:
'Fridges'
- quite an expensive magical investment. It is usually a specially marked small area, storing food, and occasionally creatures. If penetrating this area, the air feels like being denser and denser, and it is hard to get far. It is equally hard to get back.
The actual effect is but the slowing of time: the air is not denser, everything just gets _slower_, the deeper it gets! So the food (or a monster) just a yard/meter inside is perfectly preserved for centuries, maybe millennia. This is actually a nice way to have _living_ creatures inside a dungeon separated from the rest of the world! No need to get them food, simply set them loose once some alarm is triggered.
Note: may work as an interesting pit-trap, for you basically must spend the same time climbing out of it, as you have spent falling! (Well, actually not the same time, but I don't want to work out the formulas for speed and everything.)
Creatures
- Undead are rarely used, the Arascans probably disliked them. But magical creatures were certainly high in favour.
Servants
- Could possess intelligence better not given to monsters, and control some traps. And as magical creations, they can sit&wait forever.
There could be even some sort of AI running the whole dungeon, according to its own weird programming. There you have all those walls that move and traps that activate, just as if something knew what to do... On the other hand, the AI may be lonely after all those years, and try to keep the visitors alive, to have something to play with. Creates another problems, though.
Traps
- can be expensive, and unrealistic. Both are advantages to the twisted Dungeon Master. And there can be many of them...
(Don't forget classical spells like Reverse Gravity.)
Secret places
...are many too. :)
Decorations
- depend on the owner and creator. But typically most, if not all corridors and rooms are richly decorated. Usually carvings/paintings that give little sense, like geometrical shapes, irregular forms, leaves, etc. Of course, this makes searching for hidden things harder.
The decorations may have another impacts on the dungeon. Light could be used everywhere (perhaps activated, if it detects movement?). Thick grass could be planted on the floor (or be only an illusion...), if the owner liked it that way. Might give interesting clues, not only to the robbers.
?
Hall of Honour (2
voters
/ 2
votes
)
Not Registered Yet? No problem.
Do you want Strolenati super powers? Registering. That's how you get super powers! These are just a couple powers you receive with more to come as you participate.
Upvote and give XP to encourage useful comments.
Work on submissions in private or flag them for assistance.
Earn XP and gain levels that give you more site abilities (super powers).
You should register. All your friends are doing it!
?

Responses (6)

:D I *love* this setting, this is a very well designed tomb. It takes the *cliche* of the traditional setting and turns it around a bit. What happens if the spells that protect the body get broken? Does the body rot, or does it awaken and come back to life again? (assuming it was not murdered or killed in battle.)
---

Most of the spells protect the body from outside dangers, but right, time is one of the dangers. Most of the Arascans really fell asleep, and most of them can be considered dead now. Their bodies will then start to decompose at a normal rate.
If the body in question is still alive, then its owner could wake up at any moment, or try to slumber for another thousand of years, or in fact die slowly, but peacefully.
With the protective spells gone (that protect the metabolism), they may die faster, or wake up from hunger. Having not yet rested enough, they may be weakened.
And in theory, the freshly awakened sleeper could meet the PC's. This would get problematic for the GM, as any very powerful NPC. Despite being weak, he/she could simply push the right button, or cast a little activating spell, and something would squash them.
Personally, I would avoid this option, and should my players ever reach The Bedroom, the protecting spells would be impenetrable. Not all secrets have to be unearthed. And whether it is merely a well-protected corpse, or sleeper that may awake to find that someone robbed his grave...
They may never find out.

I liked this in the forum. I liked this in version 2.0. I really liked this one. It presented a 'dungeon' that is much more different that normally expected.
This post, and other 'style' posts like it, give the GM a conception, a basis to work from. Dungeons should not just be grids on a map, filled with seemingly random monsters and traps. They should be tombs (and similar things) that people built for specific purposes (some of which are ritual) and with specific defenses they found appropriate.

Like it a lot. As MH says, it creates a feel and avoids cliche. I personally like the idea of a whole race that is still alive but asleep. Many possibilities for later in the campaign....

Mmmmm...that is an amazing dungeon! The backstory took this place and elevated it from a simple dark-bad-person-place to a place of legend. I could truly image stepping into the caves and being filled with a sense of awe and dread at entering a place so filled with history. This reminds me somewhat of the lost city of the dragons in 'Aurian'; that is, this place belongs in a novel!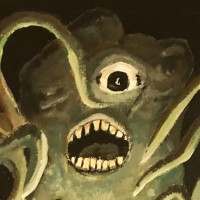 This is a really great way to make a dungeon make some sense. Great stuff!
" During a storm the PCs come upon a little boy that plays in the rain. Upon further inspection they discover that he has one eye and a long tongue lolling in its mouth. Spit dripping. It is a demon from beyond that can access our realm during storms, it eats all heads that are not its own, living and dead."
" THE GNOMES OF UDNALOR: Part II Having left the hush of the upper halls, and crossed the depths of the Braeth (an underground river, which is not all that deep because bear in mind we're talking about gnomes here), you would find yourself in Wattling Street, the main road through Udnalor. It's actually a long, well-worn passageway which opens out eventually into the City Centre. The gnome-buildings branch off Wattling Street as small burrows or caverns with boulder-blocked doorways for privacy. You can find armourers and smiths (though their armour tends to be on the small side for humans to buy) and many other types of trader. There are many streets, ginnels and cooies which run off Wattling Street, the most famous probably being Smell Street, the domain of the infamous gnomish alchemists, the eponymous smell being very distinctive: the stench of cooking fungus, the aroma of subterranean spices, the pungent reek of rotting carcasses (used in some of the more notorious experiments). An encounter with an alchemist can really be spiced up (excuse the pun) if you have a well-stocked herb cupboard, and actually make up the potions, elixirs and draughts as they are ordered by characters."
" One morning, the sun does not rise. It seems that a great darkness has settled across the kingdom - at first, it is merely an inconvenience, but as time passes and plants begin to sicken and die, some action must be taken. As the deluded King plans the sacrifice of fifty tender virgins in the name of the Sun God, rumours spread of an ancient barrow uncovered in the hills..."