Intent: Video Game Fighting Styles
Fighting games are a major genre of video games. Unlike RPGs, combat is fast flowing and is resolved in a matter of minutes, or even minute. Within this very concise amount of time, a flurry of kicks, punches, and other moves of an increasingly exotic nature. I endeavor to bring the speed and colorful over the top fighting style of fighting games, specifically Street Fighter and Mortal Kombat to the Cosmic Era setting and RPGs in general.
Core Concept: Cascade Combo System
All RPGs have rules for combat, and they range from minimal to scientifically and mathematically precise to the second decimal point. The section of these rules that need to be brought up are the multiple actions rules. The general rule of thumb is that the more actions a character takes in a turn (generally 2-3 actions) there is a penalty to the dice rolls involved. The more actions, or the more difficult they are, the higher the penalty. This usually has the effect of reducing multiple actions to the most minimal level, a character with 3 actions is generally only going to do 3 very basic actions. A character with the Martial Art skill can create combos ahead of time. These pre-prepared combos can be executed with all of the penalties reduced by half. This makes many more moves possible, or feasible but is balanced by the fact that they must be prepared ahead of time. This becomes the effect of rigorous training and practice. 
Learning cascades is a matter of a small expenditure of XP, and there should be a limit to the number of cascades a character can have. Intelligence and martial arts skill should be a good rule of thumb. Also, if a player takes more than 20-30 seconds to pick from their combos, they have too many. 
Example: The street punk decides he is going to beat up the martial arts students because those guys are wusses and don't know about real fighting. They are matched in terms of strength, dexterity and number of attacks per round (2). The two fighters compare initiative scores and the street punk gets the upper hand. The street punk can throw punches and execute kicks, and if he decides to use both of his possible actions he gets -2 to each attack. Since both characters are beginner level, this is a significant penalty so he is likely to waste attacks. The martial arts student has one cascade combo trained, Block - Punch. The punk throws a punch, which the student successfully blocks and activates his cascade, flowing from the block into the countering punch. Both moves are executed at -1 rather than the -2 of normal combat. 
Secondary Concept: Activated Moves
Most fighting moves are functionally simply, variations of punching and kicking. Activated moves are a step above the typical fighting maneuver and include submission holds, exotic fighting moves, and in the realm of fighting games, special moves like throwing fireballs, teleport kicks and the like. On a mundane level activated moves are artistic and cinematic flying kicks, somersault throws and other Hong Kong wirework martial arts. The idea of the activated move is to bring in higher level actions, especially those that can change the flow of a fight with a single hit. On the supernatural level, activated moves are the really exotic actions. Activated abilities have two rolls that have to be checked, the activated check and the attack check, or can the fighter pull off the Mountain Crushing Kick, and can they hit their target with it. Activated moves should have prerequisites, typically a certain level of fighting skill plus a secondary supporting skill at a predetermined level.
Learning Activated Abilities and special moves should function like gaining feats, or special abilities in most games, or be purchased in a Merit/flaw system with XP points. Ideally a character should only have a small number of power moves, I am generally thinking 3-5 moves, depending on skill and experience. Once learned, a good activated move should have the same importance to the character/player as the signature move of a professional wrestler.
Examples:
The previously mentioned Mountain Crushing Kick is an acrobatic flying kick that ends with the attacker landing both feet on top of their intended target. Executing the mountain crushing kick, the martial artist has to make an acrobatics check to pull off the maneuver and then a second attack check to see if he can hit his target. 
The energy blast is a common maneuver in fighting games, but rather than using a physical attribute, Cosmic Era martial artists have an outside power source that fuels their over the top fighting style. Channeling the mystic power requires a willpower check followed by an attack roll. If the activation check fails, the move be default fails.
Option: The degree of success or failure can be applied to or subtracted from the attack roll. An exceptional activation check could add a major bonus to an attack while a near miss could add a penalty to the attack, but the character could chose to 'stay on target' and hope the dice are with them. 
Activated Abilities and Cascades
Activated abilities can expressly be added to cascades. While activated abilities have two checks, it only counts as one move but both checks are subject to the same penalty. Thus, if a backflip kick (athletics or acrobatics check) is added to a punch, backflip kick cascade (-2, -3) the activated check has a -3 penalty and the attack roll has a -3 penalty. 
Move Penalties
There are two factors that affect the penalty assessed to a combat move, the number of moves being expended in the turn and the difficulty of the moves being expended. Two moves would have a moderate penalty ala -2 to each, while 3 moves would be a more significant -4. This is the generic penalty for basic moves like punching and kicking, nothing fancy. More complicated or difficult moves increase in multiple action penalty accordingly. This is the non-cascade penalty cost, as using the moves in a preset cascade cuts their penalty in half. 
Limits
The general skill of the combatant and common sense should come into play in determining what moves they can and cannot perform. Also, there should be a general limit to the maximum amount of points that can be built into a combo or cascade. Things like a triple step combo of three activated moves should not be allowed. A workable rule of thumb should be that there is only one activated ability in a cascade, and it should functionally be either a high speed opening move or a cascade ending power move. If a character doesn't have certain related skills, it should impact their fighting style. A character that is investing in boxing style fighting shouldn't be tossing out flying kicks and using movement based abilities. Characters that are planning on jumping and leaping and doing gymnastic style moves need to have XP invested in acrobatics, athletics or some other supporting skill. 
My Martial Art is Better than your Martial Art
If you want to start an endless argument ask which martial art is best, or attempt to account for all of them in a game system. The cascade system sidesteps this sticky issue by letting the players built their own cascades off of their martial art of choice. I have no interest or inclination to create lists of martial arts cascades, there are simply too many arts to attempt to make a cover of them. With the system listed above a kung-fu enthusiast can create their own cascades based off of their own animal form, a fighting game enthusiast can create a combat clone of their favorite character from their preferred fighting game, and so forth.
Brawl: Brawl is the skill of typical fisticuffs and pugilism. That being said, Brawl can be taken as a Martial Art, reflecting a carefully practiced and honed form of street fighting, creating combos and special moves from the array of moves used by dirty fighters, street punks, thugs, and the like. 

Melee: There are many martial arts based around using swords and other weapons, and instead of punches and kicks, melee martial artists use their weapons, striking, blocking, etc to fight. Kendo for swords comes to mind, as do using nun-chucks. Melee martial artists can usually mix in hand to hand martial arts along with using their weapons.

Firearms: Firearms can be taken as a martial art, representing years of Hong Kong style Chow Yun Fat gunplay. The firearm martial artist can combo moves like trick shots, fast reloads, and even use their firearms as hand to hand weapons, striking with barrels or gun butts. 

Martial Arts: Rather obviously martial arts are recognized styles like karate, ninjitsu, kung fu and so on.

Improvised Weapons:Â AÂ specialty of television and movie badasses, with improvised weapons, a fighter can turn almost anything into a lethal weapon, allowing their strikes to inflict lethal damage, rather than generally reduced fist damage. Riddick and Heath Ledger's Joker would fall into this category, killing people with tea cups and pencils respectively.
 

?
Scrasamax's Awards and Badges
Not Registered Yet? No problem.
Do you want Strolenati super powers? Registering. That's how you get super powers! These are just a couple powers you receive with more to come as you participate.
Upvote and give XP to encourage useful comments.
Work on submissions in private or flag them for assistance.
Earn XP and gain levels that give you more site abilities (super powers).
You should register. All your friends are doing it!
?

Responses (3)

This is a worthy attempt to blend Street Fighter into the post-modern setting in a balanced, realistic way. Praiseworthy.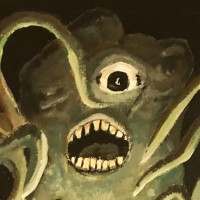 I like this idea - would have to think on it more. But I'd add another element:
Cascade-breaking
To add some risk to a cascade, have it so that if an opponent can successfully parry or otherwise neutralize a step in the cascade, the remaining actions either simply fail to happen, or occur at a significant penalty.
---

To use a cascade breaking move the character has to shout COMBO BREAKER!!!
" The Single creature game> Where there is only one type of Creature to fight other than humans Werewolf> This is one I've worked on a little>there would be one common one and then regional variation Gnoll> racial differences like humans only a little more severe. Dragon> you could make them more common and w a lot of younger ones"
" Sessiliths (name based on the word sessile) are gargoyle-type creatures which are stationary, attached to the stone of whichever foundation they are bound to. Though they can move their extremities and limbs they are unable to move away from their particular perch. In lieu of swooping down and attacking like their mobile cousins the gargoyles proper, sessiliths are equipped with their own brand of mischief. The creatures are all able to verbalize and thus usually hurl vile insults and curses upon passersby. The cumulative effects of dozens of sessiliths cursing, screaming, and speaking in tongues, can have an effect of temporary confusion (or even discord) in those forced to listen to the shrieking stone gremlins. Additionally, most possess the ability to 'spout' or spit forth various undesirable projections, such as tar, boiling water, or even acid. While they can usually be avoided easily enough or even destroyed (their 'bodies' feature the same defenses as gargoyles), sessiliths are usually placed in such a way as to hinder all trespassers and interlopers, narrow corridors, claustrophobic tunnels and other related 'gauntlets', where they cannot be easily avoided. Like gargoyles, sessiliths come in all sorts of grotesque shapes and sizes, though they tend to resemble tiny horned devils, demonic amphibians, or simply distorted faces and heads, more often than not."
" These little beetles have heads at both ends of their bodies. This allows them to feed on leaves at twice the rate of their normal cousins, causing great damage to crops. They look like ladybugs more than actual beetles, but have no wings. They have a funny way of moving if one stops to watch them, as both heads seem to vie for picking the direction at any given time. Their favorite nourishment is sugar cane. After feasting on these for some time, they develop short bursts of frenetic energy, and can be seen racing back and forth without purpose, which looks quite comical to onlookers. They are otherwise normal bugs. Of course the pc's might not know that."