Mathius's SharpShop
Adventurers love sharp objects: knives, swords, spear tips, arrow heads, and so on. So where do they go to get these items? A sharpshop, that is where.
A SharpShop is one that sells sharp things. This shop is larger than most, as the forge is in the rear of the courtyard behind the house. The crotchety neighbors next door complain about the noise constantly, but are happy to use the left over forge heat to bake their goods.
Most of the wares for sale here are cooking and butchering items. A few are used for WoodSmithing (Carpentry). These everyday items are what pay the bills. What makes Mathius's Money is his weapons.
Mathius has a knack for weapons. He has never produced a bad blade yet. They are expensive and just short of greatworks. But you can find weapons ready made here, while most shops only custom make them. Here you can find a dozen or so swords of various lengths weights and blade shapes off the rack. His arrow heads are expensive, but highly prized broadpoints. Weapons are awful stock, hard to make, expensive in terms of material and times, and the people who need them seldom have the cash to get them. They sit on the rack for quite a while before they are found by the one who should have them. (When they do sell, they do make a big profit).
Mathius is a Master MetalSmith. He is getting on in years, developing a bit of a belly, but he is still fit and his mind is as sharp as one of his blades. He has two apprentices which have become like his sons: Kevinus and Markus. Being nearly of age, they are both Journeymen now, on their way to being full Guild Smiths. Both want to take over the SharpShop. Kevinus is the better business man and a great smith. Markus has Mathius's knack for blades and wants to cater to adventurers and the local military.
These folks make them, they are not warriors by any stretch. Mathius and Kevinus are passible hands. Markus fancies himself a "blademaster". He can talk the talk and walk the walk, but he is simply better than average at all bladed weapons.
Not Registered Yet? No problem.
Do you want Strolenati super powers? Registering. That's how you get super powers! These are just a couple powers you receive with more to come as you participate.
Upvote and give XP to encourage useful comments.
Work on submissions in private or flag them for assistance.
Earn XP and gain levels that give you more site abilities (super powers).
You should register. All your friends are doing it!
?

Responses (5)-5

Just a solid store with enough to make visiting the place more than just another weapons run.
Fun idea about the neighbors using the heat!
---

Actually there is a long tradition of that in England. Bakers, having their ovens hot and warm early in the day, have 'left over heat', that people use to cook dinner with (so they did not have to buy fuel for their own fire). Forges were used the same way, though not as redily. A family oven was normally butted up against the forge's firebox. Since it was warm and would stay that way, it makes for excellent baking spaces.
Mostly a forge had an adjoining wall to either a tavern or a smith's house. That way, the attached building was kept warm. See Forge in the Forest for a post where I took this to an extreme.

I like it.

I like this because it is "plug and play". It is a sweet simple post that anyone can use without having to rewrite their world (either to add connections or alter the history of the world) to fit it in or rewrite the entire piece (to fit their world).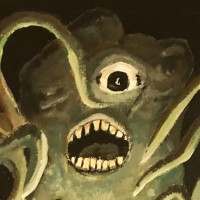 Simple and straightforward. Good.
" A supposedly empty desert on the far side of the mountains has started growing. No one knows why. At the center of the desert lies a tall rock outcropping, hundreds of feet tall. Dust storms shroud the outcropping constantly, except for one night a year."
" I've never been happy that almost every player picks long sword and greatsword, so I made a special chart to make them more unique. I use this in OSR and Pathfinder. I use 20 only as crit threat(Pathfinder speak),double damage. dagger +2 to hit, D4 damage short sword +1 to hit, d6 damage long sword, threatens critical(see below) on 19-20, D8 damage battle axe, ignores one Damage resistance( some monsters have resistance to damage in the form of knocks damage off before you do actual damage)(scale at higher L?) D8 damage Mace, 0ne damage on a miss(Scalable?) D8 damage (Ok , should prob only be vrs Metal armor but not looking for that kind of complexity) spear D6 damage, d12 damage vrs large creatures great sword 2d6 damage military pick d6 damage, x3 damage( triple dice damage) on crit(20) great axe D10 damage, +3 to confirm crit ( in pathfinder if you roll a 20 you then reroll your attack and if you hit the targets AC, you get a critical multiplier) quarterstaff(2 handed) D6 damage +1 bonus to AC (to the better) Etc."
" Hungry Tumbleweeds It is almost impossible to believe. Simply mind bending. These carnivores are actually the strangest undead you can meet! With ac as plate and 2HD, these animated plants are found in desert and grass lands. They are effected by anything that harms undead, hiding among ordinary tumbleweeds. Whats next Killer Tomatoes!?!? Ever wonder where minor evil souls go that are unclaimed. Wonder no more. Minor evil souls wander unclaimed throughout the worlds.ordinary tumbleweeds attract them for unknown reasons. These souls also tend to group and somehow find the weeds. When the weeds are disposed of there is a 50% chance that the souls will survive and go into another weed."