The Amethyst Lake
A permanently frozen lake, high in the Askharnn mountains, associated with the strange legend of the Amethyst Dragon.
Since the last age of cold, the Amethyst Lake has been frozen. Stretching the length of a whole valley, it is a four-mile sheet of thick, steaming ice.
In the morning, clouds of vapour rise from it, as the sun rises. At all times of day, you can hear rustling from it, as though a thousand tiny creatures were running over it, while more ice crystallises in the topmost layer.
To the most fertile imaginations, there appear dark shadows beneath.
One of those is the shadow of the Amethyst Dragon, or so the legend has it.
Hundreds of years ago, He came to Askharnn in search of gems to eat. His ravenous appetite led him through the densest seams of gem-rich ore, leaving little or nothing for the jewel-miners, who grew angry and envious.
Hoping for a resolution to the problem, a brilliant young gem-smith by the name of Zhanimus visited a high mountaintop and sat by a lake to ponder. After many hours, he found no inspiration and rose to leave.
'Stop,' he was commanded.
Looking around he could not see whence the command had come, so he made to leave again.
'Stop,' came the voice again.
'Whose voice is that?' he asked, 'Show yourself or I shall leave regardless.'
Even as he stood there, he realised he was not alone, but that a young woman was standing by him and that she was wet.
'I am Zhanimus Gem-Smith,' he said, 'I come here seeking unfound answers.'
'I am Zvaresh, Naiad of the Amethyst Lake. It has been a long time since any have visited my pool and an anguished loneliness cores me like an apple. I seek a husband who will dwell with me in the cold waters of my lake and talk to me in the long hours of Winter when the slick ice locks me in.'
At these words, Zhanimus drew back and started to leave, but then realised that this was indeed an answer to his problem. He spoke the Naiad a little longer, formed his plan and then left.
The next day, Zhanimus found the Dragon at the rockface.
'Dragon,' he yelled, 'I have found a rich deposit of amethysts in a lake not far from here, but I cannot reach them. I thought perhaps you would like to take them: certainly they are of no use to us, and we need access to the rockface to cut gems for ourselves.'
The Dragon thought about this, dislodged a ruby from its fangs and reluctantly acquiesced. It crawled with Zhanimus to the Amethyst Lake, stomach grumbling the whole way. When they arrived, Zhanimus pointed into the depths of the Lake and indeed the Dragon could see that there were enormous gemstones in there, sunken amethysts as large as heads.
Spurred on by the sight of such delicious morsels, the Dragon leapt into the water and fixed his enormous jaws around one of the gems.
Zvaresh realised that this was the husband Zhanimus had found for her, and she embraced the Dragon. Confused and angry, the Dragon savaged her, ripping her head from her neck and spilling her blood in the waters. Instantly her life left her and all warmth left the Lake. The frigid waters froze and encapsulated the Amethyst Dragon in a cage of ice, from which he has never escaped. Brooding and angry he lurks beneath the ice, digesting his amethysts for sustenance, plotting his escape.
Not Registered Yet? No problem.
Do you want Strolenati super powers? Registering. That's how you get super powers! These are just a couple powers you receive with more to come as you participate.
Upvote and give XP to encourage useful comments.
Work on submissions in private or flag them for assistance.
Earn XP and gain levels that give you more site abilities (super powers).
You should register. All your friends are doing it!
?

Responses (4)-4

A nice legendary fantasy place.

Very nice.I assume the dragon does not need to breath air or he would drown.Of course the people of Acqua would be horrified by the tale, imagining all those amythests vanishing down the gullet of the dragon.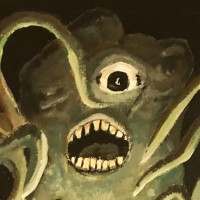 Wow. Truely an imaginative tale.
" A local fungus-breed explodes if hit or fallen upon. If there is any conflict between inteligent enemies,both sides are likely to use it to their advantage."
" Certain trees have sap that is filled with magical potential. Their sap is harvested and distilled down to produce various types of potions, much like maple syrup is collected in some areas. The magical effects of these syrupy potions are often fairly trivial; perhaps they simply cause the imbiber to grow hair more quickly, summon butterflies, or walk a few inches above the floor. People enjoy the syrup as a flavoring, instead of imbibing it for its magical powers."
" The soul of a mage has been trapped in his own bust for centuries. The bust is a foot in height and made of a dark silvery metal. It is well crafted, perfect in every detail of the mage's features. The frozen expression is one of shock. It was sold off in auction after the mage's unexplained disappearance and has been passed around as a curio ever since. The cause of his entrapment? He practiced in secret; none knew of his hobby. Being self taught, he was unable to tell that the spell he thought was for protection was actually for entrapment..."