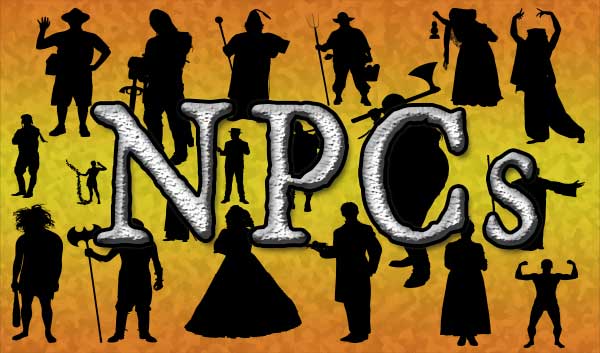 | | |
| --- | --- |
| Required Category | none |
| Required Tag | none |
| Status | Legacy |
| XP Bonus - Active | 20xp |
| XP Bonus - Legacy | 20xp |
| XP Bonus - First | 127xp |
| XP Bonus - Second | 100xp |
Quest - NPCs
NPCs, you can never have enough of them. And yet the ways to use and present NPCs differs from game to game. This month we introduce a new approach introducing NPCs. The "Organic" way...
Get your NPCs here. Hot and fresh with low sodium and fat-free. Suitable for a wide selection of homemade brews.
Tired of your NPCs loaded with Chemicals and antibotics? Try our new line of Organic NPCs....Say "NO" to NPCs forced to live in tiny cages! Let your NPCs roam! They are free-range and mostly cruelty free. Don't let them manufacture your next NPC in a lab. Our NPCs are gene-splicing free!
Not sure what constitutes an organic Npc? Never fear, our helpful staff is ready to assist.
Oft imitated, never equaled. If it doesn't say Strolen's Citadel then it is an imitation NPC.
---
Official Submissions 2
Name
Title
Type
XP
axlerowes
My Taalkastin Boatman
by: axlerowes


After she ate the middle part of my wife's body she gestured me out the door. Then she paddled me to the den of the Sage. All the while I stared at her rune marked back, my hand on the hilt of my sword, and I thought of my father and the hens.

NPCs
Minor
Natural
295
Kassy
Kolburn Pierre
by: Kassy


Lounging around in the Cantina, Kolburn kept a watchful, yet unassuming eye on those around him as he finished the last morsels of what passed for a meal in this joint. Brushing off the crumbs, he glanced round, careful not to make eye contact with any of the other patrons who might later remember him as he made his way unobserved to the entrance and out into the cold of the port. He would come back and pay off his mounting tab, when he next came across a few credits, or found another odd job. After all, he wasn't completely without his honour, unlike some people.

NPCs
Character Sheet
Travelers
165