Vodai, the White Child
There are some types of evil that are not easily recognizable as such. Much like the mountain-top ascetic or the cloistered saint, there is no obvious sign of the darkness that lurks inside Vodai.
Imagine a saint.
The saint lives in his cloistered abbey, meditating, praying, and fasting. We are told that these things bring him closer to the divine, and somehow imbue him with goodness. Yet, none of these things seem to bring any good into the world. None of the saint's actions feed the poor, teach children how to read, or cause fewer bribes to be accepted. But these things shape the world indirectly--the saint teaches and inspires, and thereby improves the world. Some are even said to do miracles.
Evil, in its common inception, is an absence of self-control or empathy. When a wolf kills a man, it is because of its carnal nature. When a man kills a man in a rage, it is because he has failed to overcome that same carnal nature. Therefore, the murderer is not some great bastion of evil. He is like a wolf. He simply lacks what the saint has in abundance. He is not truly evil because he is not truly opposed to good, just ignorant of it. In the same way, a snuffed candle is not the opposite of a lit candle. It is merely lacks the feature that the lit candle has in abundance: light.
The bright candle is the saint. And the opposite of a candle that sheds light is a candle that sheds darkness. That tenebrous candle is Vodai.
He is evil in its purest form-so much so that it is difficult to recognize it. He spends his time in meditations and esoteric ablutions, living his life according to the dictums to some secret ritual known only to him. Every movement is proscribed; every step is measured. His existence is a never-ending contemplation, a ceremony that is so blasphemous and antithetical to the natural order of things that it is difficult to recognize it as such. It's the opposite of sainthood, a evil so pure that it is undiluted by evil actions. Even his thoughts are not of things you or I would recognize as 'evil'. Vodai's existence is such a unnatural thing that he has completely transcended our petty, mortal understanding of morality.
The White Child
Vodai is four years old. It's not entirely inaccurate to describe him as a demon, but he is both more and less than the other demons of the Abyss. He resembles an adult human. His creator and father is Vadregore, considered by some to be the most powerful of the fallen gods that make up Zala Vacha. Vodai's skin and hair are pure, bleach white, while his eyes are a chestnut brown. His blood is dark and watery. His immaculate face is like that of a statue from antiquity. He is six feet tall and wears the loose-fitting white robes of a novice student of the Towers. His belt is a simple golden cord.
Vodai rarely walks in straight lines, instead choosing to walk in curious arcs and angles. His speech is almost incomprehensible, with backwards words and multiple languages in a single sentence. He carries himself stiff-backed, and sometimes does things that seem irrational, such as washing a stone or performing a bizarre dance. He is not ignorant of his nature-in fact, he is knowledgeable of a great many things-but his quixotic nature sometimes makes him seem aloof or naïve. He bathes himself ritualistically every four hours. He carries a pendulum that behaves as no pendulum should, ignoring gravity and instead following some other, sinister universal constant.
He practices santei, an ancient form of demonic calligraphy that uses the practitioner's hands and feet instead of a brush. His visitors almost always find him with his sleeves and pant-legs rolled up and tied, while his hands and feet are covered with ink. His chambers are filled with his work. Stacks of huge sheets, scrolls, bleached human skin . . . all covered with the carefully controlled chaos of Vodai's inkstrokes. The Chained Towers sometimes give his calligraphy to important visitors. In fact, an example of Vodai's work hangs over the mantleplace of a certain Baron Luenstrothe of Garashino--virtually no one knows that it was painted by Vodai, or that the ink is made from angel's bile.
Manifestations of Evil
When Vodai's powers manifest, a halo of black flies appears above his head. The air becomes as thick as water. Animals speak in harsh, guttural tongues. Birds fall from the sky. The ground bleeds. And his enemies scream and die as their skin opens up into a hundred long cuts that bleed hot tar and speak-as if they were mouths-praising Vodai with a single voice.
Mechanics-wise, Vodai operates by doing tasks, like cutting his hand and wiping the blood on a certain stone, or by drawing a circle and laying down in it. Let's call these tasks 'blasphemies'. Vodai usually has a choice between different types of blasphemies, and whenever he completes one, he has the option of calling down a miracle, such as cooking your enemy's fat inside their bodies, or cause everyone to vomit pig fetus fragments for an hour.
But combat is not where Vodai's talents lie. He is a contemplative. He is an ascetic. He is clean.
Vodai is Vadregore's favorite child. He is sheltered and coddled, and never allowed beyond the thick walls of the Chained Towers. Vadregore, unsurprisingly, has very high hopes for the boy. When Vodai was first created, he had the finest education in the Abyss, but now, his former tutors are his students, who marvel at the brilliance and layered meanings in his esoteric utterances. Razjiok LaVei is among those who have been honored enough by Zala Vacha to count themselves as students.
DM Notes:
There really is only one song that could be Vodai's theme song. But which version? I chose this one. Thanks for Alavandrion for the idea.
So my DnD campaign is finally getting into the lore surrounding Zala Vacha, a motley collection of fallen gods. When a god has no worshippers, that god will fade from existence, because it is the image of the god in the mind of the man that gives the god form, thought, and identity. Gods who wish to avoid this fate sometimes join Zala Vacha to avoid this fate. Think of it as a farming commune, except that instead of sharing onions and labor, they trade in miracles and souls.

Not all them are fallen gods. Some are the abandoned nature spirits. Others are demons native to Hell, where Zala Vacha is centered. Others are mortal men with immortal ambitions. Others are a confusing mix of all of these things, or none of these things. And although there is much conflict in their rigid system of ballots and senates, they are united in the desire to overturn the great cities nd destroy the gods that have trampled them into hell.
Anyway, I have sketchy notes for 38 members of Zala Vacha. It's actually a lot more like designing the X-men than it is thinking about a pantheon. For example, there are three different 'death gods' who are all competing for the same portfolio, both against each other as well as Mondaloa. But Vodai is my favorite one out of the pack.
Vodai stands in stark contrast to the bloodthirsty pit lords and skinless titans. Think about Damien, the son of the devil, in the Omen series of movies, and you'll have a better sense of what he is about. Or evil Buddha.
He is an anti-saint. His methods are circuitous and indirect. He doesn't shoot lightning or tear you in half. He's not even combative, and probably wouldn't raise a hand to defend himself. But he is the focal point of such a malevolent crystallization of hatred and sadism, that anyone attacking him will find that the cannot stop their arms from gouging out their own eyes, or that their fat is rapidly cooking under their skin.
Using Vodai in your game should be straightforward.
I've imagined him as a auxiliary villain (his dad is much, much worse). But if you want to use him as the primary nemesis of an evil cult, he fits that role perfectly as well.
He will be found in the enemy stronghold, meditating, praying, or teaching. The PCs should get an impression of how incredibly wrong Vodai is. Every breath he takes is a blasphemy. Those in tune with the natural order should be horrified without fully understanding it. He will seem to ignore the party, while working miracles to destroy them. Just throw the most messed up things you can at your players. A demonic pig that only one player can see. Their teeth can burrow into their gums and crawl throughout their body, causing horrible pain and fatal wounds (once they reach the heart).
Vodai isn't hard to kill, but he could do some real damage, if the players don't realize he's the source of all this nightmare fuel. His anti-miracles should be dramatic, powerful, and leave lasting scars on the players. No one encounters Vodai without being forever changed by it. I encourage you to break the rules of whatever system you are using. Vodai is a perversion of absolutely everything we take for granted, so his usage should reflect that.
?
Hall of Honour (1
voters
/ 1
votes
)
Not Registered Yet? No problem.
Do you want Strolenati super powers? Registering. That's how you get super powers! These are just a couple powers you receive with more to come as you participate.
Upvote and give XP to encourage useful comments.
Work on submissions in private or flag them for assistance.
Earn XP and gain levels that give you more site abilities (super powers).
You should register. All your friends are doing it!
?

Responses (4)-4

Edit: Added a couple of intro paragraphs, some formatting, and a couple paragraphs at the end about 'how to use him in your campaign'.

Have you used this guy in play yet? I'd love to hear how it went. As for the sub itself, it's a very solid concept, with little room for improvement. The only part I twitched a nose at is when you said he 'shouldn't be hard to kill.' If your fat boils when you approach him and your hands gouge out your own eyes, I'd think he'd be difficult to even get near, much less kill.
---

Yep. Vodai has been used in play.
The blasphemy thing worked beautifully, I think, since Vodai was either sitting on a rock meditating or doing something random: pulling all of the books off a bookshelf, plucking and eating a man's eye (who was immediately gifted with visions of the gnashing, idiot star-gods who exist outside of space and time), and drawing circles with water.
He never got into heavy melee, and his enemies never targeted him, so I never did get a good estimate of how fragile he really is. My only concern is that--for much of the time--he didn't have anything better to do except sit around and meditate, adding subtle effects to his ally's abilities. I would have added more decision-making to him, since he is sort of passive otherwise (which I suppose fits the character).
He also has a hard time communicating, with his strange method of speech. But that's as it should be.
At least I got to see someone get cooked in their own fat.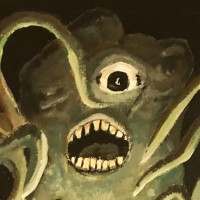 This guy is wonderfully creepy. I like the concept of blasphemies. Maybe his works of 'art' could act as Blasphemy scrolls for those so inclined.
" The road has never been more than an overgrown mud track, little travelled and little cared for, petered out to nothing more than a flattened earthen line, barely distinguishable from the rest of the landscape. The soil is dark and fecund and dark oaks stand like sentinels at the forest edge, their branches high and leafy. From them hang grizzly human bones, skulls and shiny precious stones. Who put these strange totems there? Are they warnings? Do the PCs dare to take the stones?"
" Tämbourine is firmly placed on my back ,to unsheathe this sword I simply have to say 're clouse' meaning come to me or i can just reach over and unsheathe it the old fashioned way. This sword was created to my liking tambourine is made of raw-like metals I found in different regions as I begun to forge the metals together, I've noticed that the raw metal materials were different pieces to a wide variety of swords that were used the past and present, being so most blades have a sheer grey texture Tambourine's blade became black as the depths of the oceans. The blade expands to 6' which weighs 426lbs the sapphire jewel placed on the tip of hilt (upper middle center of the base) it emits a aura texture of purple which weighs 24lbs the jewel is un-breakable it negates magic for tambourine has a mind of its own only belonging to me it finds a worthy opponents who doesn't use magic or any type of power to their liking which I can agree with(who would want an opponent that abuses their powers to kill for no reason or to avoid dying by honor tambourine fights with honor and accepts its glory or defeat) I've named the sapphire Sophia because not only that its rare and radiant it resembles my burning passion for my love Sophia. I made the hilt to be a length of 15 inches its frame is created with fine katchin (very thick and heavy metal) it alone weighs 50 pounds its texture is black like mixture of, I made it to be a cruciform hilt so it has room for two hands. I I made the blades hilt aprox. 2', the blade is double-edged but the left side of the swords frame can block and or negate ones attack if needed, it weights 500lbs making it nearly unmovable. To go up against this sword is to quickly find your own death. Tambourine is a twin sword to Terra."
" Magical Fiends: When a mage or wizard casts a spell and draws more energy than s/he needs Magical Fiends are drawn to that spot and they feed of the extra magic as long as they can. When someone's magic is being fed off of they can't cast spells as well and they feel weaker. The only way to remove a magicial fiend is for it to be drawn away by someone else's power or to go to the very spot you first cast the spell and kill them"