Trees of the Moon
Strange plant-like creatures that many believe immigrated from the Moon to the Earth
Appearance:
The Trees of the Moon are not really trees, and they aren't really plants, but something else very similar, but very strange. They bear a traditional tree shape, a tall central trunk, and a canopy spreading above, but the entire thing seems to be made of broad thick leaves with a fleshy dry texture. The tree doesn't provide shade, it is too thin and too sparse for that. They seldom grow more than twice the height of a man but can live indefinitely.
They bloom in thick hanging clusters of flowers, having colors that cannot be described. The pollen and scent of the trees of the moon are a potent hallucinogen, aphrodisiac, and psychoactive. People who have been exposed to them often become madmen, holy men, prophets, and cult leaders. The fruit of the tree is a fist-sized melon-like body that is full of sweet syrup and microscopic seeds. This 'Tree Honey' is also a hallucinogen, but also a powerful narcotic. Beings and animals that consume the fruit wander away from the tree and spread the tree spoors in their waste. Considering the extremely dry and alkaline biomes the tree prefers, the heavily drugged victims wander away from the tree, die from exposure, and a new tree grows from the stain their corpse leaves in the desert.
Cutting or breaking parts of the tree off releases a foul-smelling fluid that is almost like blood in spurts. Living things splashed with this sap find it to be an irritant, and strongly reminds them of blood, very much so their own blood. Burning the trees is difficult, but not impossible. Wood taken from trees of the moon produces an acrid roiling green smoke that is hallucinogenic and moderately toxic.
Origin:
Basic Lore: The seeds fell from the Moon/moons. The seeds fall rarely because of the great distance, and they only grow in deserts because this is what the climate of the moons is like. Other places are too wet, or too cold. The moon must be hot and dry because that's where Moon Trees grow.
Intermediate Lore: Seeds from the Moon were accidentally carried to Earth by creatures capable of long-distance magical travel, using Moon Bridges, or having the ability innately to pass between worlds. Like cockle burrs and or dandelion seeds, the seeds of the trees of the moon are spread by basic functions.
Advanced Lore: the Trees of the Moon have come from elsewhere and are carried by magical means. They aren't from the moon or falling stars, but from another realm entirely.
Master Lore: We have no fucking clue where they came from.
Usage:
The pollen and flowers of the Trees of the Moon can be used to make hallucinogenic compounds or brewed into teas that increase sexual potency and vigor. They are also useful in the crafting of strong love potions. Snorting the refined pollen can cause powerful hallucinations, some so powerful the user is actually can experience astral projection from their body. 
The sap can be boiled down into a thin red paste and mixed with specific unguents to create a particular shade of red pigment that is highly offensive to the eye. It can also be fermented and distilled to produce a harsh liquor known as c'nitze. This potent alcohol causes pronounced effects of drunken rage, immunity to pain, and increased aggression. Some desert dwellers will carry a skin of this 'blood wine' with them and drink it as an elixir against fear.
The wood of the Trees of the Moon can be harvested after it has had a long time to dry in the sun and be used to create incense. This incense has a vivid green smoke and causes mild hallucinations, slow arousal, and a sort of susceptibility to the astral/spirit realm. Prolonged exposure causes permanent damage to the eyes and lungs, and eventually, the victim will end up as a spirit horse, unable to keep incorporeal beings from claiming their weakening body.
Author's Note:
Found an article about the trees of the moon and found out it was tree seeds carried on one of the Apollo missions. The seeds remained in the orbiter and were brought back and planted to see if there were long-term effects from space exposure. So, mundane. I felt inspired, so here are my take on the Trees of the Moon
?
Scrasamax's Awards and Badges
Not Registered Yet? No problem.
Do you want Strolenati super powers? Registering. That's how you get super powers! These are just a couple powers you receive with more to come as you participate.
Upvote and give XP to encourage useful comments.
Work on submissions in private or flag them for assistance.
Earn XP and gain levels that give you more site abilities (super powers).
You should register. All your friends are doing it!
?

Responses (2)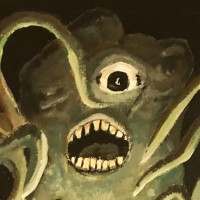 Love it! Was the phrase " as a spirited horse," what you intended, or a Spirit Host?
---

fixed that, spirit horse, as in a ready mount for spirits to ride, someone who has little to no say over what possesses their body
" A certain type of demon cannot not be hit by ranged weapons or attacks. Attacks have to be made up close and personal for the damage to mean something. Ranged attacks are to impersonal. Possibally a way to make the ranged attacks more meaningful would be to coat the arrow head or what not with the shooters blood. Of course, they'd better be a good shot, otherwise they're wasting arrows and already bleeding to boot. Spells: wizards might have half or no effect, preist might work due to divine intention."
" The mage who invented teleportation knew nothing about the ten-dimensional cosmos, so was perplexed that the subjects sent through the portal arrived horribly scrambled, having been randomly rotated through several of the hidden six dimensions."
" The blood of a dragon is vital in the creation of potions of longevity. The liver could used to cure any disease or ailment, while the heart could restore a PC to full and complete health, despite their age, or injury."