Tolk the Potion Master
Patrick Greenbottle was once a normal halfling with a love of potions. Now he has been transformed into something much more.
Special Equipment:

- A small, quick, and very evil dagger.
- Lots of random potions.

Appearance:

Tolk stand about 3ft tall, maybe a little shorter. He wears dark blue robes, almost black, that cover his entire body and a pair of worn brown gloves. His face is always cloaked in shadows except for his piercing yellow eyes. He wears a belt full of pouches and always carries an oversized saddle-bag. Nobody knows what this could contain.

Background:

Patrick Greenbottle was a normal halfling spellcaster who loved potions. He started dabbling in magic at a young age and caught on quick, soon he was teaching others the art of magic. He often left his homelands in search of rare potion ingredients. On one such trip he made contact with a group of mages known as The Brothers of Arcane Might. They all wore dark robes that covered their entire bodies and worn old gloves... and they had a very evil taint about them. Patrick was a very neutral person, not one to judge by appearance. He went along with the group to their underground lair. It was filled with lots of wierd magical devices and even wierder odors. They took him in with open arms and welcomed him as a fellow spellcaster. Soon he felt at home, he felt like one of them. He forgot all about his potion ingredient and forgot about everyone he he ever knew, all he knew was his new friends... That's when the ritual took place, the same ritual all the Brothers went through. He was taken to the lowest level of the lair and the things that happened there are unspeakable. His body was destroyed and transformed into pure arcane energy then bound within a dark green robe and a pair of gloves. Then he was given his new name: Tolk, a four letter name, like all the Brothers. He became a legend to his family and friends, they never found out what happened to him, they believe he made a potion that turned him into and angel and he went to serve a higher purpose... It's sad, isn't it? Tolk now lives with the Brothers and occasionally helps recruit new members. He still makes potions but they are now more powerful and usually have an evil twist.

Roleplaying Notes:

Tolk is evil, but not totally EVIL evil. He is ruthless when it comes to enemies but is not likely do kill someone without reason. He also will not hesitate to use a potion or hurl a fire-bomb at someone, he rarely uses his dagger of evil but when he does it has devastating effect.
Not Registered Yet? No problem.
Do you want Strolenati super powers? Registering. That's how you get super powers! These are just a couple powers you receive with more to come as you participate.
Upvote and give XP to encourage useful comments.
Work on submissions in private or flag them for assistance.
Earn XP and gain levels that give you more site abilities (super powers).
You should register. All your friends are doing it!
?

Responses (7)-7

Hm. Interesting. Does he not harbor rather negative feelings towards his brethren for not telling him that he'd be turned into a shambling coat?

I imagine that for a magic user to be made of magic would be a rather divine feeling.

WOuld a welder made of metal or artist made of linen and paint feel good? How about a medic made of syringes and scalpels? I seriously doubt this.

Magic is a little different than metal and paints... and who knows, I'm sure that there is an artist out there who would LOVE to be made of linen and paint. Besides, I would of thought it was obvious that he was under some serious magical influence, he did forget about everyone he knew and loved. With the amount of enchantments he was under I'm sure he would have thought being a magical being would be great despite the being a cloak and a pair of gloves.. and it's kind of like the ultimate devotion to his art, he became a creature of art as far as he is concerned.

I think it should have been a matter of choice. If not, if he was enchanted to do so, the moment he will realize it, he should resent it. Think of it.

I see it as a slow manipulation of his mind, I'm sorry if you can't see this the way I do, but I can't see it the way you do. So we're even.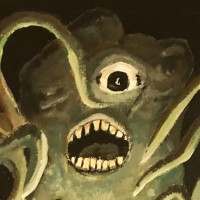 It's a good start - feels a little incomplete. The core idea is interesting, though the motivation of the mages in incorporate the little fellow seems a little weak.
" A party of adventurers walk along late on an open plain, on a moonless night. Abruptly, War screams, the clanging of metal and death-cries are heard. It is an open plain, and nothing is seen, but the sound of a huge battle is all about them. The sounds continue for a half hour before stopping as suddenly as they started. What was it? Perhaps the ghouls of a long-gone battle, reliving their unfortunate last memories..."
" The more you dominate your life to a god or goddess, the more you gain magical powers from him or her, but the big stuff does not come easily. Most worshippers have only the weakest of spells."
" All spell casters gain their abilities through a form of demon possession. So in order to gain magical abilites, PCs must track down and trap demons. Of course there are some pretty powerful demons, if the demon is stronger than the PC, the PC could find themselves subjugated to the Demon's will."