Full Item Description
A fairly ordinary and standard hammer at first glance, and although it wasn't made too finely it still does the job. There are several different carvings on the hammer each depicting a different beast; A Minotor, a Griffin, a Manticore and many other creatures hard to kill, even for the seasoned fighter.
History
This hammer dates back to ancient times when the empire was still young and plagued by all sorts of vile creatures. Goblins, Orcs and various other undead roamed free, each race trying to eliminate the others, and of course the humans, the pointy-ears, and the stumpys(humans, elfkind and dwarves).
There were many different tribes at that time in human history, and most were at war with one another trying to gain more land off one another. Then the orcs attacked, within the first few weeks three of the 14 original tribes were wiped out by Orcish warlordfs seeking to destroy the human civilization.
It wasn't long before the remaining thribal chieftans banded together to from an alliance to drive out the invading forces as part of a concerted effort, to keep humankind away from extinction.
There was one among them named Zarath who proved to be more cunning and thoughtful than the others in his plans and stratagies to eradicate the invadors, he was quickly nominated to lead them through this difficult time. As the war drew to a close and their chance sof winning climbed even higher, the orcs were finally repelled and disperced into the surrounding countryside.
Afterwards he decided that all the tribes should stsy united as the war had taught them many things, and opened up a lot of amazing new oppertunities for trade and commerce, etc. They also unanimously agreed that as their unifier and saviour he should become thier emperor.
In comemoration of his deeds and his reign over this new empire he demanded a hammer be forged. Thus the Brute hammer came into being.
However Zarath did not gain this victory lightly, and during the final decisive battle he bacame mortally wounded and soon after his hammers completion he passed away, just after blessing it.
Legend has it that Zarath passed away and joined the gods on their high thrones, and many believed he had become one of them. To this day he has been worshipped and is venerated by many.
Plot Hooks
1-Priests of Zarath have never been able to find his hammer after he died and today they have only a few people searching for it. They hope for its safe return as it is a holy symbol of their faith. They would be especially grateful to PC's if they returned it, the reward for finding such an item and turning it in would no doubt be substantial, and the PC's would stand to gain a lot from its capture.
Magic/Cursed Properties
This raging article of warfare doesn't have any magical or cursed properties as such, although it does seem to favour beserkers giving them a marginally greater chance to hit and cause ever so slightly more damage.
?
Hall of Honour (1
voters
/ 1
votes
)
Not Registered Yet? No problem.
Do you want Strolenati super powers? Registering. That's how you get super powers! These are just a couple powers you receive with more to come as you participate.
Upvote and give XP to encourage useful comments.
Work on submissions in private or flag them for assistance.
Earn XP and gain levels that give you more site abilities (super powers).
You should register. All your friends are doing it!
?

Responses (8)

You really like your hammers don't you.
---


It's ok. You might like one of the hammers I made.
---


The spelling and grammar should be checked in a spell checker. While the item itself is fairly good, the backstory seems weak. It might just be me, but, becuase it is almost demanded on here, every other item is just a plain old thing. so, everything new needs a superbly original backstory, or else it seems just a rehash of what's before. Mind you, I'm not trying to say that I don't like the Brute Hammer, I would just like to see a slightly different backstory.

Spelling, grammar and punctuation issues should be fixed. Reminds me of Sigmar, other than that it's ok.

A nice item with a good history. Just something simple with a fun background.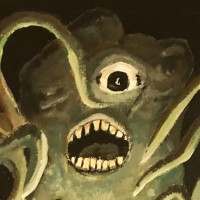 Good, simple item.
" This tome looks like a haphazard collection of random notes on different types of paper stitched together and bound within a wooden cover. The pages describe all of the 300,000 gods of the world, each in the language of the people who worship them. The book is stored high in the mountains, kept safe by an order of monks. Reading the entire book confers a deep understanding on the nature of the cosmos and access to incredible power. This only works, however, if it is read without translation, meaning that the reader must master each language contained within. The various monks know these languages but there is typically only one alive at a time who knows them all. This monk would be an excellent source of information and/or magic. IF the PCs learn about it; IF they can find the monastery; IF they can convince the monks to help them; AND if they can understand the convoluted riddle given as an answer."
" The cliff-hunters ride sheer-stalkers vertically down the cliff faces to reach the nests of birds and steal their eggs for sport. Sheer-stalkers are vicious agile lizards about the size of large komodo dragons. They must be muzzled and harnessed, but even so there have been some nasty incidents..."
" FIREBALL L3 Wiz As I walk through devastated landscape only one thought burns in my head. Revenge.I was a normal adventuring wizard, dungeon delving and putting out innocents fires. Ha, fire.After years of trying to find out what happened, the truth is unfolding for me, a second word has entered my vocabulary. Castinlig. a name put to the scorched earth. The one who did this. He was too powerful and too greedy.He summoned the king of the djinn and a supposedly perfect wish w incredible power behind it. Fire ball now has a 100 mile radius and is locked at 7d6. I didn't know this when I cast it for the first time in days. My party was wiped out and I would have been too except my ring of total fire resistance saved me. But not my friends. I scavenge for food and a potions, really all I can and have to do.I will find him. ( a solo game for a l7 wiz)"