Sinister, Lord of Left Socks
The only true god of the Stolen World.
Sometimes names can be deceptive
20,000 plus years ago, Sinister was a very minor godling of chaos, mischief and yes, he stole left socks.He was the laughingstock, whipping boy of the evil pantheon he belonged to. Cursed(gifted?) with incredible durability so the other gods could beat, burn and torture him. In his very slim spare time he stole the left socks of children while they slept.
Things changed with the coming of the Star Whales and the every thousand year apocalypse they brought. During the end of the 4th cycle, the remaining non-evil gods convinced Sinister's pantheon to make an ultimately futile last stand against the onslaught. All of the gods, demi-gods godlings and their followers were destroyed. Starting the current cycles of death and barbarism.
He was the only survivor,his pantheon wouldn't let him 'play'
He laughed for 37 years.
During the remaining years of the 5th cycle, Sinister went about his merry way. Stealing left socks, spooking dogs and other minor mischief. He had no interest in attracting the attention of any gods who might be in hiding.
By the 7th cycle, he was convinced that alone of all the gods, he remained. At first this lead to bolder and bolder pranks, by the end of 7 he was taking left feet. During 8 he started to torture and murder to his hearts content, Fulfilling the evil fantasies of a totally warped mind to the utmost.Then he ran into his first group of adventurers. It did not go well for him. The powerful group nearly succeeded in killing him. He barely got a way with a far too clever illusion. a few hundred years later the same thing happened again. He spent the last 25 years of the cycle thinking of a new way to cause the chaos he felt he deserved.
It finally came to him. He could do bad thing through followers. And he perfected his art over the next few cycles.
Sinister goes into a medium to large city and sets up three different evil cults. After about 10 years he pits them against each other in a competition of blood, carefully causing the deaths of any up and coming adventurers. He does this until the city burns. By going to widely different regions on different continents he is never found out. Also having a stable of about 30 different cults to pick from, continues his disguise.
SINISTER
In reality, he looks like a grotesque red and black dwarf clown. When he manifests to followers he takes on a fearsome visage, usually one of the gods who came before. He is only moderately powerful as a higher than normal adventurer with a specialty in illusion. He is as durable as the largest of dragons.
THE CURRENT CULTS
The Followers of BOK-very similar to the Thugee cult. Sinister appears to them as a Black alacorn
The Book and The Wrack-an intellectual cult that is given power for torture. He appears to them as Thorvin, Master of Dark Tomes( a wicked librarian)
The Order of Mendurak the Thirsty-Blood collection and baths a specialty, appearing as a Blood Elemental
HOOKS
Sinister is the only being with the knowledge of the cycles, and that suits him just fine. If you could catch him and get the information out of him, it would be a tremendous leg up in a otherwise fruitless battle with the Star Whales
The adventurers are seen as getting too powerful, one of the cults step in.
Stop the ultimate destruction of the city.
Not Registered Yet? No problem.
Do you want Strolenati super powers? Registering. That's how you get super powers! These are just a couple powers you receive with more to come as you participate.
Upvote and give XP to encourage useful comments.
Work on submissions in private or flag them for assistance.
Earn XP and gain levels that give you more site abilities (super powers).
You should register. All your friends are doing it!
?

Responses (7)

I haven't read any of the related subs, so I have no context. With that caveat in mind, I really like this. Especially the word play on sinister/left-handed (or left-socked, in this case :P ).
The idea of an evil god which sets up competing cults works well for me.
The only thing I was confused on was how could he survive what the other gods did not, yet be outdone by a group of mortal adventurers?
---


Not sure why but I liked this sub a little less than MMWWW. Still, a solid sub and nothing to fix much.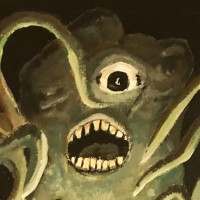 Interesting. His clown appearance reminds me of Stephen King's It.
---

" The villages around the capital have a strange new disease cropping up. Spread by a fungus (much like ergot poisoning), it causes its victims to be very sensitive to sunlight. Hundreds of peasants are hiding from the sun, only coming out in the darkness to labor in the fields. Unfortunately, rumor makes their behavior sound more sinister and secretive than it really is."
" While travelling near the edge of a forest the air is filled with the wailing of battle horns. Soon a large group of mounted cavalry will gallop by in a panicked rush. Some will spot the party and shout 'Flee! Flee for your very lives!' Several minutes later, hundreds of running infantrymen will be spotted. A large group of white clad knights fiercely chanting a battle song is in full pursuit. One of the white knights carries a banner of a white horse on a black background. The horse is rearing under a gold crown, indicating the presence of the Paladin Prince. As the horrified infantrymen struggle to flee into the forest, the zealots charge into their midst and cut them down by the tens and hundreds."
" Saril had a dream. To open a library in the windswept wastes of Naarish, so that the people of the many villages and towns spread over the hundreds of leagues of desert could discover the joys of his books. For a whole year he kept his library open, but alas, almost no one came. That is when Saril came up with his new idea. If people didn't travel to read his books, he would travel to them! Saril closed his library, hired a team of twelve camels, loaded up the beasts with all of his books and proceeded to invent the first nomadic library. Now children and adults alike, looked forward to hearing the bells of Saril's camels as he entered their villages, as he tirelessly traversed the deserts in a long circuitous route, visiting every village and town he came across, in turn. It came to pas that Saril's traveling library came to some fame, and that is how the folk of Naarish became literate. A word of warning though. Naarish has only six thousand volumes. He deals with those that lose or steal his tomes quite 'harshly', by bypassing the town or village which was responsible for losing one of his books for that calendar year."